Discussion Starter
·
#1
·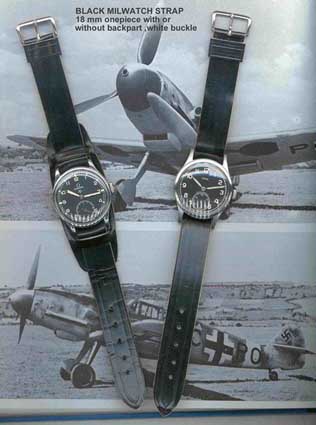 Reduced rare German straps in absolutely 100 % new old stock condition and unused , such straps are created in the 30s for the German
military watches also, they are 18 mm x 235 mm long, for fixed bars and spring bars ,check your watch lugs if it is 18 mm it will fit, I use it on
several watches like MIMO , REVUE, GLYCINE, WAGNER, TAWEK, JUNGHANS and others, they come with a separate Bund style part see it on
the OMEGA , you can use it with or without this and it fits .
This are original straps made in the 40s . With this vintage look they will make a great addition to any military watch.
The straps are really nice and not too dry, it is soft and you can use this straps.
The 18 mm black straps come with a metal buckle.
We stock a few 16 mm in brown who have a y gold color buckle.
Comes well packed in a registered airmail bubble envelope. (jurgensgermany)
My price is 29.- US $ for one
Shipping to the states for one strap is 12,50 US $ by registered airmail .
Europeans must add 19 % VAT !
Payment: By paypal, please use my e – mail address for payment :
Info(AT)s-parts.de
,wire to our account in NYC by the bank of NY, swift, bank cashiers check, wire to our German account, Int. money order, postal money or cash , in registered airmail letter please.
We offer a wide range of watch straps, bracelets, buckles , deployant clasps, watchmaker tools and Swiss Brand items around watches, please feel free and check them out at jurgens Germany.
Please ask for our feedback.
Thank you for reading my post we look forward to hear from you. With kind regards from germany Jürgen