Discussion Starter
·
#1
·
Authored by Tokunaga
Question:

Hello
Mr.Tokunaga
I am curious as to why Seiko uses a base metal for the ceramic coated housing cover for this watch. Why is this a base metal vice stainless steel or titanium?. Does the base metal help with anti magnetic properties for this watch? Also What type of metal is the base metal? How is the ceramic coating applied over the base metal? Is the ceramic coating a powered ceramic paint? Can you give me some information about this.
Thank You In Advance
Jima


[hr]
Reply:
Hello Jima-san,
The material of the protect cover (outer case body) of Seiko 1000m diver's watch is not coating of ceramics but the solid material of ceramics.
In addition, the expression with "base metal" in the marking of a case is used when the parts which carried out the golden color mean that it is not "gold", and the materials of the base metal are such as brass, nickel silver, stainless steel, pure titanium and titanium alloy etc.
These materials are non-magnetic materials. The duty of anti-magnetic property was not achieved by those parts, but the anti-magnetic plate (please refer to the cross section drawing below) made of pure iron on the inner case body has achieved the duty of anti-magnetic property.
I summarized the materials and surface treatment of those parts on the following image. Please refer to in detail.
I hope this helps you.
Sincerely yours,
Ikuo Tokunaga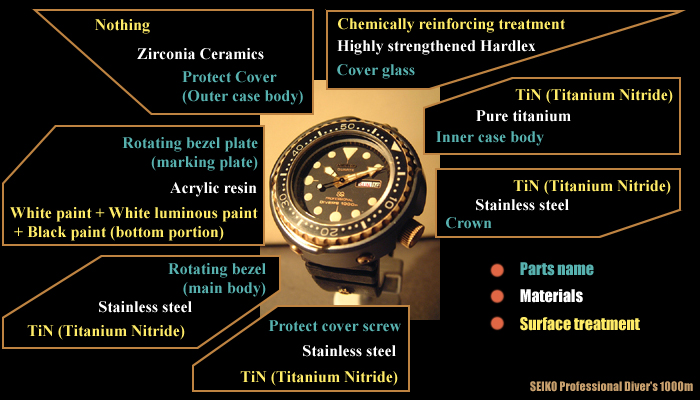 The materials and surface treatment
The cross section drawing

Ikuo Tokunaga
Picture credit:
Seiko