Authored by Tokunaga
Question: From Barney-san

My special favorites are the 7A28, 7A38 and 7A48 chronographs which I consider to be among the finest ever made for their remarkable accuracy and elegant designs.
I was wondering how Seiko engineers managed to achieve such accuracy in these movements? I noticed there is some kind of a "rate trimmer adjuster" on these movements and was wondering if this is a type of temperature compensation or some other means of adjusting the frequency of the oscillator.


[hr]
Reply:
Accuracy adjustment of a quartz watch is performed in two stages.
The frequency (general oscillator is 32768Hz) of a crystal oscillator has the curve of a quadratic curve to temperature change, and we, SEIKO, have performed this temperature compensation with various methods in the first stage. At the present day there are two main methods, one of them is using a special crystal oscillator itself which may become three dimensions of its oscillating mode or more high-frequency oscillating (196608Hz), and another one is a method of programming the temperature compensation and writing into the IC of the watch.
After performing temperature compensation of frequency change of a crystal oscillator, it carries out electronic fine tuning by changing the capacity of the condenser on the oscillation circuit. The trimmer (variable condenser) for this adjustment takes the side of every watch movement, and after coming out to a market by turning this, the watch can be adjusted more accurately. Concerning the movement of 7A28/38/48, there are changeable six steps in the trimmer and fine tuning can be performed by turning this trimmer, + or - 0.26 sec./day at each one step.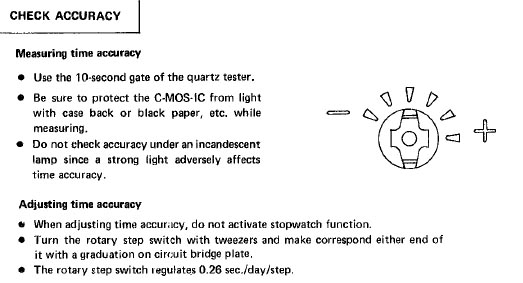 Ikuo Tokunaga

Ikuo Tokunaga
Picture credit:
Seiko