Discussion Starter
·
#1
·
The Alba brand is a Seiko subbrand most often used for cheaper watches for a younger audience. The Alba range is very broad and has everything from "proper" designed watches to the latest Japanese fashion statement and tech-style watches for the Japanese schoolboy nerd. Alba uses Seiko calibers (sometimes identical but with a different name) but also calibers that only turn up in Alba watches. The quality range is also very broad from "proper" Seiko quality to 10 dollar watches assembled in China. I have seen the Alba brand on watches since the late 80s but they may have existed before that as well.
The watches we most often see as collectors are the Alba collaborations with Japanese and international designers.
The most commonly seen Japanese watch (and clock) designer is Riki Watanabe. Famous for his clean and legible designs, he is the core of the Alba design stable. This Y675 caliber is the most well know and probably also the best of his Alba designs. As of April 2010, Seiko is introducing a Riki series under the Seiko brand with 7N quartz movements so perhaps there will be more high quality Riki watches in the future. This GMT+9 post is crucial for the Riki fan
http://www.gmtplusnine.com/2007/03/25/alba-riki-watanabe-collection-a-step-above/
.
The second watch is also a Riki Watanabe design with his typical legible font for the numbers and the simple layout of the dial. 7T94 caliber. More on this design is here
http://www.gmtplusnine.com/2007/05/10/alba-by-riki-watanabe-mature-design/
.
The third watch is not a proper Alba watch as the Alessi watches are made by SII and sold under the Alessi brand. It does however fit so closely in the Alba concept so I wanted to include it as well. This is and Achille Castiglioni watch. Again an excellent GMT+9 article for reference,
http://www.gmtplusnine.com/2007/05/27/alessi-record-al6003-by-seiko-apassionado/
.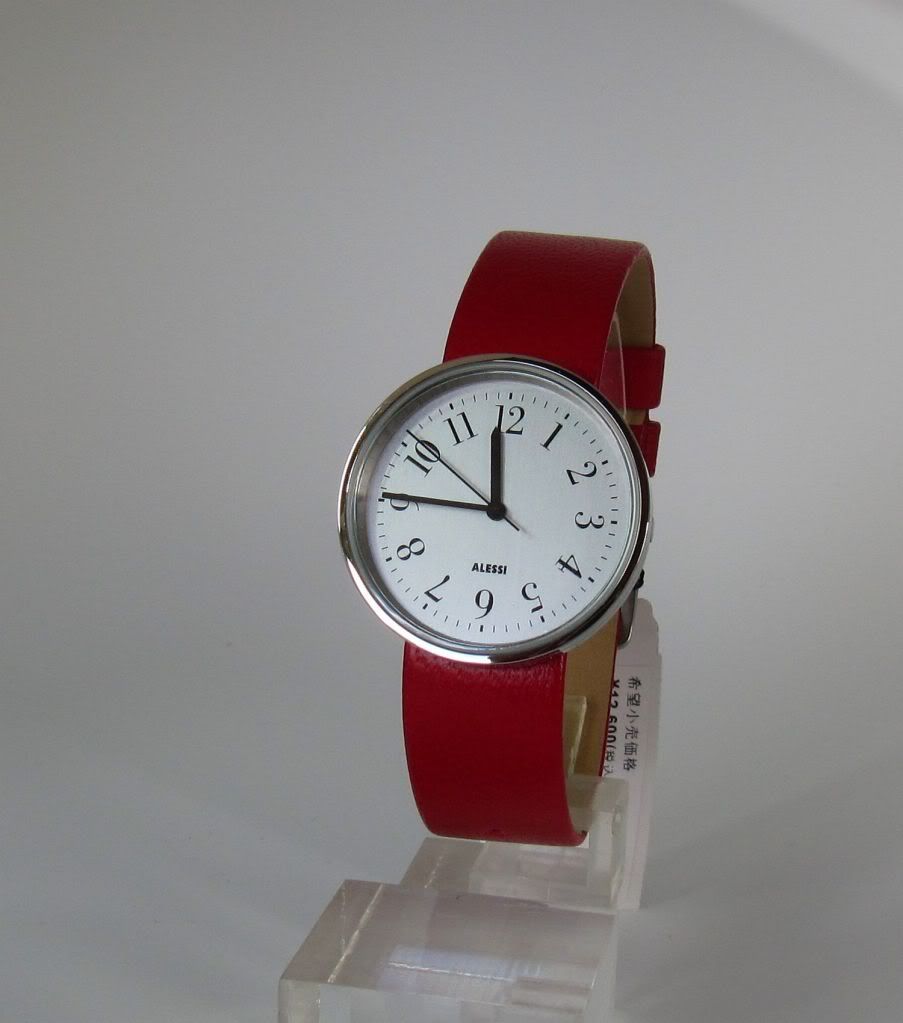 Apart from the design watches Alba watches also include a cheaper sports type watches assembled in China with technical experiments such as this world time watch with a LCD map. It has a titanium casing and a NX05 caliber.
Another big Alba section is different "Gear" watches like Hot Gear, Aqua Gear and Field Gear. Designed mostly to appeal to Japanese teenage boys and gearheads, they are a bit over the top and plasticky but often have calibers and functions that are not available in other Seiko watches. The first one is a W680 caliber which I bought for the bezel setting and all the metal bits, pieces and screws all over the watch.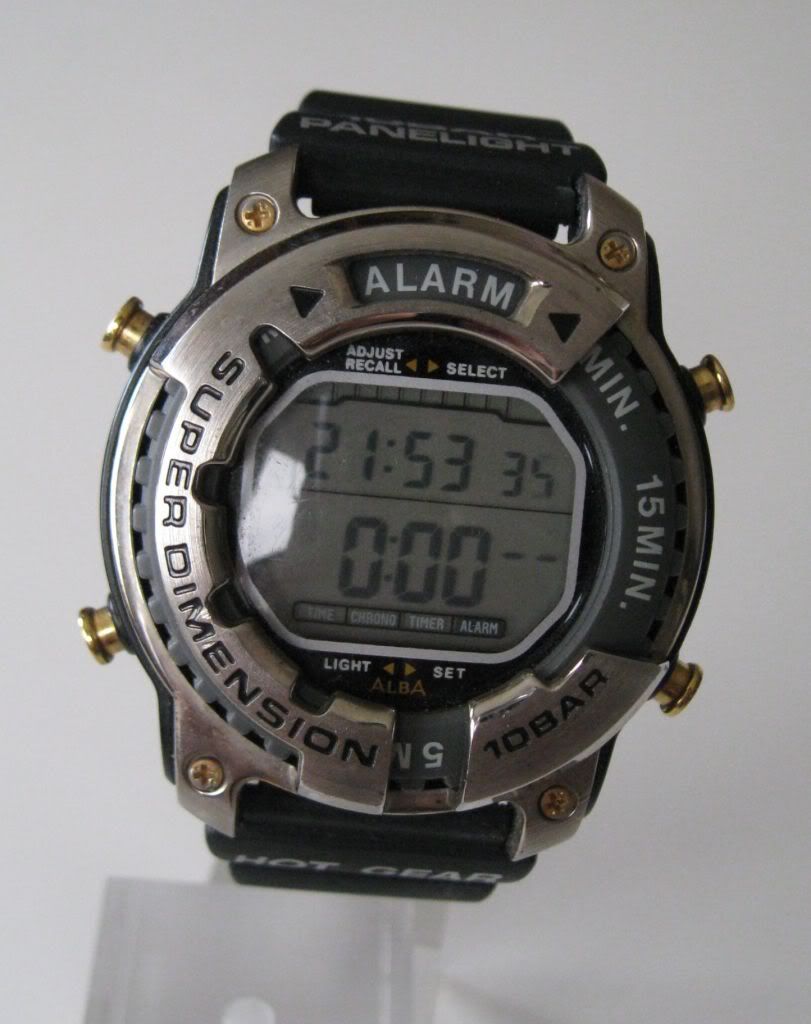 The second one is a V682 caliber which I have not seen in any other Seiko or Alba watch. It has a normal center seconds hand which is a 1/10 chrono hand when you use the chrono function. In addition, there is a smaller center hand which is a retrograde 1/100 hand on the small scale at 12. Coupled with a 24hr dial and a multifunction setting, it is a pretty impressive watch.
Another Alba big seller are the Spoon watches which come in every colour and design, often in limited editions for more or less obscure Japanese events. This watch was a special issue for the opening of the latest Japanese subway line, the Toei-Oedo line which goes across the northern part of central Tokyo. The watch has a subway car backlight. I bought it as this line is the closest to our Tokyo office and I use it a lot when in town.
Not so much to say about these that has not been said before. A set of Alba Manta Ray divers, both the blue and the limited edition black PVD in the case that came with the PVD watch.
[img]http://i83.photobucket.com/albums/j302/martback/AlbaDivers.jpg
/ martin