Discussion Starter
·
#1
·
and I really mean completed. This is not really as hard as it looks as Takano only produced two types of watches during its lifetime.
Most of the facts about Takano comes from the Hokkaido watch museum site here;
http://homepage3.nifty.com/dr-usapyon/museum/TAKANO.html
.
Takano is the fourth Japanese watch manufacturer after the big three Seiko, Citizen and Orient. The Takano corporation was established in 1938 to manufacture precision instruments for the Japanese military. This production ceased in 1956 after the end of the Korean war and Takano instead turned to watch manufacturing. Production seems to have started in February 1957 in cooperation with the German watch manufacturer Laco (Erich Lacher Uhrenfabrik GmbH & Co. KG) and the first Takano watch was sold in September 1957. During 1957, Takano also started a cooperation with Hamilton Watch Co.
This is the first type of Takano watches, the Takano Precision. It uses a Laco movement, either purchased as an ebauche or made in Japan on a license. It is said to be identical to contemporary Laco movements. I have seen this referred to as the Laco caliber 122. The Takano Precision was sold under the Prime (as this one) and Super brands.
I have not been able to figure out the logic behind the Takano serial numbers but they do not follow the Seiko/Citizen principle of year/month designation by the first digits.
In 1959, Takanos first (and only) own developed watch was introduced and went on sale in October 1959. The watch was branded as the Chateau and marketed as the thinnest Japanese wristwatch. 19, 21 and 23j versions existed. The movement is 3.5 mm thick which would be better than the Citizen and Seiko watches (mainly Marvel, Cronos and Deluxe) at this time. However, this was soon eclipsed by new offerings from Seiko and Citizen such as the Goldfeather. Slow sales and problems getting into the Japanese market in view of the extensive competition was worsened by the destruction of the Takano factory by the Ise typhoon and the company found itself nearing bankruptcy in the summer of 1961. In 1962 the Takano operations was merged into the Ricoh Corporation and the Takano brand was dropped in July. Ricoh then went on to a successful cooperation in electric watches with Hamilton during the early 1960s.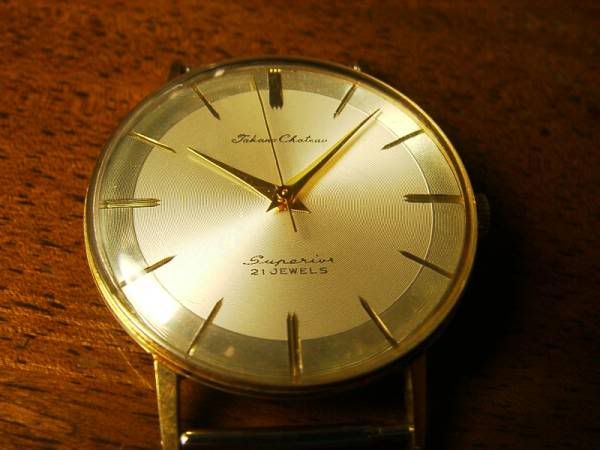 I am not sure how much of this caliber that was completely developed internally but the movement looks similar in layout to the Seiko Marvel so the design is at least influenced by similar efforts elsewhere.
Pic from
www.antiwatchman.com/watch.php?NUM=J-2979
In 1998, Ricoh decided to celebrate the 60th anniversary of the Takano brand by reissuing limited editions (1960pc) two Takano watches in classic design. The watches use an ETA 2801 handwind 17j hibeat caliber.
The castle on the dial is Nagoya Castle.
/ martin