Discussion Starter
•
#1
•
Based on the results of the ID thread I started here:
http://www.thewatchsite.com/34-watc...d-7s26-0010-skx001-before-project-starts.html
...the mod project is about to start. For refreshers, this is a watch that I spied on thewatchcollector's ePay site while surfing for 7546 bits and pieces. My #1 Son - almost 10 - was sitting next to me and commented that he liked the watch - he usually doesn't care much about my hobby (he sees lots of watch pics... ), so I snagged this one to see if he wanted to try it as a project. He was surprised to say the least, and seems to be interested, so I'm using this as a distraction from video games that will actually BE something when it's done. Plus, I can't resist a good father/son project. And let me say, this is HIS project to execute, I'm just going to try to guide him with hints on how to do things, and what to watch out for. All the labor, and all the style, will be his.
So, without rehashing ALL the photos in the original thread, we started with this:
7S26-0010-07
by
clair_davis
, on Flickr
Corroded hands, faded dial, lots of wabi, wrong crown & caseback, bezel wouldn't turn. Plus side was that the dirty (DIRTY!) movement ran - poorly, only for a minute or two. So, the bones are there, some cosmetics and elbow grease will make something nice.
The case spent a LOT of time in the ultrasonic bath, and I eventually freed up the stuck bezel. With the rubber o-ring in place, it just wouldn't turn, so we left it out. It's a little rattley now, but it turns nice and easy.
I hit the 'Bay again, and found the missing pieces with speedtimerkollection - proper crown, stem, and caseback to the rescue. While those parts were incoming, #1 polished the case and bezel:
7S26-0010-20
by
clair_davis
, on Flickr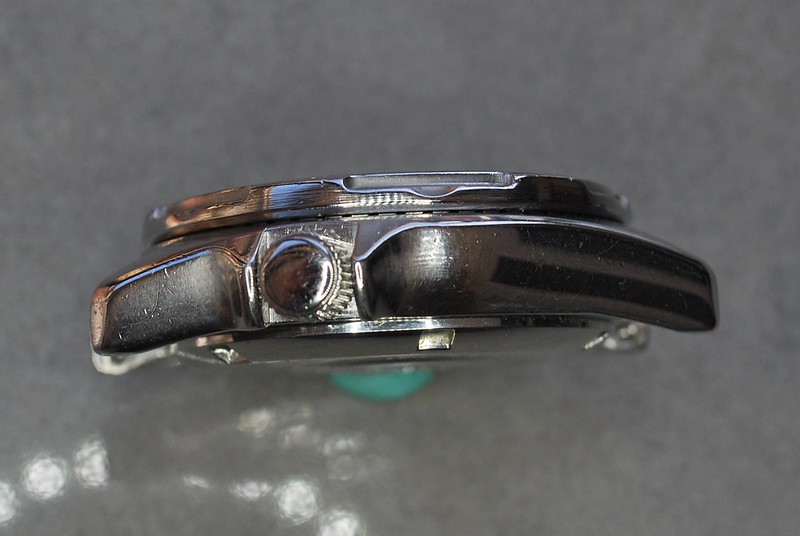 7S26-0010-19
by
clair_davis
, on Flickr
7S26-0010-21
by
clair_davis
, on Flickr
When all of the parts came in, I took an exploded-view photo so we could track this adventure:
7S26-0010-18
by
clair_davis
, on Flickr
Also pictured is a "spare" 7S26A that I picked up from eagles_timezone in the Philippines. Black day and date wheels were what I was after, but it's a beautiful movement that runs a little fast but all day long.
7S26-0010-22
by
clair_davis
, on Flickr
Now the mods start. To fix the faded dial, rattle-can satin black was the tool of choice. All of the old, nasty lume flaked off easily, leaving shiny indices underneath. A couple quick, light coats of satin black made everything look fresh and clean again. To get the paint off of the raised indices, we used plain notebook paper soaked with Testors mineral spirits over a hard, flat surface. Flip the dial over, and gently rub the dial on the paper. The indices were shining again in less than a minute:
7S26-0010-13
by
clair_davis
, on Flickr
Tonight, we (he) lumed the indices. I use Glow, Inc. products, and this is their super bright Ultra v10 powder. I crushed it slightly in the mortar you can see in the pic, and mixed it with 2 small drops of Tamyia clear and 4 drops of Tamyia thinner. Using a toothpick, he applied tiny bits of lume mixture to each of the indices:
7S26-0010-24
by
clair_davis
, on Flickr
7S26-0010-25
by
clair_davis
, on Flickr
Results:
7S26-0010-26
by
clair_davis
, on Flickr
7S26-0010-27
by
clair_davis
, on Flickr
Frankly, pretty dang good for a not-quite 10-year-old kid. We'll have to clean up some rough edges on the lume, and probably add another coat so that the glow is even - and strong. Seiko diver-strong. But, it's a good start and the first time he's ever done anything like this before, so hopefully this is a confidence-booster, too.
More to follow...
Clair