Discussion Starter
·
#1
·
Hi,
I picked up a cockpit instrument-Style Silverwave a few months ago.
I was probably a little to eager with the bidding button but it's here now and I'd like to tidy it up. So, I'm seeking a little help from the experts here...
The case is not to bad a few small dings here and there but nothing that worries me too much. It's a quartz movement that seems to run fine as well.
But it has an awful plastic cheap crystal on it that reflects every little bit of light for miles.
I'd primarily like to get a new glass crystal for it - I found another article saying it's a "flat mineral glass measuring 28mm" - Would this be any generic type? Or should I look for a specific one? Any suggestions on where to buy one?
Any other suggestions for tidying it up appreciated!
It's got 22mm wide lugs, sort of wide for a small 34mm watch - A 22mm seiko plastic band should do the trick here - but any suggestions are welcome.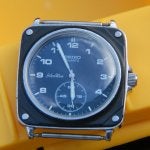 Thanks
Anthony