Discussion Starter
·
#1
·
Hi All,
Note that I wrote all of this before I noticed Feca's similar posting on a similar topic, but I figured there's no risk of 6105 content boring this crowd
.
About two weeks ago, I spotted a listing on our favorite auction site for a "Vintage Native American Design Thomas Singer Men's Cuff Watch Bracelet Seiko." The listing focused almost exclusively on the bracelet, mentioning that it comes "With Seiko Dive Watch" almost as an afterthought. The only photo of the item that included the watch was the following:

I immediately made this seller a BIN offer that ended up being $200 more than I eventually won it for at auction. There were no bids, but she declined nicely, and asked why I offered so much. I gave her all the info about the 6105 - probably more than she wanted. She responded politely but didn't add any info to the listing.
It arrived promptly, with the crystal shot to hell.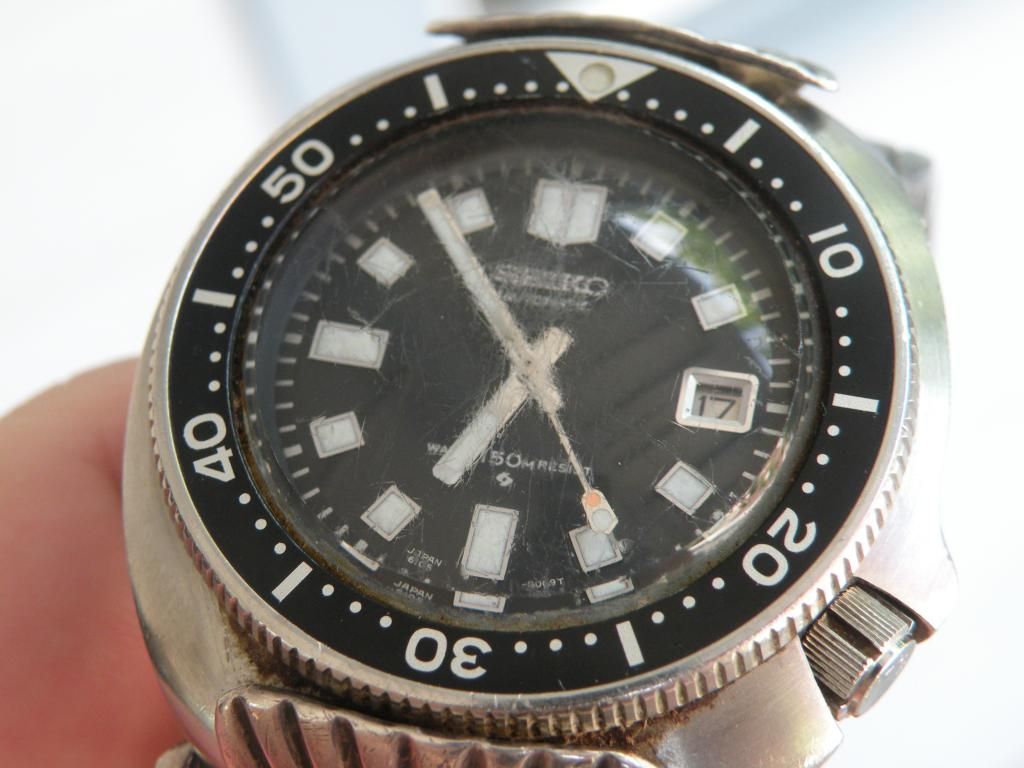 Case back had one larger smudge, but otherwise the case and case back were both amazing. The circular brushing on the back is still sharply visible. In fact, I'm pretty sure I can make out the shadow of the case back sticker - it doesn't show up well on the photo, though.
The bezel was in great shape, but frozen solid. When I got it off, it was clear why - despite the great cosmetics it had accumulated an awful lot of gunk. Here's a shot of it half-cleaned.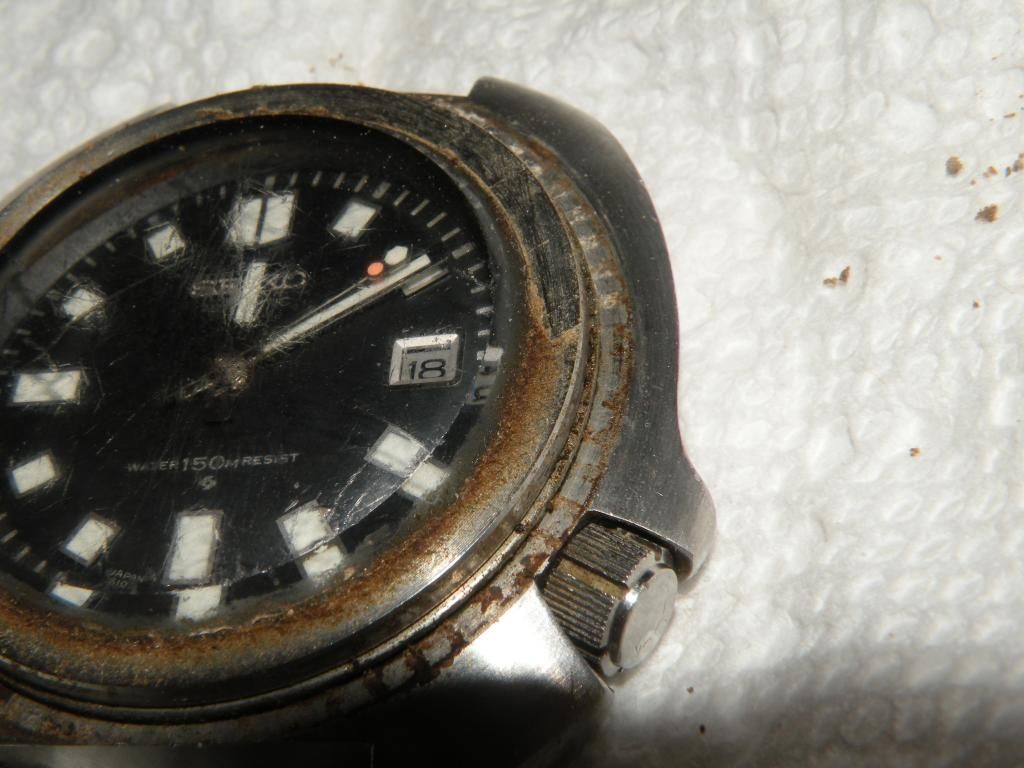 Once cleaned up, the bezel works perfectly. Unfortunately, the crown locking mechanism is kaput, but I can accept that. The movement looked amazing considering its age (and apparent lack of any service, ever), and with my regulation it's running a solid +8s/day. And without further ado, here it is with its facelift.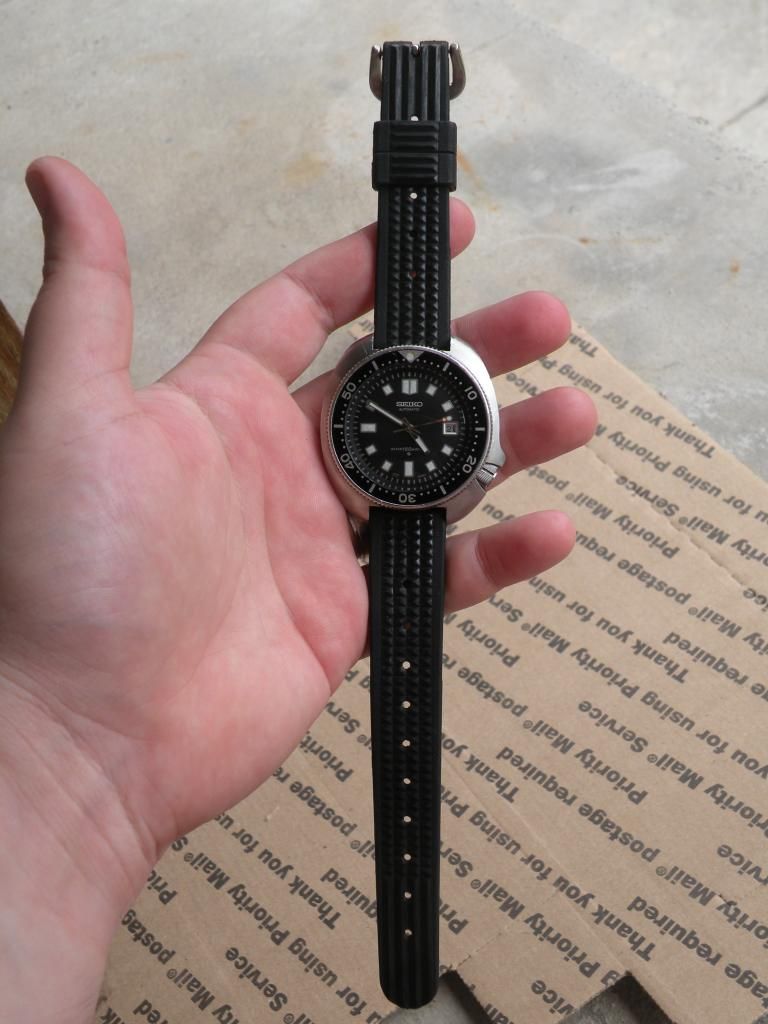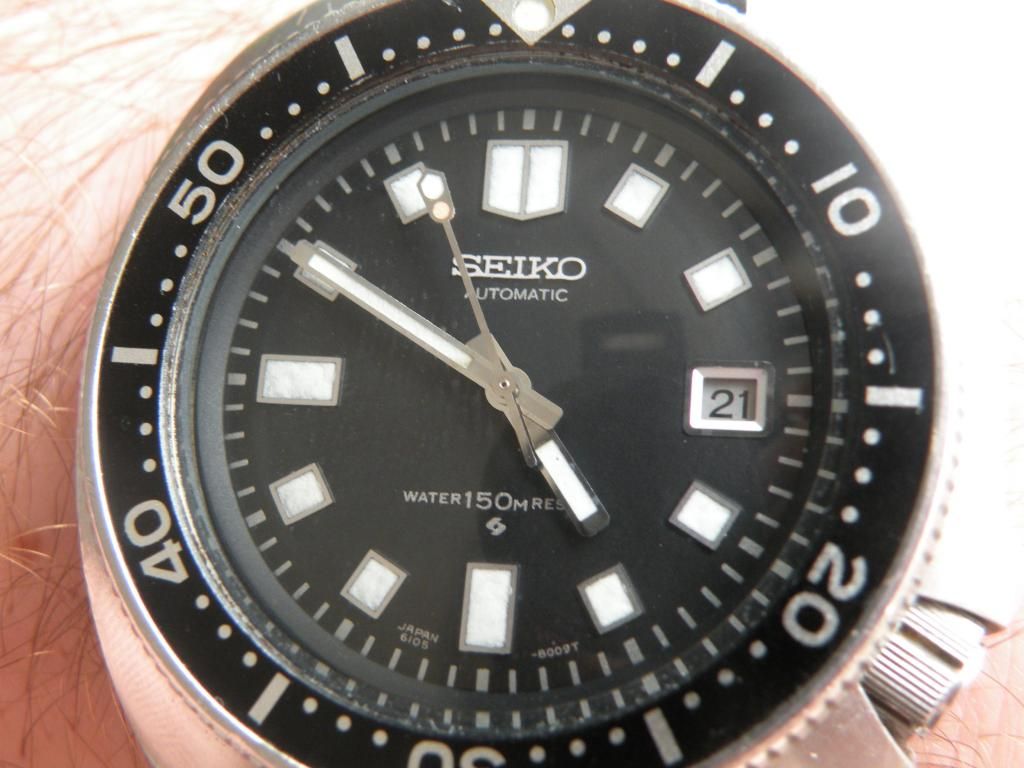 The hand's "pink dot" is actually quite a bit darker than it appears in these shots. Not sure why. Anyway, I'm thrilled with it! I own another 6105-811X that's almost as nice, and I don't think I'll be able to force myself to sell either. One's a 8119 and the other a 8110, so maybe I can delude myself into thinking I need one of each...
Cheers!