Discussion Starter
•
#1
•
One fine Sunday morning, I was checking out my Seiko collection (smiling while wiping each watch). My mom happened to pass by and noticed what I was doing. She was curious and had a chat with me. Of course, I confessed my year long addiction...I was hooked on Seikos for a year now.
My mom laughed and said that I should have started my collection 30 years earlier (flashback: my mom used to sell Seiko watches when I was young but I never liked them because I was more interested on high tech digital quartz watches with games or calculator) Now, I am hooked on Seiko watches, especially the divers watch.
Anyway, we had a nice chat and I explained every watch in my collection. I told her that it was not entirely an opportunity loss for me since she never sold any divers watch. The watches she sold were the typical ordinary Seiko 5 or Seiko office or dress watch (probably why it never caught my attention). I explained to her why I collected Divers watch only. I assumed that Seiko built their Divers watch better than their ordinary watch models.......I was WRONG!
Fast forward to one week later: I received a call from my mom and she was excited to tell me some news. She told her secretary to double check if she had Seiko watches left and they discovered that Seiko watches were erroneously packed/sealed and mixed with her old coin collection inside a vault. I was also excited when she told me but not too excited since I can recall that she never sold divers watches.
Anyway, next time we met she told me that these watches were stored in 1998 since the tape seal of the box had a marking 1998. I gave her a look and told her that who ever packed the box had time to put a date on the seal but never gave any time to put a mark on what was inside. No wonder these watches were forgotten. Before I opened the box, my mom told me that it is possible the watches were ruined because to her recollection they might be quartz watches. Therefore, she assumed that the batteries could have leaked, thus ruining all the watches. Ruined or not, I wanted to open the box because I was too curious and wanted to find out what's inside.
Now the bad news: just as what I have expected, no divers watch.
Now the good news: No quartz watches all of them were mechanical automatic watches.
Anyway, I told my mom that these watches probably need servicing because 15yrs of storage could have gummed up oil in the mechanism. I had a Rolex stored for 5 years and I had to have it serviced because of the gummed up oil in the mechanism (Rolex service rates are expensive
).
To prove my findings, I shook the watch side by side and also used the figure of 8 movement....I was WRONG AGAIN!
The second hand moved...I tried it with all the watches and all of them had their second hand moving and ticking. My mom was smiling and laughing. She was happy that the forgotten Seiko watches were still working.
I was surprised to see the watches working considering that it was kept and forgotten for 15 years. I knew that these watches were brand new when stored but still I was expecting gummed up oil. Maybe its beginner's luck? what?! Still. I was not convinced. Working and ticking is not enough...I had to test these ordinary Seiko watches. I was determined to test its accuracy by giving each of the 5 watches a week of use. Accuracy and reserve power are the issues I will focus on.
Fast forward to 2 months later: I was WRONG again 3RD time
. Each watch performed flawlessly, as if they just rolled out fresh from the factory. Accuracy and reserve power was within the specs of new Seiko watches.
I was impressed and now I have to change my view on the other Seiko watches. The quality of the mechanism is outstanding and no wonder why some of the divers watches have the same mechanism (7S25,7S26,7S35,7S36).
Now I understand why other people collect Seiko watches. Formula: SEIKO= Value + Performance. For a cheap watch, it has avoided gummed up oil. No wonder Seiko produces and uses its own oil.
Although, these watches were not originally part of my collection..I will still keep them for my son so that he can enjoy it in the future.
Enough of the story, here are the pics:
Here are the 5 watches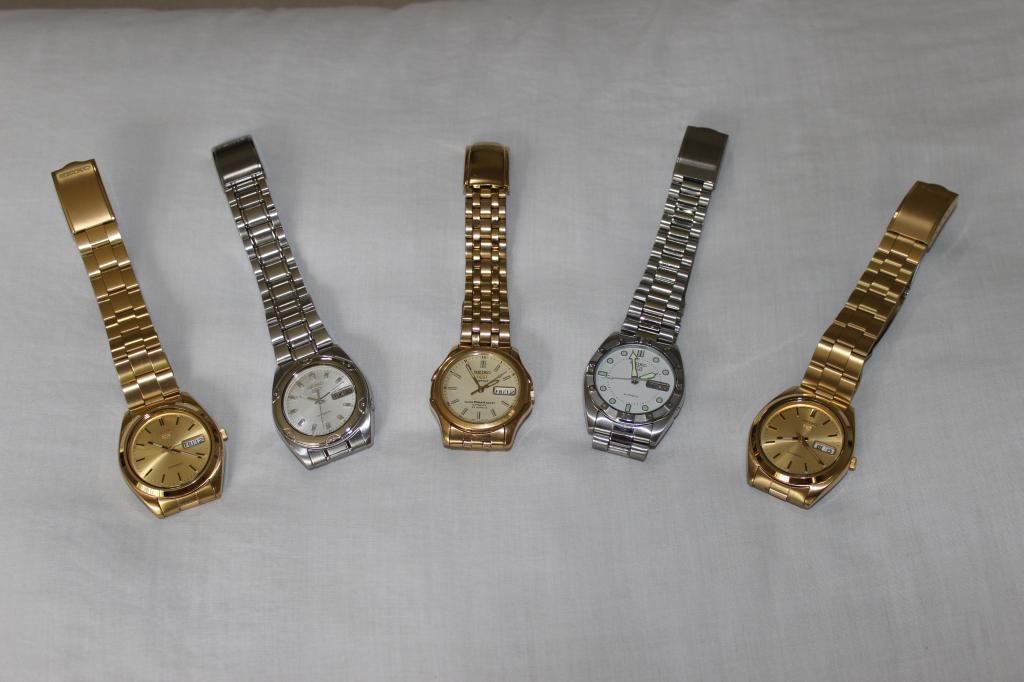 Seiko 7S26-0060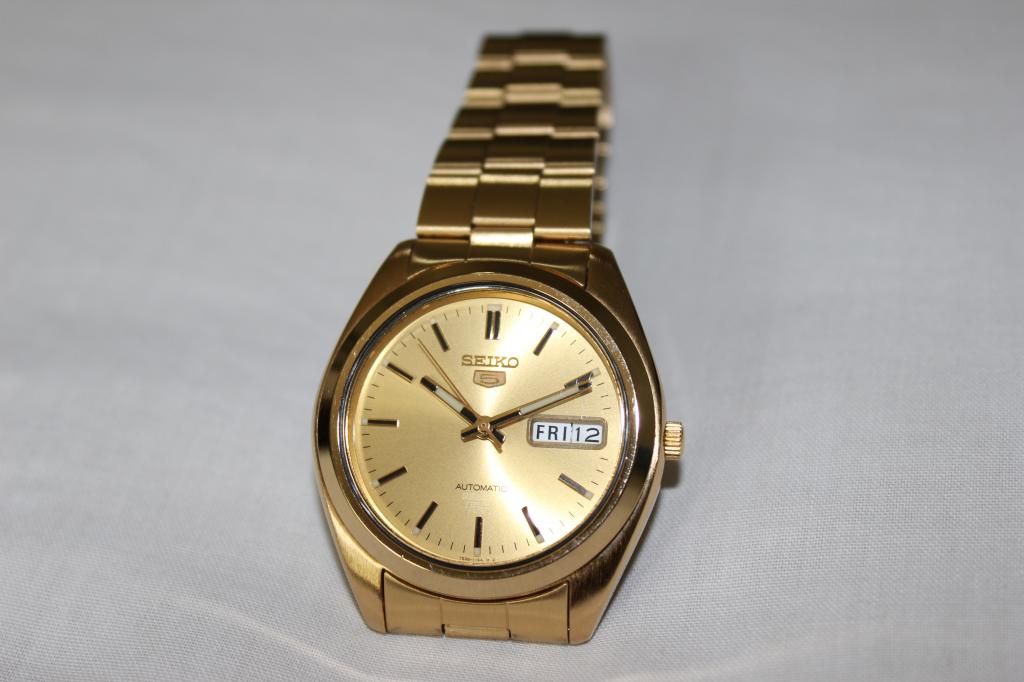 Seiko 7009-6030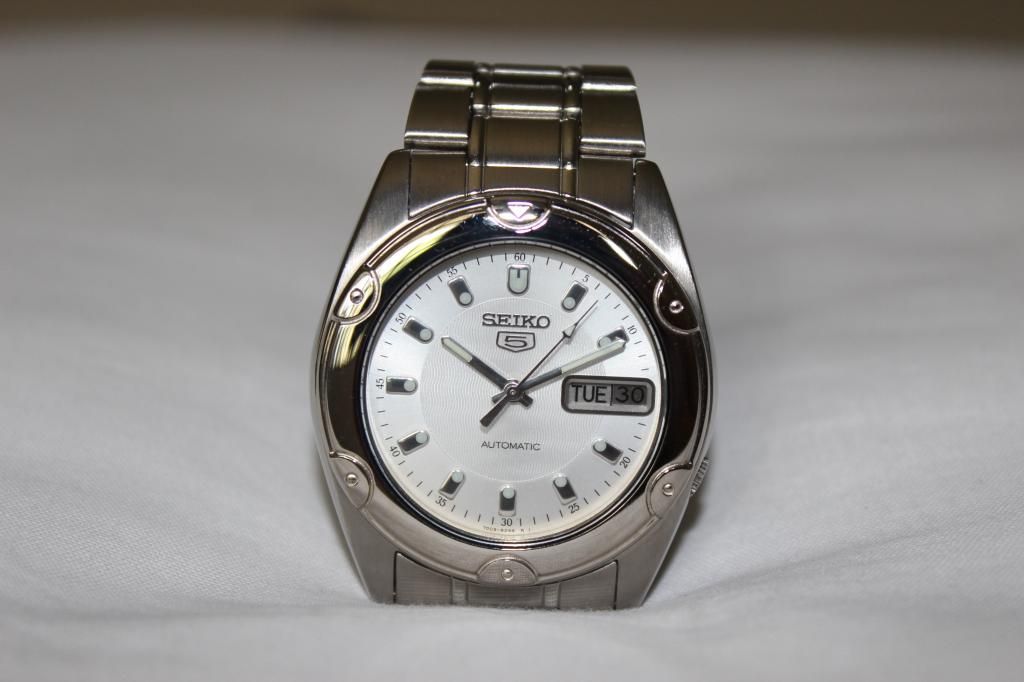 Seiko 7009-3200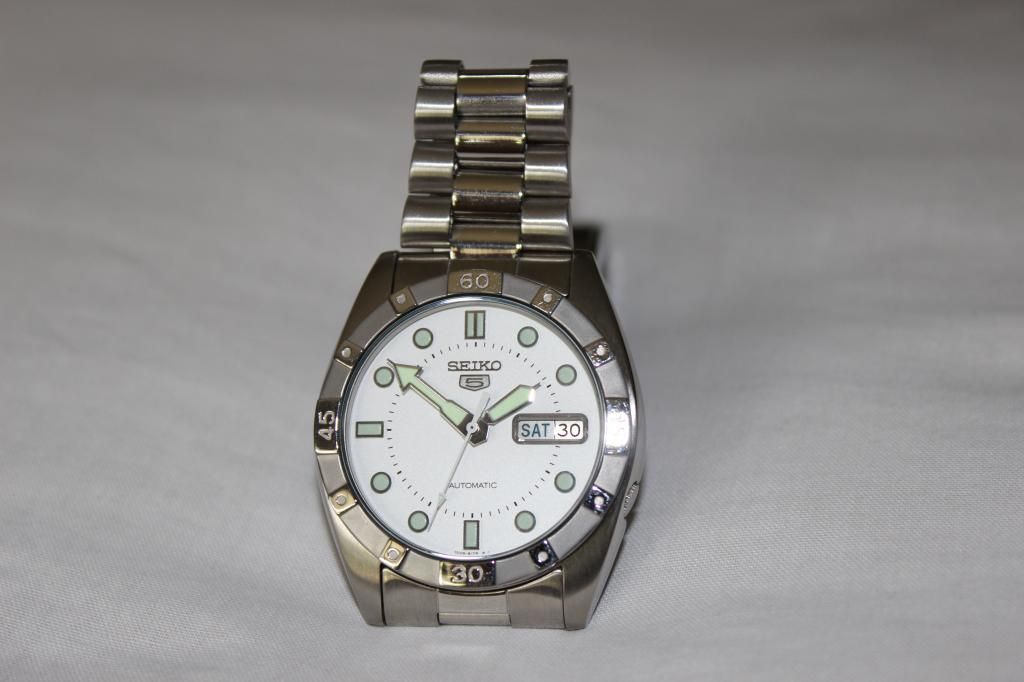 Seiko 5 SUPERIOR 7S36-0030
Interesting Seiko 5 SUPERIOR 7S36-0030 caseback