Discussion Starter
·
#1
·
Author: Mercuttio
When I was forced to sell my Omega, I thought I'd have to take a real hit when it came to the quality of my next watch. After one mis-fire with a used Samurai that didn't run quite right (and a stellar seller who was willing to make things right) I decided to just go for it, sell off a few old collectibles, and buy a new Japanese market Seiko.
When I set about researching what I wanted in this watch, I made a wish-list of features. 6R15 movement, stainless steel body, reasonable size, water resistance to 200m, and if possible a sapphire crystal. I also tend to time things on a rotating bezel, so that's a plus if there.
At first, it didn't look like I'd be able to find what I wanted. A new Sumo has gone up in price past $500 on SeiyaJapan, and looking at the measurements I was afraid it would be a bit too bulky for me. That's when I happened across this post, at GMT +9:
http://www.gmtplusnine.com/2009/02/1...eiko-branding/
Huh. I hadn't heard about these before. And they didn't look like any watch I'd ever seen either. Sapphire Crystal, tremendous water resistance, and an internal rotating chapter ring that I could use in the same way I use a dive timer on a dive watch. Without even giving it more thought, I took the jump.
Two days from Tokyo later, it arrived in the mail.
[img]http://i74.photobucket.com/albums/i271/dapietri/CloseUpAlpinist.jpg?t=1237253690
PACKAGING:
Most of us are familiar with Seiko's packaging at this point. White box with a smaller box and two manuals inside, my green Alpinist was sitting on top of a small brown pillow inside its inner box. Three tags were tied on, with the brand logo and what seem to be information about using the watch as a compass. Nothing spectacular, but you know what you're going to get when you order a Seiko.
THE BAND:
Nothing too impressive. In what little searching I'd done, I had heard that the green Alpinist's croc-print leather was of reasonable quality. Personally, I disagree as it really doesn't do much for the watch. Lighter browns would be preferrable, and this one's mostly dark blackish brown with deep dark brown stitching. Very stiff at first, but comfortable after a few days of wearing. I quickly set about to finding a replacement. Black straps don't work well, and I haven't bothered with a bracelet, but the large brown Fossil leather cuff with snaps fits the watch very nicely. I've ordered a brown NATO strap as well, and I think that'll really be the best given its water resistance.
THE CASE and CRYSTAL:
Here's where things really begin to click. The Alpinist's stainless steel casing feels quite substantial in the hand. It's heavy in a way that I associate with well-manufactured goods; a kind of heft that gives you the feeling that it is impervious to damage. Not too thick, the case is well designed and bears the Alpinist logo on the back.
The Crystal is clean and clear sapphire, without AR. It looks reasonably thick, and pushes just past the edge of the stainless steel case.
I will say that this simply isn't a watch for those who like big timepieces though. at roughly 40mm, it feels small on its included band. With a 20mm lug width though you have many options for changing how it wears.
THE CROWN(S):
Nice screw down crown on this, with a lovely machined "S" for Seiko on it. It's extremely easy to grip and a joy to wind. It's smooth but you can feel yourself directly connecting to the mechanics inside the watch, feeding it energy. Below it at 4 o'clock you'll find the compass' crown, which smoothly operates the internal chapter ring. I personally wouldn't mind a little bit of lume at "N" for ease of reading in the dark, but I understand most people won't be using this handy feature for timing things (when should I take out my laundry?) like I do. It's a very good replacement for a diver's bezel.
THE FACE:
Nice green with beautiful reflective properties. It's the kind of color that changes depending on what your lighting is; a completely different shade in the dark than in the light. If you do an image search online, you'll find that no two photos appear to have the same green color.
The markings are a reflective gold metallic color, and the "Seiko" name is applied rather than painted on. Having indicies that reflect is quite useful in low light, and a must for me on all watches. Tiny lume dots set in little golden rings sit above each marking for the times when you're truly in the dark.
The hands are very functional, and I enjoy their style a great deal. I've never liked Mercedes type hour hands, but the way this one has been stretched really appeals to me.
The lume on the face and hands isn't as bright as a diver, but holds its charge for well over 7 hours in the dark. Even groggy and confused, I've been able to read this watch at any hour of the night.
Completing the face is the date window, which is black with a white date. Nothing unusual here, and I'm quite pleased that it doesn't have the magnifier window on the crystal overhead as older models of the Alpinist did.
THE MOVEMENT:
The 6R15 seems like a real winner. The watch was +3 for the first few days I owned it, and now seems to have settled in for -1 second per day. If I remove the watch from my wrist and wind it all the way (again by shaking it) it will gain 3 seconds in the next 24 hours, making it easy to regulate. Things may change over the next month I have it, but so far so good. It's more accurate than any Swiss watch I've had, and the weight inside feels excellent in the hand when you give it a shake.
As a side note, I think I really enjoy the sound of this watch. Other automatics I've had ticked far faster, and while I understand this will equate to a smoother second hand, the speed of the Alpinist's sound is incredibly pleasing to me and can put me to sleep in minutes if I hold it to my ear in bed. Very pleasant.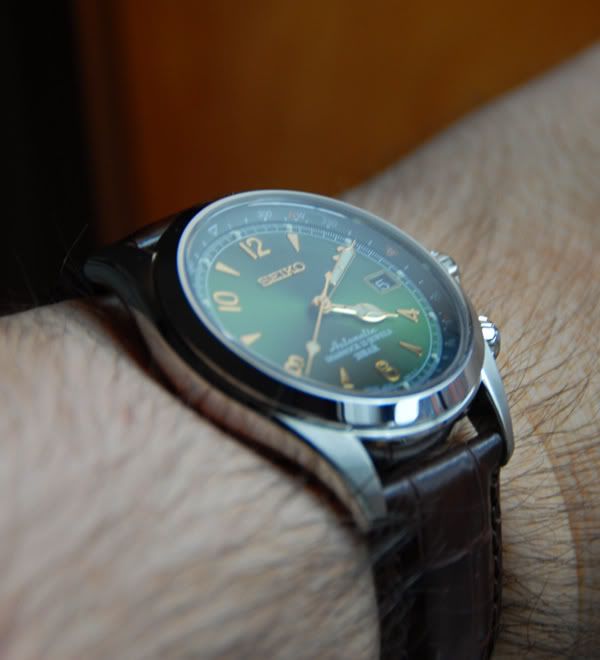 OVERALL:
I'm truly impressed by this watch. The build of the case and movement seems phenomenal, easily matching the Omegas that I'd had before it. I don't think the band is of particularly good quality, but that's easily fixed if you're willing to do a little hunting for a replacement.
If you like the style of the Alpinist, take the plunge. You'll enjoy it more in person.
BY THE WAY, I plan to add more pictures to this review later on. I'd like to show it under various types of light, and with various band choices as I think it could be tricky to find a good match for it at first. Stay tuned!