Discussion Starter
•
#1
•
I just got back this 1982 Seiko H558-5000 Arnie JDM from service. My good man James (SCWF:
uncleluck
, IG:
greenfield2854
) did a knock out job restoring it and it looks like a dream. Being a big black watch, it's a candidate for all kinds of creative strap pairings, and well, I got creative
BARTON Watch Bands - Soft Silicone Quick Release - $16.50
This is the most comfortable. It's soft pliable silicone that doesn't need a break-in period, and just fits right. It looks great on this strap. I did the pumpkin with the black PVD buckle, but I think almost any of the colors would look great. The quick release spring bars are appreciated. it comes with a long and short bottom strap so you can be sure one of them will fit you.
amBand Quick Release Premium Solid Stainless Steel Black
- $17.90
This works really well on this watch. It's heavy and sturdy with a nice double folding clasp. Wearing this one gives the watch a great macho heft. Arnie would be proud. The finish is nice and it comes with a link removal tool. The quick release spring bars are appreciated.
Green and Yellow NATO - $2.95
I bought this because it was practically free when I was buying some other straps. It's a good match. There's a military vibe to it that goes well with this watch. There are some similar NATOs out there in the same style with more interesting color textures if you want to spend a bit more. Overall, this works though.
Flamingo NATO Strap - $7.95
For all my unbraceleted watches, I like to buy something fun and far out. There were a few that tempted me such as pink macaroons (
https://www.etsy.com/au/listing/465539249/macaron-dots-pink-graphic-nato-watch
), but I went with palm trees and flamingos. The contrast between the bright colors and the black watch works well. I wish the printing on the strap was higher quality - it's not very crisp - but it does look good. I'll take this on my next tropical vacation.
Grey Digital Camo Silicone - ???
Looks like Cheapest NATO Straps stopped selling this, but you can probably find it elsewhere. It's not as comfortable as the Barton or the Uncle Seiko, but I think it just needs to break-in a bit and it will be nice. I wish I had gotten a jungle camo with more green instead of the gray. All that being said, it's a good match for this watch, and I'm not at all disappointed.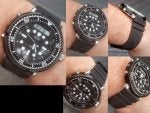 Uncle Seiko GL831 - $39.00
This is the premium option if you want a reproduction of the original strap. It's not cheap, but if you want this look, it's worth it. The strap is really comfy, and I think it will become more so after it has some break-in time. I bought the short version because I don't have big wrists. There's an in-depth review here (
http://strapsense.com/2018/11/18/uncle-seiko-gl831-rubber-watch-strap-39-00/
) and some posts on this forum about it. The quality shows in this strap, in the material, detail and the very nice buckle. It's the only choice really if you're serious about a historically accurate strap.
Original GL831
Yeah my watch came with one, but it's pretty warped. I could wear it though. Should I? These occasionally come up on eBay, but I wouldn't buy one based on how mine has aged. The silicone starts to harden and they become stiff.
XFYELE Silicone Soft Rubber - $9.99
(note: I can't find the 22 mm in this color anymore)
This smart watch band is a surprise success. It's comfortable, and bright yellow is a good contrast to this dark black watch. Matching it to the right outfit will be a challenge, but I'll wear this for sure.
Ideas from around the web:
I saw this great pairing when Googling and think it's a winner. Bright rainbow is the ultimate contrast to a big black boring watch.

Let's see your pairing! What's on your Arnie (vintage or re-issue)?