Discussion Starter
·
#1
·
Hi Guys. A mod that has been in the works for the past 11 months, has finally seen the light of day and is on it's way to me. This watch is the end result of the collaboration of many different forum members, all of whom I'm indebted to. I'll tell you more about the story of the watch, but first here is a picture to keep you interested: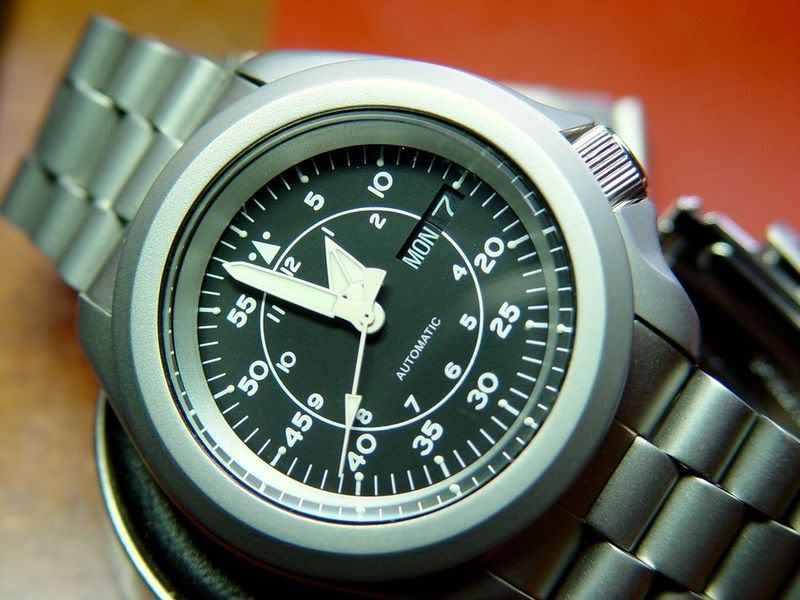 The watch did not start life as a modified whole, but rather is a collection of parts from all kinds of sources. here is how the watch was built

- The case came from a black bullet which was offered to me by BenR who kindly came to my rescue after noticing my a fruitless search for a 7s26-0020 case. The case had all the case parts attached, but did not include any of the movement Parts. Thanks Ben.

- The hands came from a forumer named Yan Savinsky who offered them for sale about a year ago. I offered to buy them, only to find out that he was a local New Yorker and worked nearby. We met for lunch finished the sale and geeked out over watches. Yan has since joined us for a few of the NYC get togethers.

- The dial and chapter ring both came from Harold "Yobokies" Ng. Over the past year Harry has really been a good friend and on more than one occasion has gone above and beyond help with assorted mods and accommodating some of my crazy parts requests. He's even surprised me with his generosity on more than one occasion. I originally had a seiko 5 flieger dialed ready for this mod, but that was before I saw Harry's equivalent (which is much nicer). This mod owes a lot to Harry's special parts projects. it could never have been completed without his input.

- The bezel came from Jack Alexyon. This is one of those things which I saw once while flipping through Jack's pictures. I asked about the black version of this bezel and jack told me that he had them in SS as well. Sadly he didn't have any handy, but after a month or so of waiting Jack came through with one of each of the custom made explorer style bezels. These things are truly something. More of you should consider giving these a try.

- The bracelet came from another NY-based forumer, Raymond Lee, who was gracious enough to sell me an awesome watch at a great price and would hear nothing of giving him something else in addition as payment for the great deal. Not only did Ray give me the great sale, but a few months later, without even asking, he gave me the additional links for the bracelet. Talk about a class act.

- The movement is the one piece that didn't come from the forum. Instead it came from the bay. I actually got it with the purchase of a black flieger and originally intended to use both the movement and it's dial for the mod. The dial didn't get used.

- The black day and date wheels - these came out of a modded 7s26 parts watch that I bought from Ramon "Thewatchcollector", from the Philippines. I drove him nuts trying to find a case for this project, and to his credit, he gallantly put up with my nonsense, even sending a new case when the original one ended up not being usable. this forum would be a far different place without people like Ramon.

- The metal work was all done by our very own Jonathan "Swedefreak / Mr Seiko" Koch. Jonathan actually let me see samples of different blasting grades and types before even touching the watch. After choosing a specific grade, Jonathan not only blasted the pieces, but also mailed me back the watch packed as though it where the jewels of the crown. Jonathan could ship Humpty dumpty and he would arrive in one piece. Thanks my friend, you've been a real life saver this past year, plus its always great fun talking to you. Your patience and dogged determination to "get it right" has produced some of the most beautiful restoration work I have ever had the privilege of seeing.

- Final assembly and Tune-ups were done by none other than Lew Brown. Over the past year Lew has become not just a fellow forumer, but a true friend. His ready advice and help has extended far beyond just watches. Lew not only did the movement assembly (hands dial chapter ring), but also sorted out a few problems he found without me even asking. If this watch owes its existence to any one person more than anyone else, I will have to say it has been in large part to Lew's incredible help.


This whole project took about 11 months from the start of the collecting process to final assembly. Thanks to everyone who played a role in helping me bring this beauty to life, while putting up with my annoying self. I owe all of you big time. I promise to post more pics later this week.