Hi all,
Posted my first Bell-Matic on here back in 2017,
[Link]
,ever since then have learned all about the different models by going back through all the fantastic posts on here from over the years with huge amounts of great information
Last Year I started looking at Yahoo Auctions to see if I could spot any of the rare models as a harmless way to find other ways of enjoying his hobby without spending money....or so i thought.
Here is a list of the rarest Bell-Matics ,credit goes to a post from this forum for the list
1. 1966 4006-7000 "Diashock" w/dolphin caseback
2. 1967 4006-7000 7030T "Business Bell"
3. 1967 4006-7019 21J US export model
4. 1967 4006-7000 "Diashock"
5. 1968 4006-7029 21J US export model
6. 1967 4006-7010 7040T "Business Bell"
7. 1968/69 4005-7000 "Date Only
Found a couple of Business Bells (4006-7010),some with original bracelets that tempted me as they are really cool,also loads of 4005s.This year have noticed a couple of 'DIASHOCK',including Dec 66/Jan 67,even bidded on one ,lucky missed out as the caseback was not correct,posted more about it on the forum
[Link
]
Also found a DIASHOCK dial used for the 4006A service guide
The next is one I never could have imagined
It all started on the evening of Friday 24th July around 7pm,was on the computer,actually looking at games to take a break from watches. Wasn't really in the mood of starting a game,so did by now a routine search 'Buyee.jp - Seiko 4006'.Scrolled down through the listings,spotted straight away the 'DIASHOCK' dial,thinking it was another 1967,as soon as the page loaded,spotted the Dolphin! Nearly fell out of the chair,completely lost for words.Checked the description,title no mention of Dolphin,just a regular 7000.Only three watchers,compared to some other more common that have over forty,no bids.Searched through various forums,eBay as sometimes they also get listed on both sites,Mr Hiroshi HIRAI of Japan a collector of fine alarm watches on twitter HH Alam_Fan
[Link]
, also has a fantastic blog
[Link]
who has recorded every Dolphin serial number since 1995! to see if he noticed it...Nothing.
Compared it to pictures of known examples to make sure everything was correct. Wasn't sure to try to bid,contact the experts,say something on the forum.I knew I was not the right guy for it only being around these parts barley three years,knowing guys have been chasing them for decades.Turned off the computer and later went to bed,couldn't sleep a wink.Got up and after a walk,decided I had to at least try.Unfortunately in my infinite wisdom,after the last close call,had decided to delete my Buyee account and could not reactivate it nor use the same email/Papal.After creating new accounts,everything was ready,but was I?
Learned from my last experience about the annoying automatic extension and the sniper bids around the five minute mark.Also struggled to come up with a max bid,knowing the last sold for $680 (post on wristsushi from the guy who won it
[Link]
) could not go that high.There was still no bids,decided to place the opening bid of €110.50 in case for some reason the listing was removed,had a similar thing happen with a Zodiac Alarm on eBay,no bidders.Went to bed,again not sleeping.
Sunday was one of the longest days I can remember,still the only bidder, felt even if I didn't win,felt very fortunate getting a chance to bid.Later that evening,the guy posted it on Twitter,thinking game over.
Around 11pm,six hours to go,I was out bided,€114.49.Now coming up to 1am,starting to fall asleep,going to give up and put in a max bid.Could put a sniper bid,but remembered Larry (Uncle Seiko) missed out on a Dolphin due to the sniper failing to go through,not wanting to take the chance,decided to bid manually.
Before placing a bid,had looked at some guides to give myself the best possible chance,found this one on wristsushi
[Link]
about having the timer from Yahoo auctions open on a separate tab as Buyee does not update in real time.
As the time got closer,got a second wind.Misjudged the closing time by one hour,so the wait was even longer.Thirty minutes left, my nerves were gone,knew had to wait as close to that five minute mark as I could,but after would increase time.Finally with sixteen minutes left I put in my max bid,logged out to avoid going crazy.
Now €220.48,reaching the ten minute mark.7-6-5-4 minutes,the bid held, no sniper bids!,3-2-1,A minute away from owning a Dolphin!To avoid attracting attention to it,checking it from the search,not the actual page.Clicked the listing, 10 Minutes €356.16!!,3AM,screaming at the screen,knew it was over,one minute away from owning it for €220.48.
I was still the highest bidder,the time ticked back down,5 Minutes,3-2-1,shouting "JUST END-END-END".
Refreshed the search,Gone,scrambling to login,saw the text" You Won",3:40AM,completely lost for words.
After the auction ended,checked Twitter,was sad to find out Mr Hiroshi HIRAI was the other bidder as I had no idea he was going to bid and he has a lot more knowledge than me,he was the seller of the Dolphin that sold last year for $760
[Link]
Due to the going on, EMS shipping was unavailable, had to go with DHL,after getting caught by customs and fees/protective packaging,the final cost ended up at €531.31.
Still a complete rookie in these parts,but by the time I had the experience, I may never get another chance like this,or there could be a box full of them somewhere, who knows?.
Originally when it left the factory it came on a "Chiclet" bracelet,credit to a post on the forum for the pictures. Hope to track one down and reunite it with one. Here is a picture from a Seiko catalog showing the bracelet. Credit for the information to the buyer of the last one sold that posted on Wristsushi
[Link]
, also mentioned in the post, the 1966 case is different with the horns being a different shape and shorter to the next 4006-700x, so the later bracelets won't fit without the end links being heavily modified.
Catalog showing a 4006-7000 with 'DIASHOCK' dial with the 'Chiclet' bracelet.Credit for the catalog goes to one of my favorite posts about the forgotten Business Bell 4006-7000 (7030 T)
[Link]
,managed to get a better quality scan of the catalog thanks to the Seiko Museum.
First watch on the top row on the left
More detailed picture of the watch from the same catalog taken from a post on Wristsushi
[Link]
Going by the information collected by Mr Hiroshi HIRAI HH Alarm_Fan on Twitter,less than 3,000 were made,less than 20 have been documented, by the serial numbers,mine is the second earliest recorded.
6N53883
6N53978
6N54004 6N54109 6N54110 6N54172 6N54308 6N54326 6N54405 6N54420 6N54605 6N54641 6N54732 6N54799 6N54897 6N54986 6N55053 6N55063
6N54799,remembered finding a post from 2009
[Link]
,by TheTigerUK (someone I really look up to when it comes to Seiko) about a Bell-Matic owned by Mr Hiroshi HIRAI HH Alarm_Fan, that at the time was taught to be a prototype,hard to believe the serial number on mine predates it.
The Dolphin Bell also has other differences compared to the later 7000,a notch in the case around the alarm button,changed in February 1967,Longer "long tail" Alarm spring ,
Dimple in the button for the alarm and the DIASHOCK dial that was changed in February 1967.
A comparison of the movements, top a 4006-7000 Dolphin,bottom a later 4006-7000,full credit goes to Mr Hiroshi HIRAI HH Alarm_Fan
Made a video comparing the alarm to my 6020
The rotating ring for the alarm is loose and misaligned,couple of other issues that will be fixed during the service,made another video with more detail
Here is a December 1966 4006-7000 that came up this year featuring the change to the Horseshoe caseback
On Alarm_Fan's blog he has also tracked the serial numbers from December/January,
[Link]
The earliest example of a Dolphin is a Seiko Sportsman Dolphin from September 1961,credit goes to Duncan The watch Bloke
Tried to contact the seller to get more history of where he got it,no luck as Buyer can't ask about sold listings.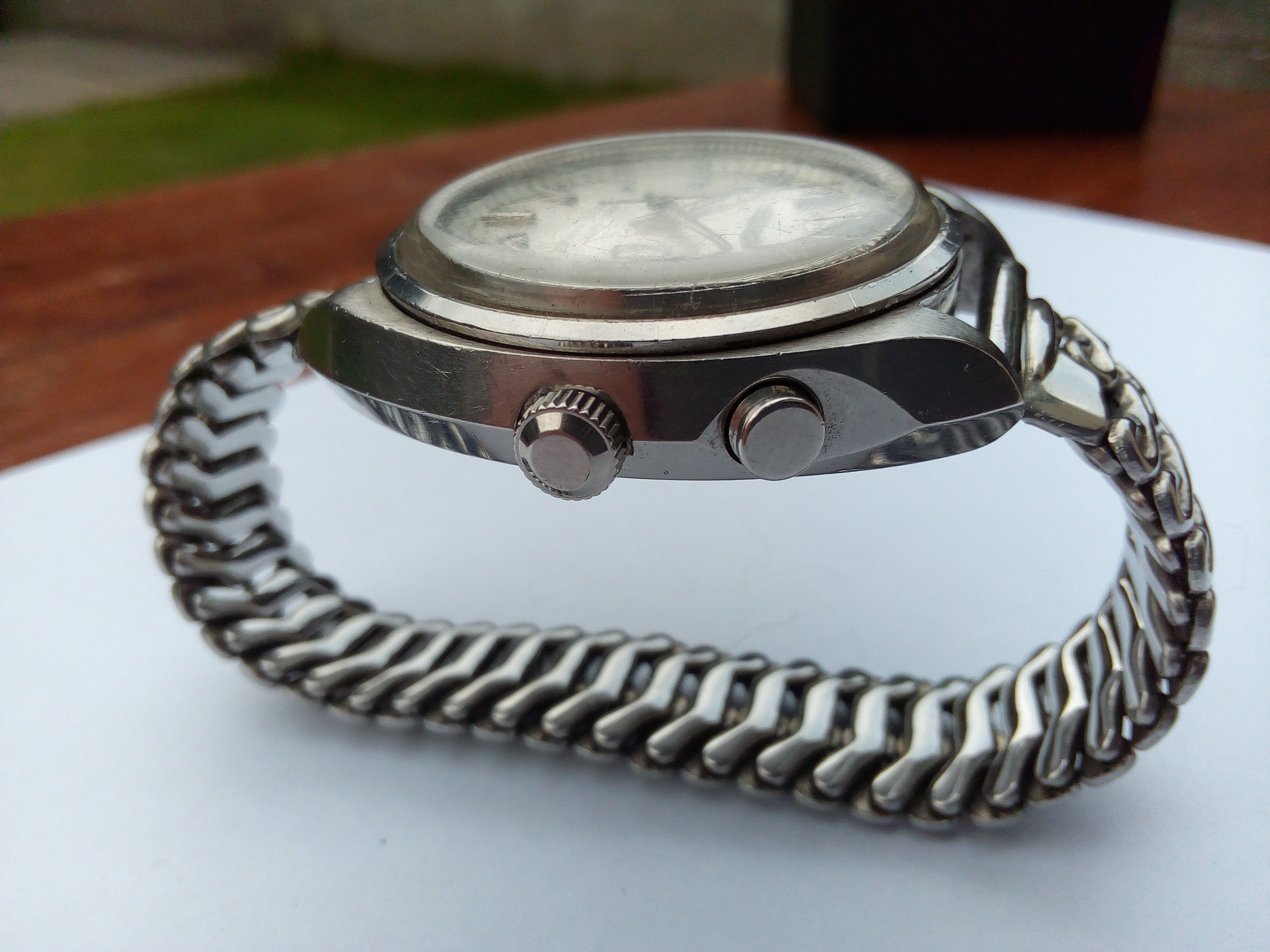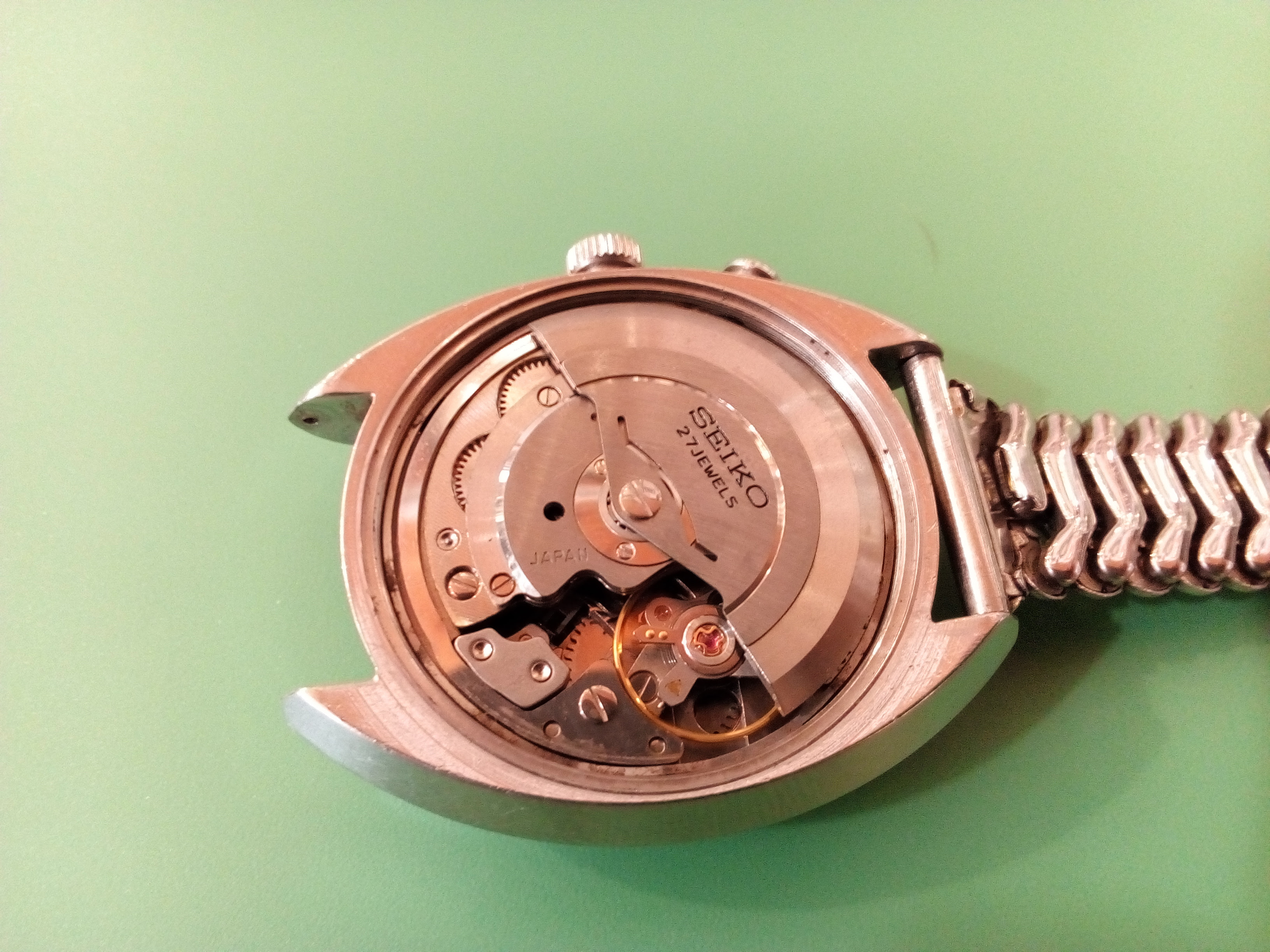 Still cannot believe I actually won it,first Yahoo Auction purchase,had taught about starting with something small to see what it was like,had no idea it would be something like this!,There are so many others in the community that deserve to have it more than me,that have hunted these for years.HUGE THANK YOU and full credit to Mr Hiroshi HIRAI HH Alarm_Fan,had no idea he was the other bidder,he fully deserved it more than me,has been tracking them since 1995!,also to this forum for all the information that has been collected and shared on here over the years,feel a huge weight on my shoulders to do right by this watch,this post doesn't do it justice.Will try to document it as much as I can,going to look into getting it serviced and hopefully will have more pictures to share.
Extremely grateful for any information/advice and if i got anything wrong,please let me know as I do not want to spread bad information
Some extra information/Pictures
Listing on Yahoo-
[Link]
,Screenshots/Pictures from Auction Listing for archives
[Link]
Pictures-
[Link]
,
[Link]
Movement pictures-
[Link]
Unboxing pictures-
[Link]
Last Dolphin that sold
[Link]
,post on wristsuchi by the guy who won it
[Link]
Another Dolphin sold July 2019 that was also posted on the forum
[Link]
,Listing details
[Link]
Another great post that has some other very rare Bell-Matics
[Link]
Thank you,
Keith.