Discussion Starter
·
#1
·

Authored by BetaMark


I first learned of the Seiko Spring Drive about a year ago, when researching oddball vintage quartz and tuning fork movements on the Web. I was so intrigued by the concept that I soon arranged a visit to a local AD to see one of these beauties in person.

To whet my appetite further, the good folks at Feldmar Watch Co. of Los Angeles gave me a promotional DVD from Seiko that explained the intricacies of the Spring Drive. Now I was hooked, but such a timepiece was a bit extravagant for someone of my means.
Nonetheless, I began informally saving my pennies and about a month ago, finally decided to pony up.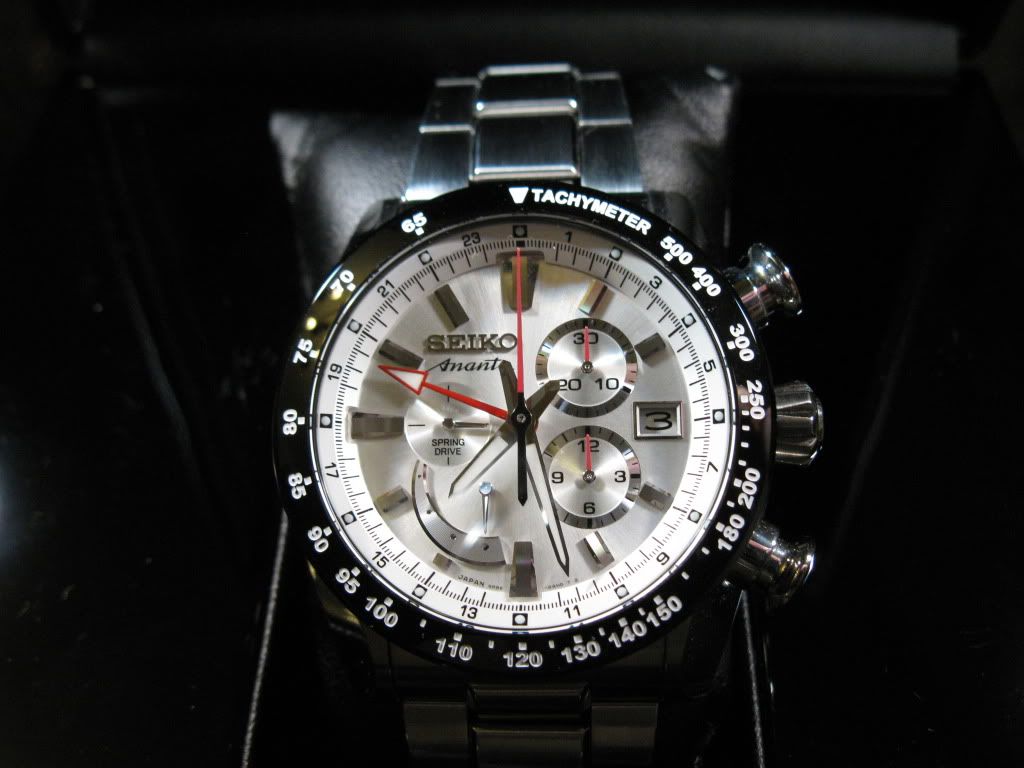 Much has been written in these forums and elsewhere on the Spring Drive. To put it in my own words, a conventional mechanical watch has a mainspring for mechanical power, a timekeeping train and a mechanical escapement with an oscillating balance wheel.
In the Spring Drive on the other hand, most of the machinery is kept intact… except for the escapement. It is replaced with a quartz 'escapement' – a wheel that spins continuously (the Glide Wheel as Seiko calls it), and generates an electrical current. This current then powers a quartz oscillator IC chip, which in turn measures the speed of the Glide Wheel and applies a magnetic braking force to it, so that the wheel spins at exactly 8 times a second, allowing the watch to keep time.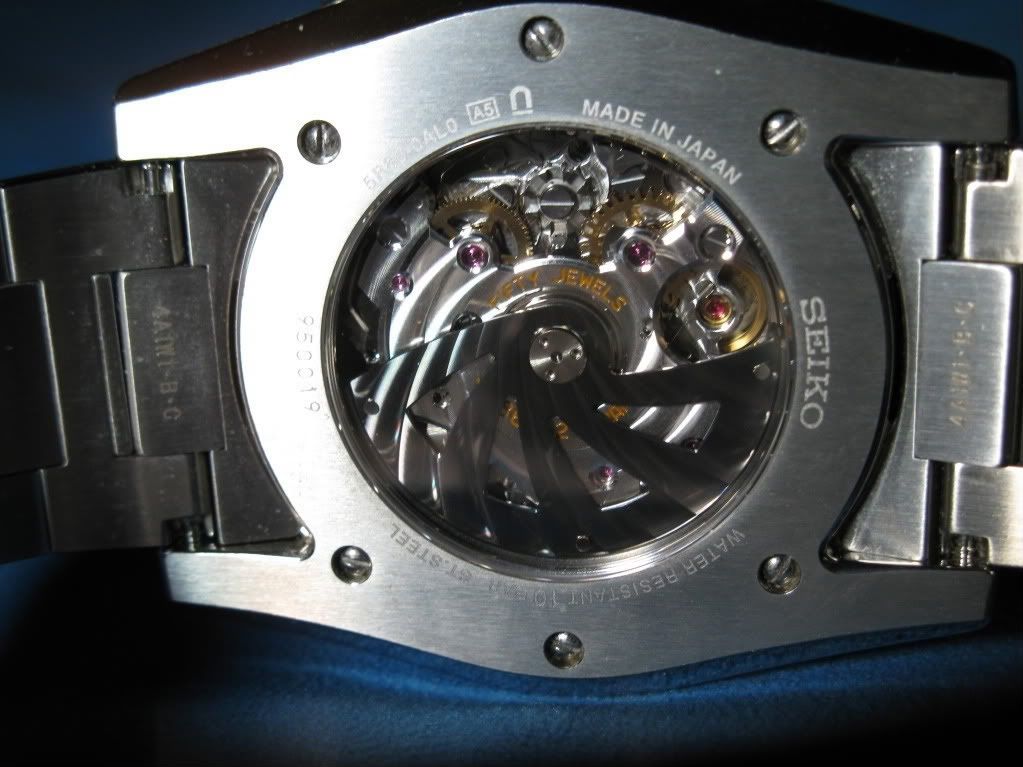 I think the katana-inspired styling of the Seiko Ananta Spring Drive case is stunning. The huge, broad-shouldered lugs are integrated into the caseback, which in turn cradle a somewhat barrel-shaped case and makes for a massive wristwatch. Outside diameter of the case is 46mm, while the depth is a thick 15mm. There is a definite heft and bulk to this timepiece, with the weight being almost 230 grams – just over half a pound! You'll never forget that you're wearing this beauty on your wrist. The solid metal bracelet is well made. The links have minimal play but are well articulated, and I've yet to be pinched by this bracelet. The case styling suggests that the back is highly curved to fit the wrist, but in fact there is only a slight curvature on the back of the lugs. This helps make the watch surprisingly comfortable to wear.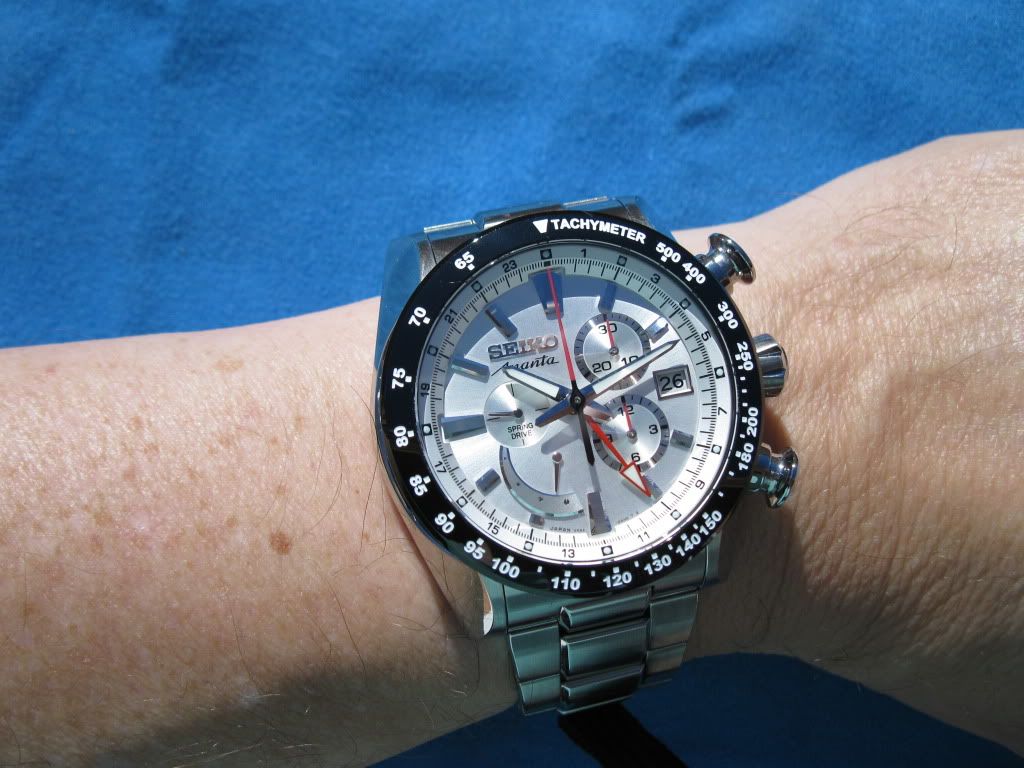 The Spring Drive chronograph has a non-rotating tachymeter bezel, and anti-glare sapphire crystals both in front and back. The 30-minute and 12-hour sub-dials are at the 1:30 and 4:30 positions respectively. The running seconds sub-dial is located at 9 o'clock, while the power reserve is at the 7 o'clock position. There is also a GMT hand with a luminous arrow that makes it easy to differentiate from the hour and minute hands.

The most captivating aspect of the Spring Drive is that the hands move with a continuous, fluid motion instead of ticking, or in one-second steps as a seconds hand would on a conventional quartz watch. This can almost be seen by carefully watching the running seconds hand of the sub-dial at the 9 o'clock position; but the real joy is to let fly the red center seconds hand when using the chronograph, and watch it sweep majestically around the dial.

I want to mention in this connection that this watch is loaded with tech, not the least of which is the Spring Drive. Seiko has wisely chosen to include their vertical clutch for the chronograph complication. I won't go into detail on this other than to offer this web link that explains the advantages.

http://blancpain.watchprosite.com/sh...i-297525/s--3/

Suffice it to say that without the vertical clutch design, the smooth, stepless motion of the center seconds hand would be more or less lost.

Another unique feature of the Ananta is the time-setting work. The hour and minute hands can be set separately, with the first detent of the crown setting the hours, and the second detent, minutes. But the clever part of this is that the hour hand moves in hour-interval clicks rather then continuously, and in such a way that it always maintains the proper relative position to the minute hand. This is handy for adjusting for Daylight Savings Time, or for changing to a different time zone, and it seems to me this bit of ingenuity would qualify as its own complication.

The GMT hand is linked with the minute hand so that it can be set to a second time zone if desired. Likewise the date is linked with the hour hand, which allows a relatively quick advance of the date for short months.
The movement is automatic and can also be hand-wound, and has a built-in seconds hacking feature.

One of the advantages of the Spring Drive is to give a mechanical watch the accuracy of a quartz timepiece. You'll note in the photos that the running seconds dial only has markings at the 3, 6, 9 and 12 positions. While attractive in a minimalist sort of way, it makes for a somewhat difficult check of accuracy. I'd estimate that my Spring Drive has gained about 5 seconds in the first month of use. My understanding is that accuracy should improve somewhat over time as the movement settles in.

I find the Spring Drive to be uniquely compelling on several different levels. It is somewhat of a reach for me, as mentioned earlier; but at one and the same time, represents a 'sweet spot.' A technically exotic timepiece that is relatively accessible and wearable, as one of Seiko's goals was to design a mechanical watch with above-average durability. The motion of the hands and Glide Wheel are endlessly captivating to watch; there seems to be almost a Zen-like relaxation quality to this.

Also, as both a computer geek and enthusiast of fine mechanical watches, the Spring Drive strikes me as being a fantastical merging of classic mechanical watch making and cutting-edge quartz-digital technology. The workmanship of this watch is absolutely first-rate, on a par with just about any Swiss timepiece. And since it was such a hefty purchase, I couldn't afford a winder… so, I uh, have to wear it all the time…!
__________________