Discussion Starter
·
#1
·
I figured I'd start doing a few reviews of some of the digitals in my collection (feel free to do the same with your own), so we can use them as future resources.
This review is about the Triathlon version of Timex's recent "Shock" resistant line, the T5F8419J.
As with Casio's G-shock, Timex's new Shock line of digitals is designed to meet ISO 1413:1984 minimum shock resistance standards for digital watches.
Below is a picture of mine in it's case.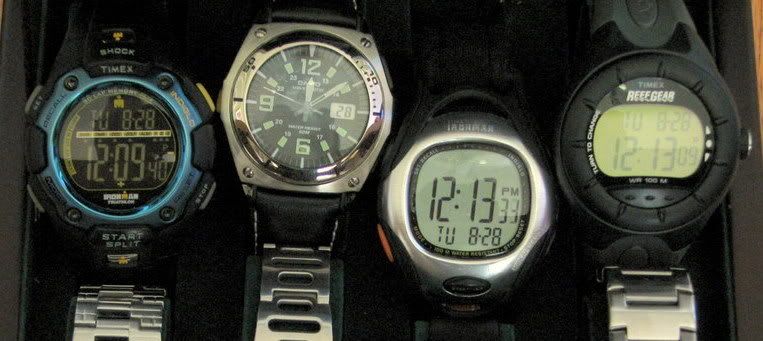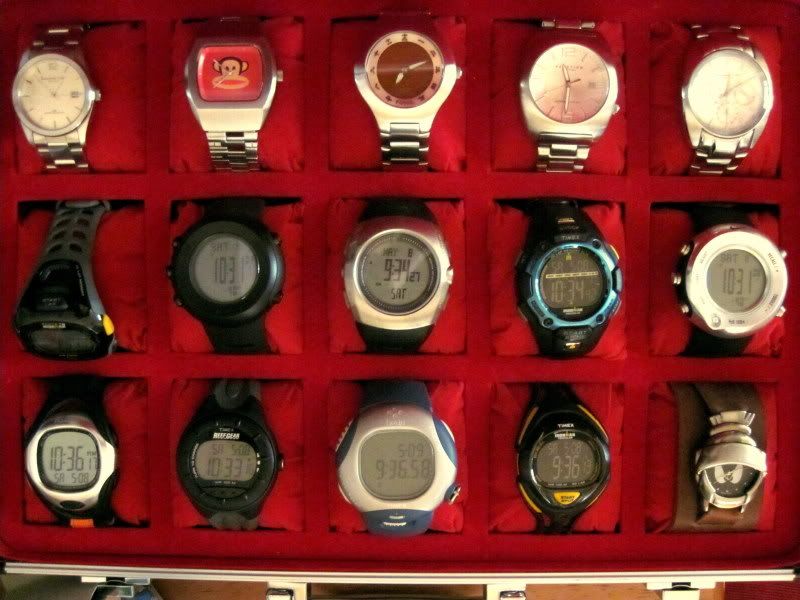 Here are my impressions:
Movement:
Anyone familiar with Ironman watches will find a bevy of standard features. The watch comes equipped with the following functions: Time (including 3 Time Zone tracking), date, chronograph with 30-Lap recall, count down timer, 3 alarms, and programable indiglo backlight (only lights the digits not the whole screen, which is very cool). IN addition it has a few interesting functions not typically found, such as a programmable "Occasion Mode Reminder" (an electronic version of the string tied around your finger reminding you to do stuff); a Golf score keeper (cool if you're a golfer); and a programable "Flix" system which allows you to activate the backlight by simply flicking your wrist (as opposed to pressing the light button).
The feature list (except for the last three) is fairly standard fare with Ironman triathlon models, even if the lap memory on this one is not as high as some of the non shock models. A cool feature of the watch is that you can program which functions you want turned on and which ones you do not. The idea is that if there is a function you don't use, you can deactivate it, so that you don't have to cycle through it when using the watch. For example, I have the reminder and the golf features deactivated on mine because I just don't use them. a nice touch is that when you use a function, once you finish, if you hit mode, the watch will send you back to the main time screen (unlike other digitals which will make you cycle through the remaining functions before you get back to the main screen).

Case:
As with G-shocks, the case is really a mixture of an inner metal case which holds the movement, embedded into an outer polyurethane case which aids with impact absorption. Surrounding the display is an aluminium bezel held in place by the outer polyurethane case and 4 allen bolts. Depending on the model can be either plain or anodized in a variety of colors (mine is blue).
A with many g shocks, the case is oddly thick, making the watch wear relatively high in comparison to it's width. Most functions are activated through a series of 5 buttons (4 on the sides and one below the screen). A nice touch is that the backlight button is set in a different color, making easy to see. The buttons are also polyurethane and are reasonably thick and easy to use. for G-shock lovers, you will find that while more comfortable to use, the buttons on the Timex lack surrounding guards and don't feel quite as mechanically precise as comparable G's (that is not saying that they are bad though). In addition the choice of case and strap plastics are not quite as supple as those use by casio. The caseback is a stainless steel 4 screw design which is common in these types of watches. It looks just like this one previously posted by WUS member, Buzzbait on
His Review of his Timex Shock
: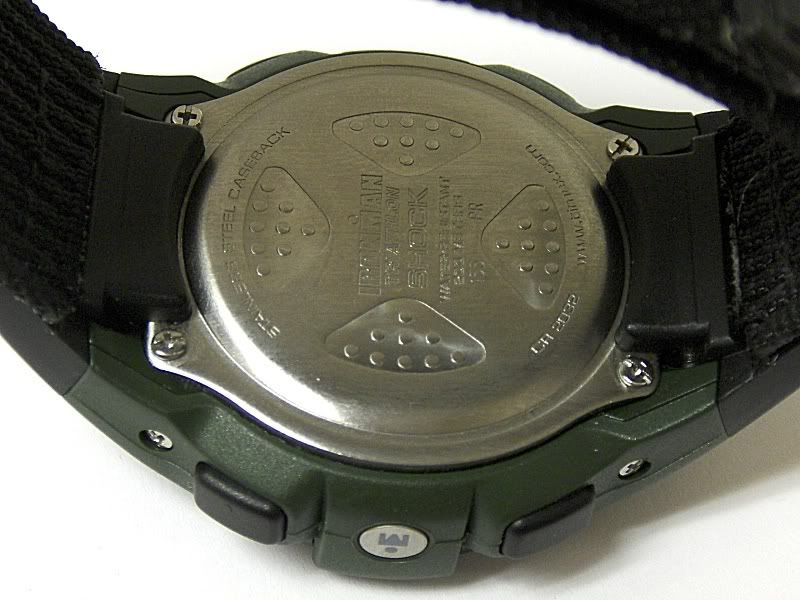 Crystal:


Flat Mineral - recessed fairly deeply
Strap:


Integrated polyurethane design. Thankfully it is not permanently attached to the case and can be replaced if needed. the strap is neither hard nor soft, but somewhere in between. It is full of adjustment holes which do double duty as heat vents (nice touch). Also the end of the adjustment strap has a built in recess in to which the strap keeper locks, so as to keep any excess strap ends from flapping around after you've put the watch on (the design is the revers of that used in the Nike Oregon).
Water resistance:
200 meters. Not an ISO rated diver, but I suppose it could be used for that purpose.
Display:
Digital Negative display, showing time, active functions, date, and active alarms. Unlike it's positive display variants, The negative display is not a high contrast variety - the stock pictures make it look far more high contrast than it is. In other words, while nice, it is not quite as easy to see at a glance as some newer high contrast negative displays (the digits get a little lost in the black). The flipside of this is that unlike most G's the digits are relatively large and the display is generally devoid of unnecessary styling, thus making it easy to read (and much easier to read in positive display models). As mentioned earlier, The indiglo backlight makes only the digits glow, as opposed to the entire dial, making them especially easy to read in the dark.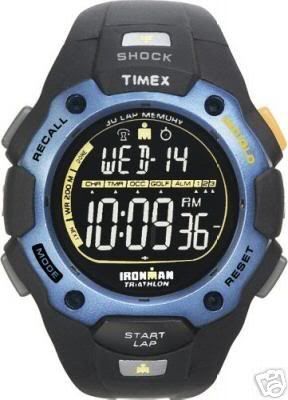 General Impressions:
I bought this watch because I wanted to see an alternative to a G-shock. To me it seems like Timex has definitely used Casio as the standard and designed the watch accordingly. The watch wears very much like a G-shock and shares more than a passing resemblance to one. Fit and finish is not quite up to casio's standards, but it is not bad (If anything the watch feels a bit more rugged), especially when you consider that these can be had for a fraction of the price of most G's. If you are looking for a weekend beater, this is definitely a very affordable way to go. From a function POV, you can't go wrong with the Timex. IMHO, the larger digits, uncluttered display, ease of use, and functions arranged primarily for sport, beat the casio's hands down. the negative display, on the other hand could use some improvement - a high contrast one would be preferable - and I would advice you to stick to the positive display models. Overall it is a very nice and functional watch for a fraction of the price of a comparable G. It doesn't break much ground in terms of original design and wears very much like a G. It's strengths are functionality, price, and the introduction of usable features such as the flix system. Overall a nice alternative to the Casio G line, even if not quite as nicely put together, and a solid piece made for real world use and abuse - though not a replacement for Timex's traditional, sport designed, Ironman Triathlon line.
Other models:

For a full list, see them a Timex's site here:
http://www.timex.com/gp/node/n/23852...Brand=coreSome
other models include:
T5F8219J:
T5K0229J:
T5J3819J
T5F8519J (Nylon Strap)
T5J4019J (Nylon Strap)