Discussion Starter
·
#1
·
Author: djmm
Review: Seiko Premier Automatic SPB001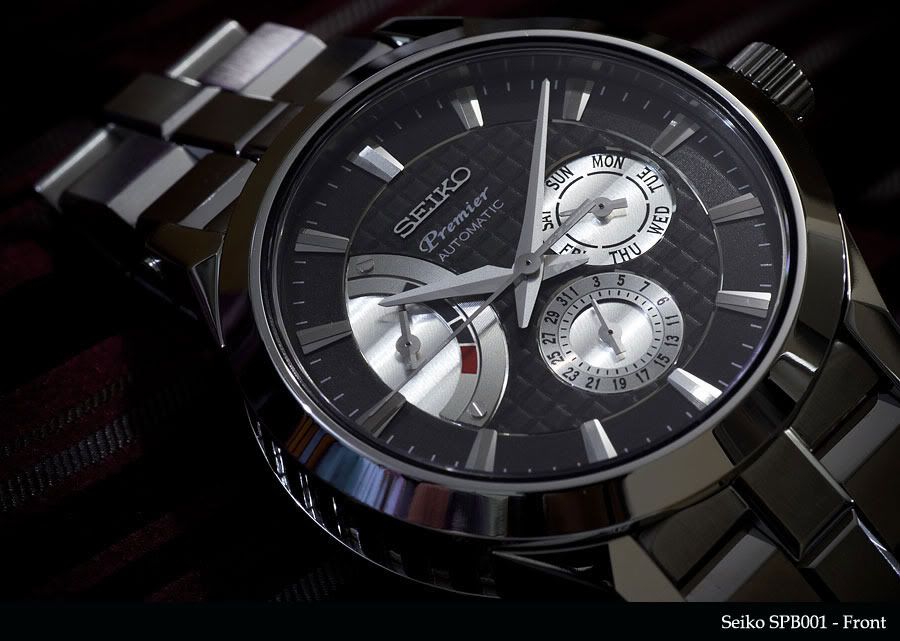 ​
Specifications
- Case width: 42mm
- Weight: 150gms
- Sapphire crystal with display back
- Solid Stainless steel case & bracelet
- Movement: Seiko 6R20 with 29 jewels and 209 parts
- Hi-beat 28,800 bph
- 45 hours power reserve
- Handwindable and hackable
- 10-bar water resistance
- Day, date, and power reserve indicator
- Engraved rotor
- Made in Japan
Intro

duction


This watch was originally introduced in 2006 but I just recently found out about this watch while browsing the net and it was pretty much love at first sight. Well, maybe not at first sight but at least after I confirmed that the watch was great both inside and outside.
I loved the look the moment I saw it but I was not really convinced until I checked the specs of the watch and after doing so, I knew that I really needed to get hold of this watch (especially considering the street price now).

So anyway I ordered it through eBay and my several days of waiting were filled with worry and fear that it would look like one of those cheap looking Seikos that they sell at shopping centres (they also have cheap looking Seiko Premiers too, that's what made me worried even more).

After a few days, the watch finally arrived. What's funny is on the description of the shipping box, it was written as "horological instrument". Yes, some people actually call those instruments as watches too. But I think it was to prevent unnecessary attention from (hopefully not so bright) custom officers.
The watch that I got didn't come with original retail box but instead it came in a generic Seiko box. Honestly I wished it was original box because collecting those fancy original watch boxes is one of the things that I like about getting watches. But I don't mind getting a generic one if that means I could save a hundred or two.
The watch that I got is still of course original and brand new (manufactured in August 2008) – came with manual and blank warranty card too which I don't think it's much of a use.

Now after having the watch for a few days (and got past the "brand new toy" excitement), I would like to share with you my impression of this watch. This is by no means a objective review, but just me sharing what I think of the watch and just sharing some pictures along with it.




The Design



For some reason this particular Seiko is not very popular in the Seiko forum. I think maybe because the design of this watch is not like your typical Seiko (eg. Spirit/mechanical line, or the diver line). As previously mentioned, the one I have is manufactured in August 2008, so that means at least people are still buying it after 2 years of its release.

Back to design, to me the style looks more like a marriage between Breitling and Maurice Lacroix style. The small dials and the case remind me of Breitling, and the curve of the dial design and overall dial colour tone reminds me of Maurice Lacroix watches.
It is marketed as dress watch but the small dials and hours also give this watch a bit of sporty look. Its siblings (SPB005 & SPB003) look more like dress watches because of the roman hour markers and busier-looking dials.




The SPB001 dial combined with the 'edgy' wide stainless bracelet makes it look very masculine. I personally think this is a very handsome watch (that's why I bought it at the first place) and I much prefer this over last year's (2008) Seiko Premier models. It looks like there is no Premier Automatic in 2008 model (correct me if I'm wrong) which is a shame.
Although it doesn't look as conservative and timeless as Grand Seiko, but I believe this Seiko will still look fine and not outdated after many years from now mainly because even though it has modern look, but the styling is not way out there.




The Dial





(if the picture is yellowish, that's because of the reflection of my bedside lamp)

As shown in the picture above , the dial consists of 3 smaller ones which are the date dial, the day, and lastly the power reserve indicator.
You can see that there are so much attention to details given to this watch:
-The center background has a rectangular pattern wrapped in tiny black round patterns (difficult to see here because of the lighting - but it's visible on the top right hand corner of the picture).
-The hour and minute hands are finished in two-tone white/silver colour
-Decorated small dials with Milled-metal finish
-Decorated hour markers
-And this is what I like the most – layered small dials: the power reserve indicator actually has 3 layers, the date indicator has 2 layers, and 1 layer on the day indicator. I can tell you this much – this watch is not "lazily finished". The attention to details is impressive considering the price of the watch. This makes the watch so nice to look from a close distance because it has depth instead of just plain flat dial.

Overall, Seiko did excellent job on the dial on this Premier. The only thing I don't like about the dial is the date dial is small and difficult to read – especially when the hour/minute hand is on top of it.





The Housing



Again, more attention to details found here. Side case is finished in a ribbed pattern, alternating between brushed and polished finish. The ribbed pattern is sandwiched with polished front and back face.



The lugs are also finished in two styles, polished on top bit and brushed on the side. Very solid housing, nothing to complain about here.

[img]http://img.photobucket.com/albums/v123/dj_mocok/Seiko-side_lug.jpg

Well if you want me to nitpick, those ribs can be difficult to reach when you want to clean tiny dust particles around them. I am also not sure if it has anti-reflective coating inside the glass or not, but from the outside it doesn't seem to have one. Some people like AR coating, some don't, and I am actually not sure where I stand in terms of AR coating.



Display back

I love watches with display back. It's one of the things I like most about automatic watches - the display back showing off what's inside.
All the wordings surrounding the case back are engraved, including the individual serial number. From the picture, they look rough and the colour looks chromatic because of the light reflection. In real life it's actually smooth and in pale silver.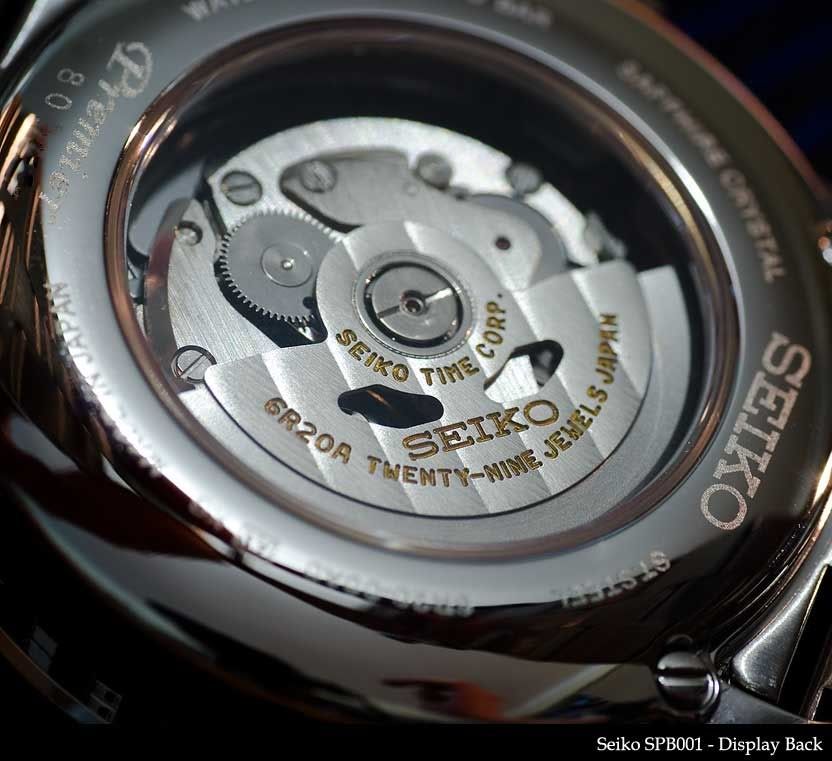 One of the differences between 6R20 and 6R15 movement is 6R20 movement is more nicely finished than 6R15. You can see that the rotor has a patterned milled finish, and so does the parts inside. The words on the rotor are engraved instead of stamped, finished in gold. Balance wheel is also in gold.




I guess if there's actually not much performance difference between 6R15 and 6R20, at least they have to come up with something more obvious, haha…




Bracelet



The solid stainless steel bracelet is pretty wide – I measured it at 21mm. It is written as "Stainless Steel Z", although I don't know what Z means.
Bracelet wise, originally I wasn't very sure with the style because the links look very rectangularish and they don't look comfortable. But after putting it on your wrist, it's actually very comfortable, the inside is flat like your usual link after all.



They do look different than your normal stainless bracelet, it looks bolder but overall, the shape of the links goes well and matches the shape of the hour markers. The links are finished in two tones as well. The front side of the links is finished in brushed steel, surrounded by polished finish on sides.
The way they alternate the finish of the links and the angle design of the links make the bracelet looks as if it's sparkly when you move your wrist around.

[img]

Hopefully you can see what I mean from this video sample that I took. It's a bit difficult to see because I was blocking the light source when I took the video. [url=http://www.vimeo.com/4471417](Video of Bracelet)[/url]

The clasp just like the rest of the watch is solidly built – it has 3 holes for you to micro-adjust it according to the size of your wrist. It uses the press release mechanism not the click-to-lock system so you don't have to "peel off" the bracelet every time you want to take it off.

[img]

[color=blue][b]
The Lume[/b]

Yes, lume. No lume. I am actually glad that it doesn't have lume because it will actually mess with the clean and sharp finish of the dial. However, my Seiko 5 has lume though, and it's brighter than my Tag Heuer Aquaracer lume. Talk about ironic.
Why am I talking about Seiko 5 and Aquaracer in this review, I am not quite sure. But I am quite confident to inform you that this watch is lumeless. Lumely-challenged. Whatever it is you call a watch that has no lume.


[color=blue][b]The Crown[/b]

Okay, now crown. It doesn't have screw-in crown. The crown is generously sized but not too big like those Onion-style crown. 1 click sets the crown in date/day mode, 2 clicks stops the watch movement and allows you to adjust the time.
On position zero (crown not pulled out), you can use it to hand wind the movement. Handwinding this watch is fun! First of all, the size of the crown making it easy to pinch and wind the watch. When you wind it, you can hear the micro ticks of something winding inside and you can actually feel tiny clicks. The closest feeling I can think of is like when you rotate the dial of a mechanical safe, but not as strong.

[img]http://img.photobucket.com/albums/v123/dj_mocok/Seiko-sidecaseright.jpg

It feels much much nicer compared to when I try to hand wind my partner's ladies Carrera – the crown is very small and it's so hard to wind, I always end up with sore fingers when I hand wind my partner's watch. Handwinding this watch is very effortless but at the same time you can still feel the ticks and not feeling like you are doing nothing to the watch. As much as I am tempted to hand wind this, I have to keep in mind that this is still an automatic watch, so I don't want to create unnecessary wear and tear of the parts.
On a side note, it takes very little time to fully wind this watch from the empty position.


The 6R20 Movement

I don't know much in terms of technical side of the movement, so I can't really write about it. There are plenty of sources where you can get more info about 6R20 movement though. But Seiko fans should be very familiar with 6R20 already.
However, what I can tell you is since this watch has 28,800 bph, it is actually quite noticeable when you compare it side by side with a Seiko movement with lower bph.
I compared it with my Seiko 5 which has 21,600 bph, and if you observe closely, you can tell that the second hand move smoother on the 28,800 bph one.
Below is the video of the 2 watches compared side by side, hopefully you can see that the second hand runs smoother on Seiko Premier. If you put the watches closely to your ears and listen to the ticking sound of both watches, it's even easier to distinguish – the 6R20 ticks faster than the 7S26 with 21,600 one.
(Video of Seiko Premier and Seiko 5 movement)

Now in terms of real life performance, I know the movement is rated at -15/+25 seconds per day. But how does it actually perform in real life?
I adjusted my watch using time.gov as a reference. After 72 hours since I adjusted it, my watch is currently 6 seconds behind the actual time.
Not bad at all for a non COSC certified watch. So within those 3 days, it has approximately lost only 2 seconds a day.


How does it wear?

The watch has some weight in it, but it's understandable because of the size of the watch and the large solid stainless steel bracelet it uses. I personally like a slightly heavy watch because it gives a more solid feeling. I have around 6.9" wrist size and I think this is pretty much the largest size I would want for a watch. But again, this depends on the individual; some people like to wear huge watches even though they don't have large wrists. But if you have small build and never tried watches larger than 38mm, you might want to try it on your wrist first before purchasing it.




Aesthetic wise, it does look like an expensive watch. I think if I hadn't seen this watch before and if you removed the brand and asked me how much I think the watch costs, I'd probably say it's at least a two or three grand watch. No, I am not saying this because I own it, but it does really look expensive when you see it in person.
I went to see some Spring Drives at the shop last weekend, put it this way, if you put this watch among the Spring Drives, it wouldn't look like it's out of place.
I hope I won't get flamed by Spring Drive owners here by making this comment. But then again, I think what makes Spring Drive expensive is the movement and the (expert) labour cost to manufacture the watch, not the finish of the case and stainless steel bracelet.

Because it doesn't look overly dressy, you can pretty much wear this watch on any occasion apart from contact sport. The polished surface makes it elegant enough to be a dress watch, and the sub-dials and bracelet make it look good enough for casual wear. It also has pretty good water resistance rating too (10ATM), making this a very versatile watch and an ideal choice for someone who plans to own only one watch.


Conclusion

If I am not mistaken, the RRP for this watch when they released it was around 1,100 Euro, but now you can get it maybe for almost half the price of what it used to be. For street price of US$600 now, I personally think that this watch is way underpriced. Put a Swiss label on the watch, and I am sure that it will be sold for many times more than the asking price now.

One thing I like about Seiko brand in general is, it usually represents a good value for money. You know that when you purchase a proper Seiko watch, you are actually paying mostly for the watch itself and also for the company's profit, not to cover advertising costs such as hiring megastars and advertising regularly on the glossy front of famous magazines. I am not saying that Seiko is not spending a lot of money on advertising, which I am sure they do (at least in Japan), but at least you get more watch for your money (not more ads for your money).

To conclude, I must say that I am happy to pick this watch and if you wear watch for your own satisfaction and not for status symbol, put this one on your list as well because you'll be hard pressed to find a watch at this price range that has all the features and pedigree as this particular Premier.

Thank you for reading the review.


Now random image (and video) time!

Another video of the watch
(excuse the background TV noise - friend was watching TV)

And pictures:

My Aquaracer looks cheap when it's next to the Seiko (and also excuse the Aquaracer's crystal for being a bit dusty - it was sitting on the bench for awhile)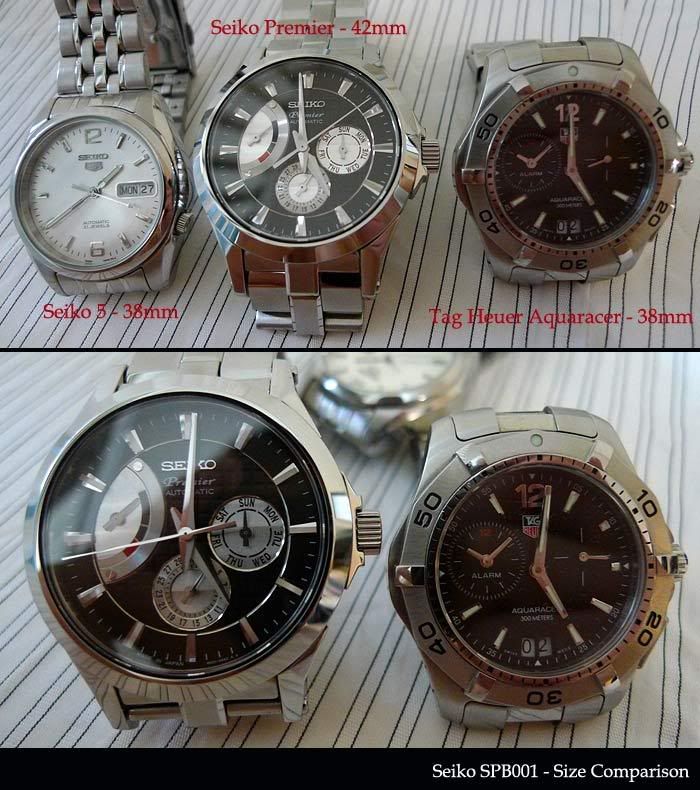 Seiko Clasp




[b]Screw[/b]

[img]


[b]Crown[/b]

[img]



[b]Lug & Bracelet - Gap - very little[/b]

[img]


[b]Lastly, the side again[/b]

[img]

[b]
Goes well with black sleeves/coat:[/b]

[img]