Redial & Spa by Jürgens Germany by Request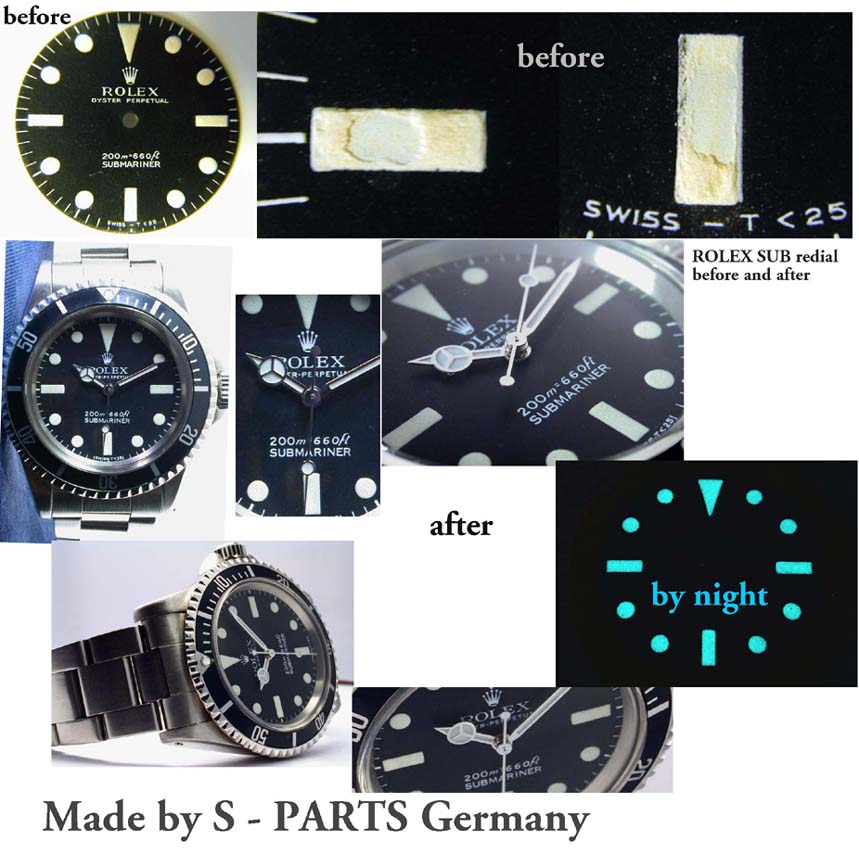 REDIAL and Watch refinishing MADE IN GERMANY TO HIGHEST QUALITY . This service is
available for nearly every watch ( wrist / pocket watch ) all colors silver, gold 14 K or 18 K , rose or red . black, every style ( 45000 different prints of all famous brands and the most others also ) if I don't have the needed print tool we make it, we print Luminous Numbers with normal luminous color or SUPER LUMINOVA , we change colors if you like, we have new indexes or numerals if lost or change, we do diamond cut , index
drilling, 3 color dial, different grinding styles, polishing, repairing of all kind,
soldering of pins, if you lost your dial send your watch we remake a new
dial in every measurements and style also pie pan style ,see my scan and feel free and ask all your questions. PLEASE Don't ask for upgrading
any Brand : Your dial must have the same name and design before , we do not print a red sub ( as
a sample ) when it is a other dial. Please allow a minute to load our BIG jpg you will see all
details. If you want a price offer , please send me a scan of your dial , I will
send you our offer asap.
We do nearly all work around watches : Case refinishing, polishing , grinding , blasting ,soldering, plating of all kind and colors, movement
overhaul and repair, only hands we do NOT repair or refinish.
Please ask for a offer , we need a good pic of your watch for a estimate.
BTW we are in the main city of the german watch and jewelry industry in Pforzheim , all famous and needed companies are around us and we
work only with the best manufactures and craftsmen .
Best from germany Jürgen