Discussion Starter
·
#1
·
Authored by music healing
I need an elegant rose gold watch..
the new line of Orient Star , launched in April 2009, caught my attention..
after studying it.. I ask Orient to let me try the WZ0031DE
After 5 days of trying the new line
I got everything I need in this watch.. for an elegant dress watch
It's automatic, it can be automatic and hand wound also
This watch need only 10 wound to max 40 hours power reserve
- I feel like owning a Spring Drive seiko hahaha
I dont have to wear it daily, just need +/- 10 seconds, to 10 times wound the crown.. walaaaa ---- 40 hours power is ready to go
it has Day dial in retrograde style
it has Date dial
it has power reserve
Superb finishing, rose gold combination of brushed and polished rose gold
Superb leather strap with excelent comfy Orient star deployant
It goes well for Man and Woman ... I guess Orient Star could market this watch as Unisex watch IMO
I just like to share some pictures of this beautiful watch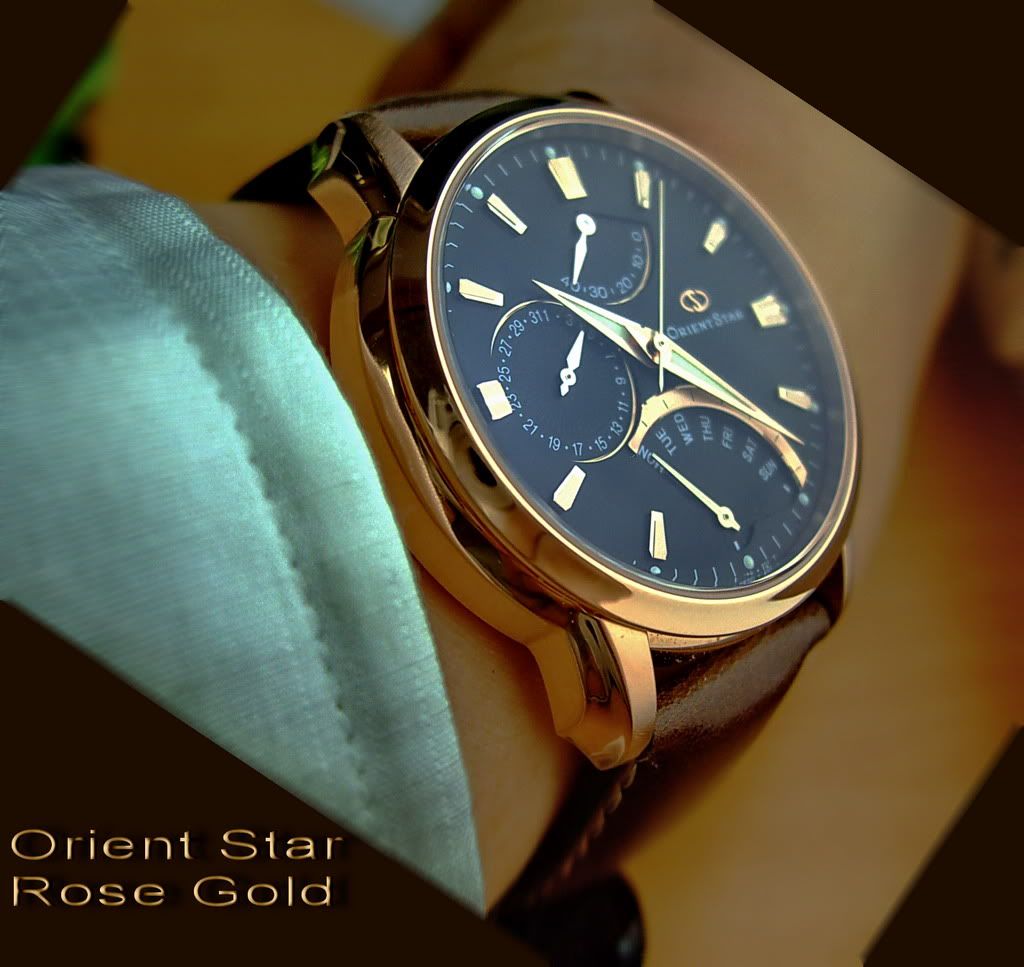 Dial of the watch :
Consist of two layer : lower layer and upper layer. It is so beautifully done, how the 2 dial perfectly each each other
Upper layer consist of two pattern : outer pattern and inner patter
Lower layer is the sub dial..
Watch has 3 Sub Dial - each sub dial is decorated by rose gold border in various style
Each sub dial , has it owns beautiful pattern . that is embossed pattern.. not printed, embossed pattern.. how incredible the detail from each embossed subdial pattern
I still try to get the best pictures with my pocket cam. its so hard
I deliberately give harsh light , in order to try to show the multiple pattern of dial and subdial.. Later on, if I could get better pictures. i would update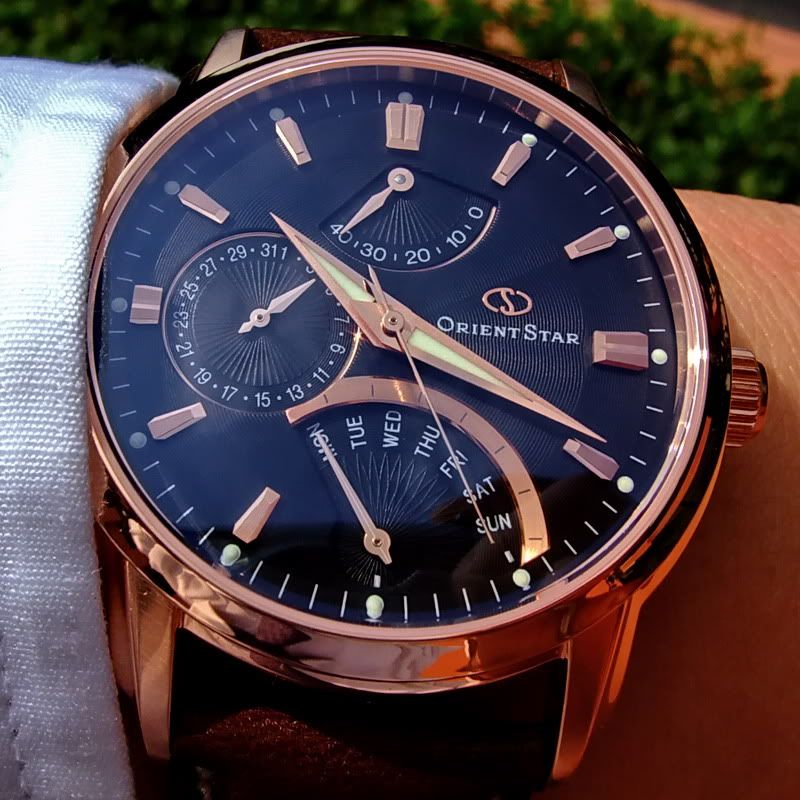 Side profile of the watch..
It consist of the combination of brushed and polished Rose Gold, with double countour edge..
no sharp edge.. the lug hugs the wrist
Crown its signed crafted not laser crafted
[img]
[img]
[img]
[img]
Leather bracelet is very high quality leather.. brown smooth leather.. sticth
thick and suple
comes with Orient star signed deployant.. full rose gold
[img]http://i685.photobucket.com/albums/vv220/watchourwrist/Orient%20Star%20Rose/DSCF7503.jpg
Sapphire crystal is so nice.. it is slight dome but very beautiful dome
minimalistic yet so elegant
[img]
but it is not AR coated
[img] Sharing some of pictures, wrist shots and woman's wrist shot
[img]
[img]
[img]http://i685.photobucket.com/albums/vv220/watchourwrist/Orient%20Star%20Rose/DSCF7554.jpg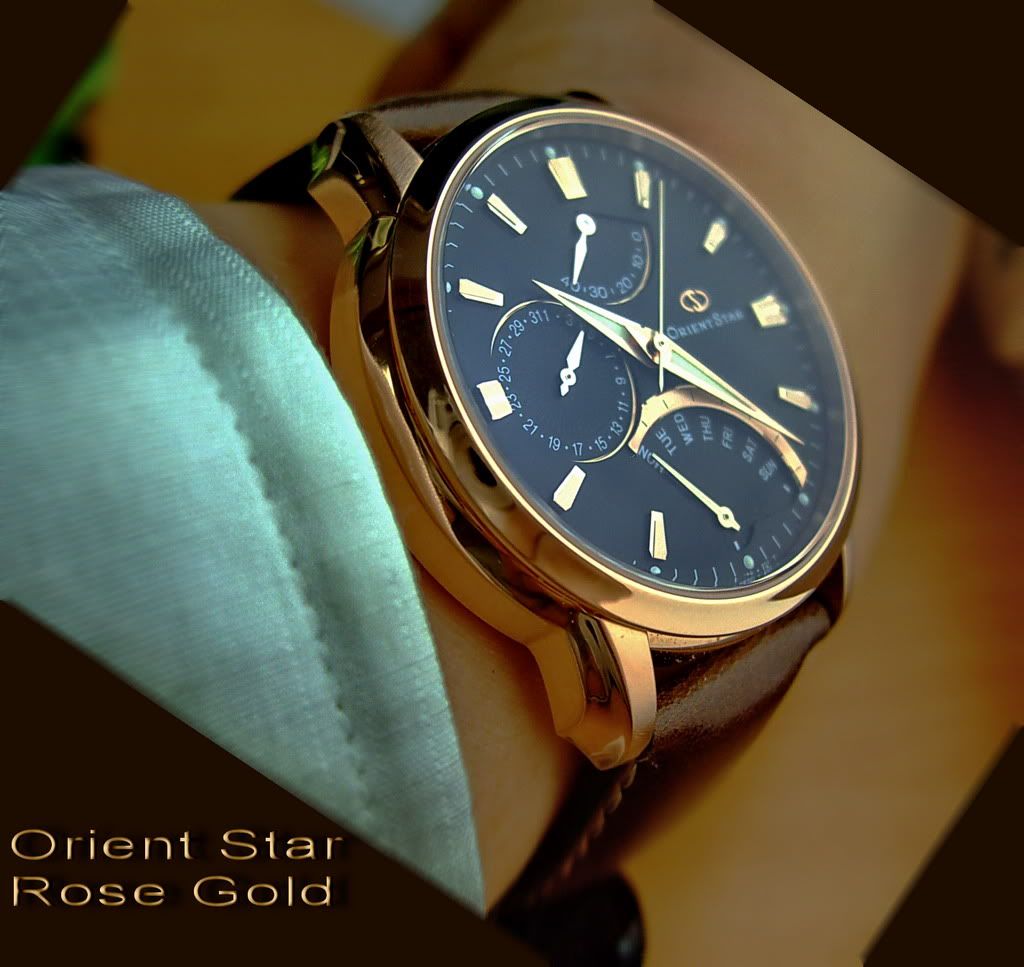 It could worn by woman very nicely
I try to have some back case shot ...
and also try to give the lug and side profile better.. since I love the double curve , part polished part brushed, it is made so nice
[img]http://i685.photobucket.com/albums/vv220/watchourwrist/Orient%20Star%20Rose/DSCF7688aa.jpg
Pattern of the dial
[img] Trying to have some closeup shot today
Showing the day wheel
[img]
Showing the date wheel
[img]
Power Reserve
even the minute index baton, each gold batton has it owns pattern
[img]
the whole dial
[img]http://i685.photobucket.com/albums/vv220/watchourwrist/Orient%20Star%20Rose/P1000017a.jpg
as u can see, each dial has it own embossed pattern, its a very unique and detailed pattern got to play with a piece of newspaper , Orient and camera
hope u like the results
[img]http://i685.photobucket.com/albums/vv220/watchourwrist/Orient%20Star%20Rose/P1000712.jpg
a liitle correction.. measure it again
I measure again - it 39 mm dial and 41,5 mm with crown
thickness is 11mm