Discussion Starter
·
#1
·
Arrived earlier in the week. This is an Orient Deluxe AAA 23J King Diver from the sixties.

Purchased this one cheaply in the hope that the dial was in good condition. That was my biggest concern. As can be seen in the seller's (first three) photos, the crown at 4pm was missing and the seller claimed the pusher at 2pm was jammed. He also made the comment "for maintenance or for parts! It is junk."

Am I seeing a reflection in the seller's photos or is the dial and bezel blue? The seller did not mention colour in his description. If it is blue, then it is quite a rare piece so I took the plunge and it was mine.

I was thrilled to find the dial and bezel were in perfect as-new condition. After dismantling, I put the case in an Ultrasonic cleaner for about 30 minutes which cleaned off the gunk and unjammed the pusher at 2pm. (In case you don't already have one, these cleaners come in very handy) I spent about 8 hours working on the case with different grades of abrasive paper in order to remove most of the dings and scratches.

The cog which rotates the inner bezel was still inside the watch so I just had to replace the actual crown at 4pm from spares. I replaced the plexi crystal with a new one.

The movement is an Orient hand wind automatic (no hacking). The pusher at 2pm quick sets the date. The day is adjust by turning the hands. The movement has been running for a few days now and is keep great time. The deep blue dial looks nearly black indoors but when taken outside, looks fabulous in the sun with its iridescent dial. The markers are not coloured blue. It seems to be a reflection from the dial.

Although the bracelet is a bit on the narrow side, it is still quite nice (although I don't think it is original). This style of case makes bracelet choice somewhat limited but I'm thinking a rubber strap might also look the part.
Before the facelift... (Seller's photos)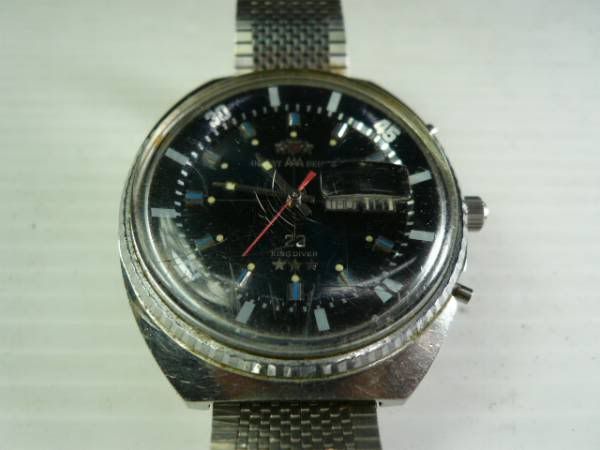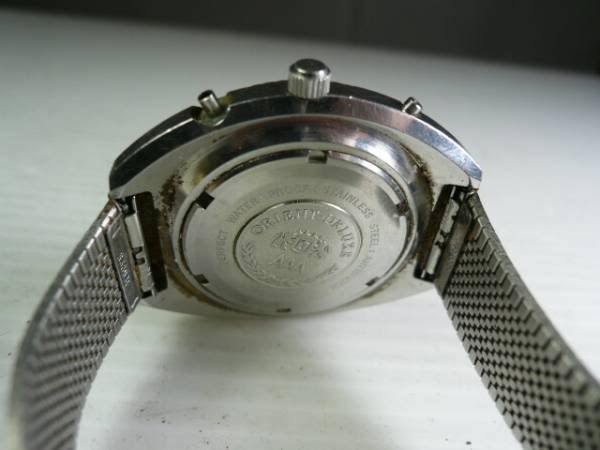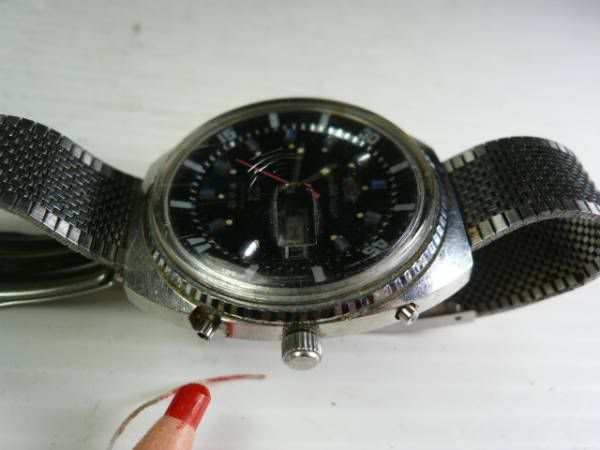 After the facelift...