Discussion Starter
·
#1
·
I have written this some time ago. In fact, might even been more than 2 years ago. I just didn't have the time to post this up or may have forgotten all about it. ;D Pin Guan Pete inspired me from his post "How did you come to be a Seikoholic?"
Alright, here is my (copy and paste stuff) little write up on my
EX
-collection. Yup, sold everything with the exception of my bulls. Guess I'm the sort who likes to wear my collection. And I couldn't bear to wear them, and they have been sitting around for ages. Hence, I sold my entire collection away. (Did the same to my vintage Omegas too). Well, we only live once, and nothing last forever anyway. At least thats my principle. ;D
Here goes:
Seiko Bullhead Chronograph ref. 6138-0040 (Black)
Date of Acquisition: 06 Oct 2005
Origin of Acquisition: Canada
This is the Seiko that starts it all; my love for Seikos. Don't you think this is such a beauty? When I first saw it, I thought that this is the most unique watch I have ever seen (then). The pushers are at 12, making it resembles a bull's horns.
The watch case is slightly thicker at 12 and thinner at 6 designed specially for drivers, as he/she need not move his hands away from the steering wheel to take a quick glance at the time. The case of this watch is definitely one of the most unique watches ever made by Seiko.
When I first got it from a fellow forummer, the crystal & bezel was badly scratched, but the dial was untouched and mint. It was definitely a love at first sight. With my contacts, I was able to source a NOS bezel for this and after it was quickly installed on. With the watch case lightly polished, the watch was instantaneously restored back to its former glory. The original "fishbone" bracelet that came with it is nearly impeccable, with no stretched in its bracelet links. With some light brushing, it looked almost as good as new.
To date, I have only worn this watch less than 10 times ever since I got it. Prices for this model have gone up quickly to as much as USD 650 as good examples such as this are rare. I have only paid mine at USD 250 for it. What a steal isn't it?
A word of precaution, beware of the "SpeedTimer" signed dial as Seiko has never make any of such variant for the black dial model before.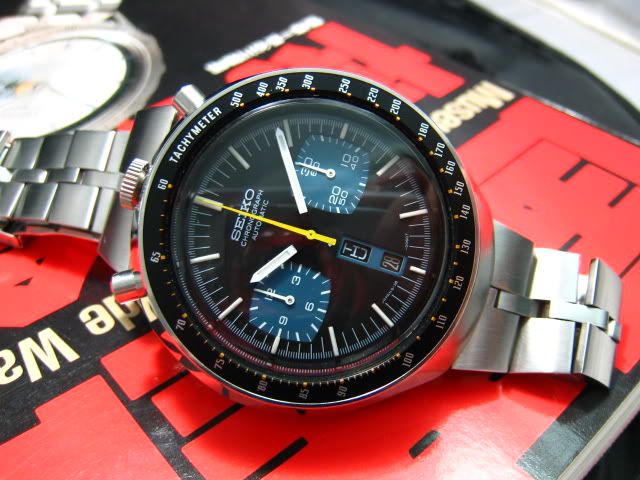 Seiko Bullhead Speedtimer Chronograph ref. 6138-0040 (Brown)
Date of Acquisition: 30 Oct 2005
Origin of Acquisition: Philippines
Well, when I acquired the black bull already, I just cannot do without the other half, the brown one, can I? ("yes you can", says the missus) This was gotten from a good friend of mine in Philippines and when I got it, it was already in an excellent condition. All I did was to clean up the exterior and then it already deserved a good permanent place in my watch box already.
Interesting thing to note for this model is, the hands and hour markers are without lume, just painted white (and certainly original) and the bracelet for this dial style is this "Oyster" style instead of the usual fishbone bracelet one. The dial is signed as "SEIKO 5 AUTOMATIC SPEEDTIMER". There are actually 3 variants for this brown one, but I believed that this is the rarest of the three.
If memory does not fail me, I believe that I paid USD 200 for this brownie. With this on my wrist, I need not find another watch for a "retro fever" night.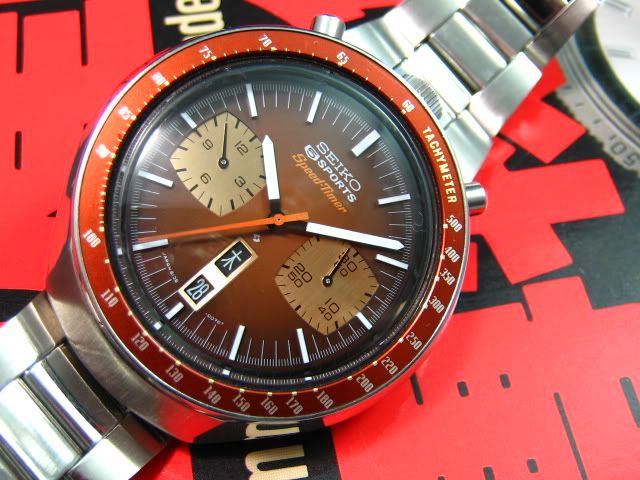 Seiko World Time ref. 6217-7000 (White)
Date of Acquisition: 22 Feb 2006
Origin of Acquisition: Philippines
Doesn't this reminds you of THAT brand? That watch that you never really own it but only for you to take care for the next generation? Well, at least you can own this one and need not care too much for the next generation.
This classic World Time watch is the very first generation of the World Time watches for Seiko. This was launched in conjunction with the Olympics that was held in Tokyo in 1964; hence the caseback has the commemorative Olympic torch faintly etched on it. This is a pretty uncommon watch especially in such a condition and the bracelet itself is rare. The interesting part of the bracelet clasp is that the clasp is unsigned. I believed that is why when this watch was subsequently resold; it was always without this bracelet as most people didn't realized that the bracelet was Seiko's. Actually this watch came without a bracelet and I was luckily enough to get it another through the help of another watch forum guy. I paid only USD 30 for the bracelet (sourced in Singapore) and about another USD 260 for the watch that was procured from ebay.
Seiko World Time ref. 6217-7000 (Black)
Date of Acquisition: 25 Apr 2007
Origin of Acquisition: Japan
The black version of this first generation World Time in fact is pretty scarce. With luck, I saw this with its original bracelet on eBay. Without hesitation I laid a snipe bid of USD 380 and I managed to win this one at USD 340.
Flying directly from its native homeland in Japan, I was able to marry this guy to my other snow white in my watch box.
The condition of this watch is really minty. Mint perfect dial and hands with no sign of aging, this piece is definitely a keeper.
Seiko Calculator Chronograph ref. 6138-7000
Date of Acquisition: 15 Dec 2006
Origin of Acquisition: Germany
When I was actively collecting Seikos (esp. the Chronograph), this one caught my eyes as it is certainly one of the most unique model from the caliber 6138s.
I believed that this is the very first slide rule watch made by Seiko and was certainly a very unique watch (resemble the Chinese Geomancy compass, Ba Gua to me). I managed to get this one from a friend of mine who got it from Germany and although the bezel when I first got it was pretty minty, I thought that it could have been better. Furthermore, it was missing the extremely rare rotate-able "Plastic Pointer" that was found in between the bezel and crystal. That of course didn't satisfy me. I checked every possible contact that I have and asked almost everyone on the forums (to my dismay, most told me that it is virtually impossible to get these parts as they are believed to have extinct). Finally I got a response from one of my contacts in Australia, he managed to find me one last complete & intact NOS double bezels and 14 (YES! FOURTEEN OF THEM!) plastic pointers, still wrapped in its original plastic bags. Without ado, the deal was done and when I got them, it was quickly installed onto the watch.
Now, after restoration, I have not even worn the watch once but was wind occasionally to reduce the chance of oil drying up in the movement. I remembered I got the watch for USD350 and I spent another hundred or so to restore it like NOS. This is certainly the next best thing to a NOS.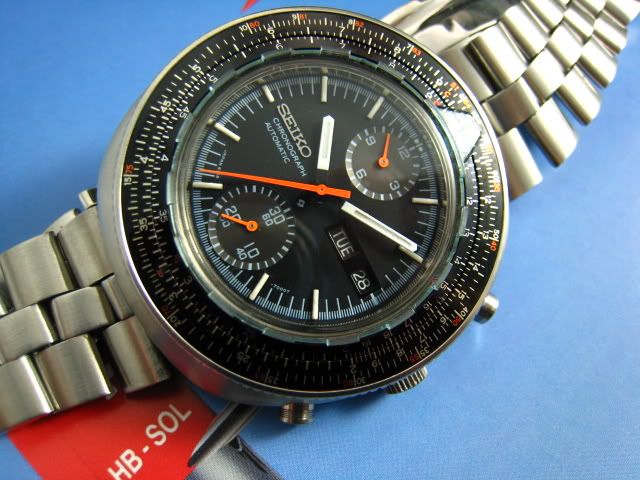 Seiko One-Button-Chronograph ref. 5717-8990
Date of Acquisition: 14 Jan 2006
Origin of Acquisition: Taiwan
Well, since I am into Seiko Chronographs, if I don't get their first generation Chronograph, it seems that I am lacking something? You see, I am bitten so badly by the Seiko bug that the disease starts to spread faster than the cancer cells. That's when I know I NEED to get the forefather of the Seiko Chronograph. If you didn't know, you are now looking at the first chronograph Seiko made in the year 1964 (the year of the Tokyo Olympics where Seiko, without a doubt, was made the official timekeeper for the glorious event).
Finding this model seems tough as it seems very illusive locally. The mint condition ones are mostly in the home of the collectors already.
However, as luck has it, I managed to find yet another one from eBay's Buy it Now at USD 650 (from an unlikely seller). Though I was pretty broke then, I managed to scrimp some spare funds just to get this one, as I really like the design and the historical significance of the watch. It also resembles the ultra rare Rolex Zerographe (Not many have seen that watch in pictures, let alone the actual watch).
The watch came from Taiwan and I was thrilled to see that the watch was in a mint condition other than the crystal. Subsequently, I managed to procure a NOS crystal and now I have a really good example of one of the most important watches from Seiko.
The only thing that is missing from this watch is the illusive bracelet. So, if you got leads for an original bracelet, please do not hesitate to contact me!
Seiko Diver "62MAS" 150m ref. 6217-8000
Date of Acquisition: 30 Sept 2007
Origin of Acquisition: Germany
Are you a Seiko Diver lover? If so, how can you not have this model that starts it all? This is the first Diver from Seiko and this is definitely another important watch that is a must have if you are a serious Seiko Diver collector.
Most of the time, the bezel of this watch is always in a really bad shape as this is a Seiko branded watch (relatively considered a cheap watch where it is always been tossing around like a Frisbee), and bezel is not well made enough to withstand such undeserving treatment. Most are really in a bad shape as this watch was designed to be submerse for diving purposes and some even have water damage in them.
Well, I know finding one is not going to be easy and if I want a mint piece, its definitely virtually impossible or will cost me an arm and leg for it.
What luck, this watch was listed on eBay for USD 200 buy-it-now and the watch is actually a NOS! Nervously, I clicked on the buy-it-now button and I became the owner of this rare bird overnight. What I heard from the seller is that this watch was left in his dad's shop's watch shelves unsold for years and the young man came across this watch while he was packing up the store. (Sorry guys, if you have those angry eyes on, you might not be able to continue reading my tale). The pity thing is, the watch box and papers are nowhere to be found, and the watch case and crystal has some bits of scratches due to improper storage. Oh, heck, here comes another drawer queen addition from quite an unlikely part of the world, Germany.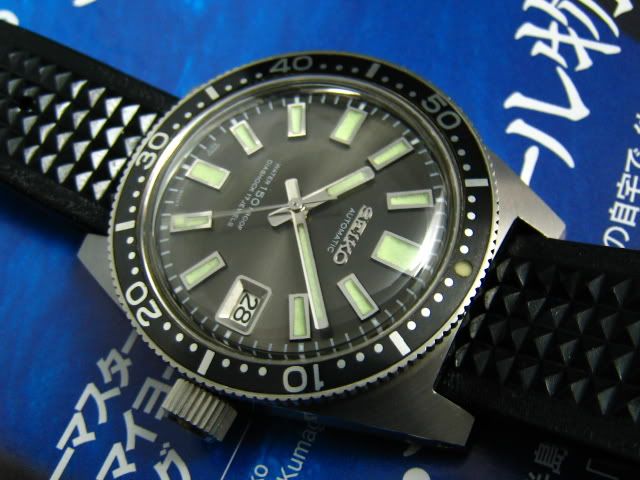 Seiko Diver 150m ref. 6105-8119
Date of Acquisition: 20 Sept 2007
Origin of Acquisition: United States
If you are a Seiko Diver collector, this watch should never be unfamiliar to you. This is easily the most popular diver watch, the 6105. Though this watch is not my first Seiko Diver, this was the first diver model that I keep.
Before I was into Seiko Divers, I thought that Seiko has too many Diver watches and I couldn't differentiate the looks of them; they simply looked too similar. However, this watch changed my opinion immediately and it was this watch that started the craze for Seiko Diver watches. I really like the asymmetrical case shape and the dial has nice raised hour markers. The second hand is really interesting as well, and popularly nicknamed the "traffic light" hand.
To find one with a bezel unmarked and with the original rubber "waffle" strap intact was near impossible. And again, I was lucky enough to find one (yet again from eBay for USD 380) in original condition with the rare original waffle strap. The lume on the dial was really untouched and was in stark white. I have never seen original lume as white as this one. And I am sure that this has seldom been out of the open for long. It is indeed a very rare find.
Seiko Diver 300m ref. 6159-7000
Date of Acquisition: 16 Jan 2007
Origin of Acquisition: United States
The Holy Grail of all Seiko Diver! This is the first Professional Diver watch from Seiko. Movement design is based on the Grand Seiko and this is often nicknamed as the Grand Seiko Diver. Japanese collectors are crazy over this model and some pay as much as USD4,000 for a really good example. This watch was not exactly very popular in the past when it was newly sold as the price for one is nearly the price of a Rolex Submariner (probably due to the high cost and high R&D cost). Furthermore, the years of production was relatively short for only two years, and hence this model is considered to be pretty rare.
When I first saw it in some website, I was thinking, how ugly this watch is. Monobloc case with a flat caseback, ugly bling bling gold hands and hour markers, etc… But liking this watch is really an acquired taste. The more you look at it, the more you love it. It was not before long, I find myself hunting high and low for this illusive watch.
Finally I chanced upon one from a fellow forummer who sold to me only at USD2,300 which is considered a steal. It has a NOS bezel and crystal installed. Soon enough I realized that the crystal attract scratches easily as it is tall and highly domed. I enlisted a forummer's help to replicate the crystal in a sapphire version. Well, the NOS crystal was safe kept and I intend to pass this on to the next generation. J
Seiko Chronograph ref. 7016-5011
Date of Acquisition: 23 Sept 2006
Origin of Acquisition: Philippines
Doesn't this reminds you of the Heuer's famed Monaco? Or that Nautilas Chronograph? Well, this isn't the reason why I got this one. I believed that this is the rarest dial variant of the 7016-5011. This watch is actually a NOS and left unsold in one of the stores in Philippines. A pity (again) that the accompanying box and papers cannot be located. The original finishing of the watch is really a beauty and replicating the same polishing effect seems near impossible. Got this one through a very good friend in Philippines for USD350. Certainly not exactly cheap, but definitely worth it in my opinion.
This watch has 5 hands (count slowly) and it has a full chronograph (second, minute and hour) counter, though it appears to have only a single register. And one of the most exciting mechanical aspect of this watch is, this was the world's slimmest automatic chronograph when it was first launched in the early 80s. It even has a fly-back chronograph, day and date complication. This is an important watch that highlights one of Seiko's remarkable (but understated) achievements.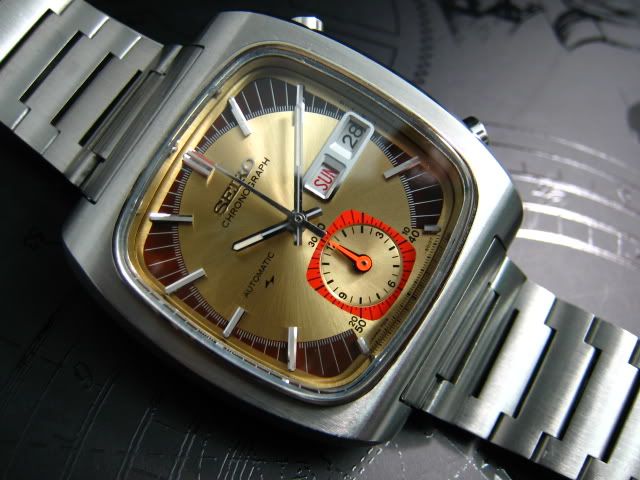 -END-
Stop Snoring please?