Discussion Starter
·
#1
·
One of the more interesting/odd Citizens is the occasional chronograph that resembles an Omega. Most of us are familiar with the Speedmaster look-a-like -- and some of us own one or have owned one -- but what about the Seamaster chronograph?
Here is Omega's Seamaster chronograph via Breitlingsource: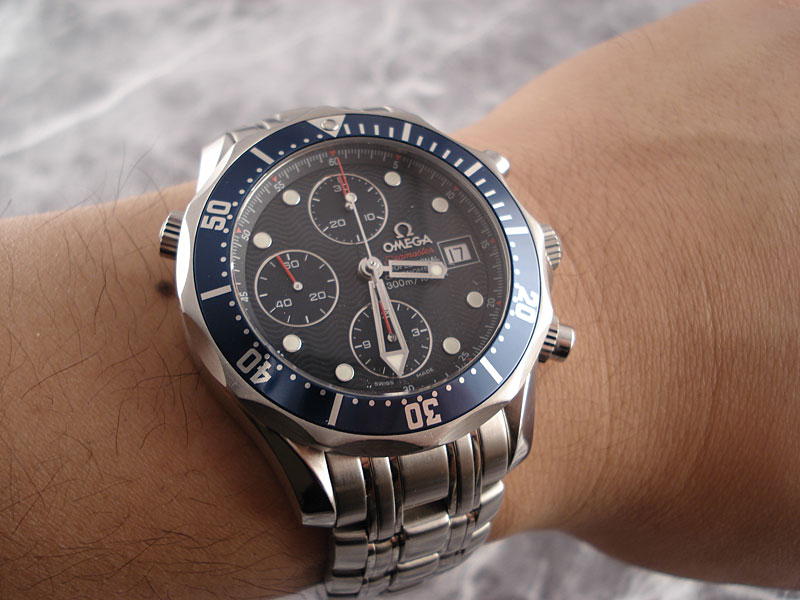 I picked up the Citizen look-a-like just a few days ago, and the likeness is uncanny:
The Citizen Seamaster is model no. 0510-C50871. I'm assuming it has a Miyota 0510 quartz movement given the name & chronograph configuration, so it's a familiar layout Citizen applies to a bazillion of its chronographs. Water resistance is 200m thanks to a screw-down crown.
Aside from the dial layout, note the scalloped, 60-click, unidirectional bezel: this is definitely a nod to the Seamaster bezels. If it weren't for the notch at every 15 min point, I swear that Omega would have Citizen by the throat in a court of law.
Heck, even the dial has a textured pattern: not a "wave" like the Omega SMP Chrono, but more like a herringbone pattern. Another nod to Omega? Definitely. But nobody has been up in arms screaming plagarism...yet.
Still, there is some element of originality: the hands is a bit of a mash-up of Omega ideas & Citizen practicality. I NEVER liked the Omega SMP h/m/s hands due to the lack of lume; but the Citizen's hands works plenty for me being fully lumed to the stem. MUCH easier to tell the time.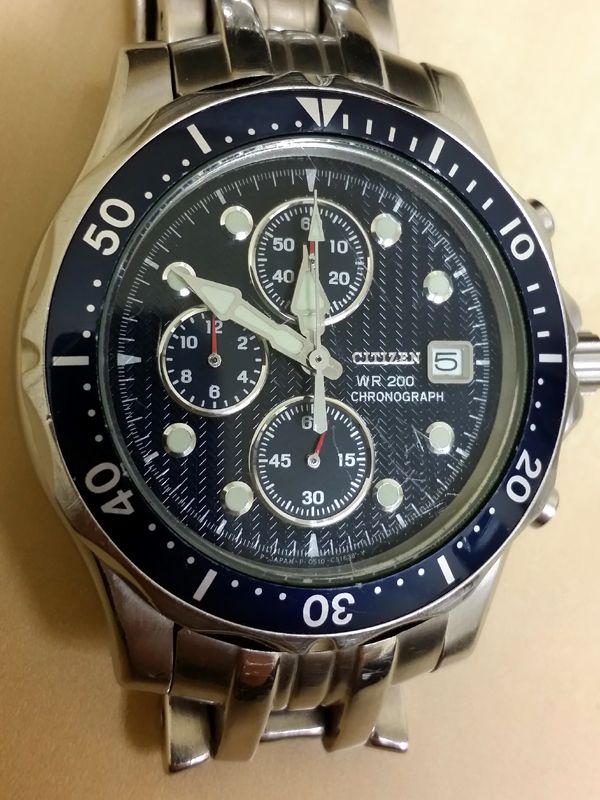 Now the bracelet is another story: yes, it definitely tries to assimilate the Omega SMP design, but attempts to accomplish it with 3-piece links instead of Omega's 9-piece links. It does give the watch more of a knock-off look, but it has a lot going for it: solid endlinks, a double deployment clasp, and incredible comfort on either wrist.
At 40mm across minus crown, the Citizen wears very well on the wrist. Because it's a quartz, it also has very little height on the wrist -- about 10-12mm. Could certainly fit under a dress shirt cuff if one wanted it to.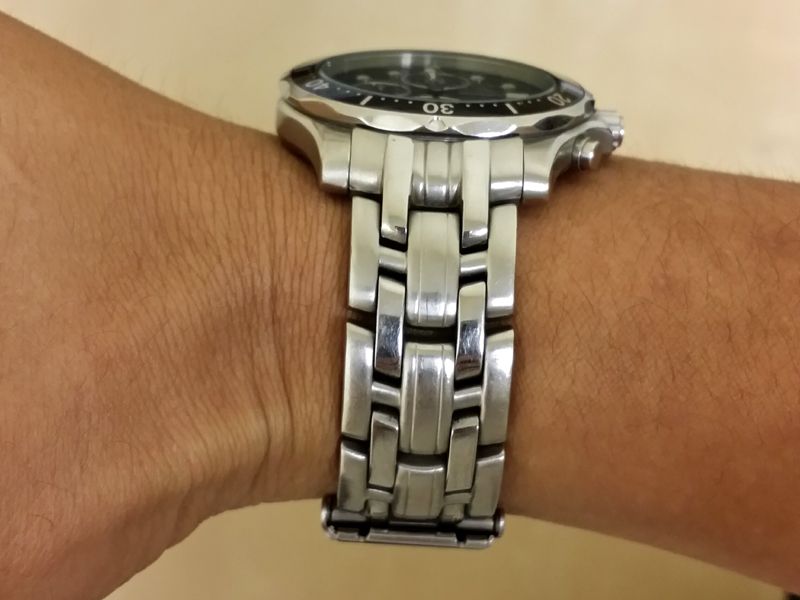 From my brief Googling of Citizen's Omega "homages", this model probably comes THE closest to owning an SMP Pro Chrono with a functional chronograph, reasonable WR, and excellent comfort. Funny enough, this endears me to Citizen even more for their intent to allow people with normal incomes to own a quality timepiece, whether mechanical or not. Kudos to Citizen for walking the fine thin line & offering this chronograph.