Discussion Starter
·
#1
·
Hello everybody,
Thanks to all, who participated with their entries! Once again great stuff!!!
And a special thanks to Jimmy (Poseidon-Jim) for donating the great prize.
Thanks to everybody voting! It's your contest!!!
This month's theme was "divers"!
After counting all the votes, the first place of the May contest goes to Garen aka AirWatch, with entry number 1, "Blinded by the light":
Congrats!
The rest of the voting broke down as follows: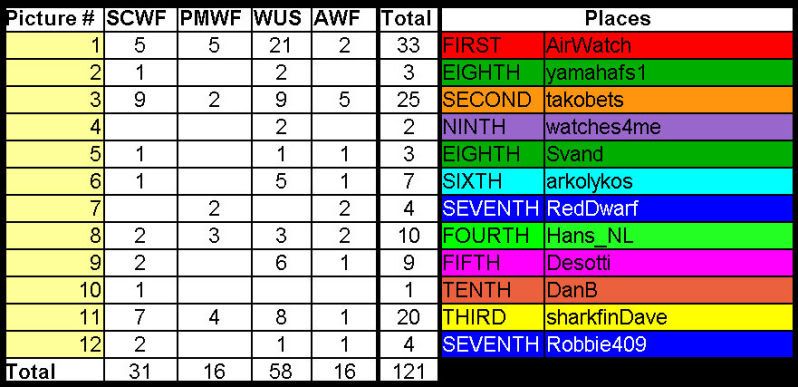 I hope I didn't make any mistake and apologize deeply if I did.
To see the rest of the pictures submitted you can see them here:
SCWF:
http://www.thewatchsite.com/index.php/topic,3880.0/viewresults.html

PMWF:
http://www.pmwf.com/Phorum/read.php?4,211621,211621#msg-211621

WUS:
http://forums.watchuseek.com/showthread.php?t=405880

AWF:
http://www.network54.com/Forum/642233/message/1275133753/May+Photo+contest+voting-
Cheers,
Axel