Discussion Starter
·
#1
·
Hello Everyone
I am new here and new to watch repair.
Having successfully replaced the clasp on my titanium bracelet, rather than pay Seiko $100 for a new one, I thought I would try to replace the broken date magnifier bubble.
The watch is an 8F32-00K0.
I first took it to a watchmaker, but he claimed the bubble was moulded into the crystal. My understanding is that it is glued on, and proceeded on that basis. Please tell me if that is not correct, as if so it invalidates what I am trying to do.
I first tried metling the glue with heat (soldering iron tip) but that did not work.
I have read that acetone can dissolve the glue but it also dissolves seals so the crystal must first be remove from the case.
I prised the bezel off and now have the bezel with the crystal in it and cannot see how to remove the crystal. Please take a look at the photos. If you click on the links you will see a much larger image.
The bezel was sealed to the case by a white O-ring but I cannot see how to remove the crystal from the bezel. It appears to be fixed between two pieces of metal, perhaps with another seal.
Any ideas on how to remove the crystal would be much appreciated.
Regards
Mark Fisher
http://www.qsf.com/images/seiko watch/bezel front.jpg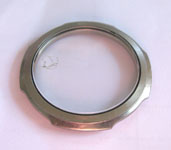 http://www.qsf.com/images/seiko watch/bezel rear.jpg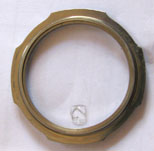 http://www.qsf.com/images/seiko watch/case.jpg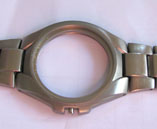 http://www.qsf.com/images/seiko watch/white gasket.jp
g