Discussion Starter
·
#1
·
HOW TO BUY A SEIKO 6138-0040/0049 "BULLHEAD" CHRONOGRAPH - A Collector's Buying
[size=1em]

Authored by Isthmus
[size=1em]Here is a list of important information worth knowing and checking for when shopping for a vintage Seiko bullhead. Special thanks to Botto, Cobrajet and all others who contributed. Feel free to add any important information not listed.

-------------------------------------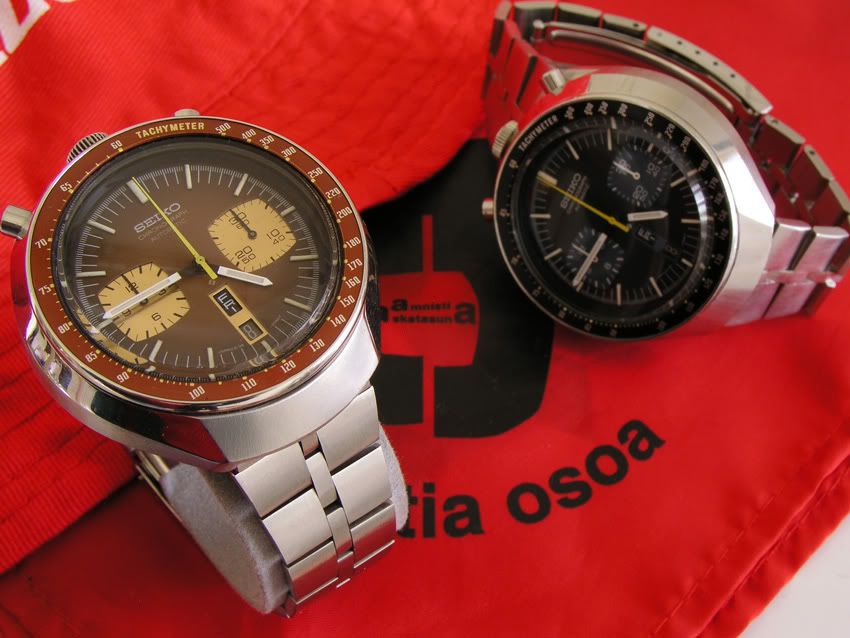 When Buying a Vintage Seiko Bullhead, the buyer should pay attention to the following :

- This watch comes in two color combinations, a reddish brown version with gold sub-registers and a black version with steely blue sub-registers. The standard versions of the brown variants and all of the black variants say the words "Chronograph Automatic" below the word Seiko, on the dial.

- Brown bullheads also come in additional "SpeedTimer" variants. SpeedTimer Bullhead variants were simply those produced for the Japanese Domestic Market. They were sold in Japan and the surrounding areas. Bullheads produced for the rest of the world wore the standard "Chronograph Automatic" markings. There are two versions of the brown bullhead SpeedTimer. One type is marked "Seiko SpeedTimer" at the top of the dial; while the other variant is marked "Seiko 5Sports SpeedTimer" at the top of the dial. No black dialed "speedtimer" version was ever produced by Seiko.

- Unless someone has information to the contrary, standard "Chronograph Automatic" versions of the bullheads can be marked either as "6138-0049" or "6138-0040" (depending on what market the watch was originally sold in). It is not confirmed, but it's not believed that original "SpeedTimer" bullheads come with the 0049 case-back designation. All "SpeedTimer" bullheads should be marked 6138-0040 on the case-back.

- Case lug-width is 20mm, and the original standard bracelet is a folded steel fishbone style (not the straight bar expandable one that often shows up on eBay) with a stamped steel folding clasp. The bracelet that comes with the brown bullhead "SpeedTimers" is a folded link, oyster type affair, not the fishbone style that comes with the standard "Automatic Chronograph" marked versions. The clasp of the SpeedTimer bracelet should be marked "Seiko SpeedTimer" or "Seiko 5Sports SpeedTimer". It should also be noted that all Bullhead bracelets are asymmetrical from end to end. This means that the bracelet is wider where it attaches to the top of the case than it is where it attaches to the bottom. If the bracelet on a particular Bull is symmetrical, then it is not original. It's worth noting that especially in the fishbone bracelets, the pins holding them together tend to fatigue as a result of age and wear, causing the bracelet to flex and not fit as tightly as some would like.

- It's one of the thickest 6138's but definitely not the biggest. Be warned, because of their thickness bullheads sit high on the wrist - much more so than most watches. Because of how much this watch protrudes, they tend to get bumped and nicked a bit more than your average watch - bezels with a flat spots on their edges or cases with nicks and/or scratches on their tops are not uncommon. In addition, the hidden lugs (which are kind of slightly underneath the case), make getting a proper fitting strap or bracelet an exercise in patience and experimentation (read: many will fit, but not that many look good or proportional with it).

- The case (in original condition) is supposed to have a mixture of matte-finished (satin) and highly polished surfaces. The creases along the sides of the case should be well defined (though not razor sharp) and tend to get rounded-off when cases are improperly refinished.

- The crystal should be a Seiko Hardlex. It's supposed to have beveled edge, be flat and should only protrude a very little bit (at most) beyond the top of the bezel. Examples offered on eBay often have after-market crystals which noticeably project (stick out) above the bezel; or use a domed acrylic crystal with curved edges. Proper aftermarket and Hardlex replacements do exist and can be sourced.

- Bullheads (and Seiko 6138's in general) do not have a second hand. When the chronometer is not being used the only hands that move are the hour and minute - everything else should be at zero – which can be a little disconcerting to the observer.

- The hour and minute hands are straight, only come in white and have a lume insert in the middle; except in brown speedtimer bullheads, which have no lume on the hour/minute hands.

- The sub-register hands on brown bullheads are black. On black bullheads they are white. Sub-register hands and sub-register dial markers are not lumed.

- The sweep second chronometer hands should be yellow on the brown bullheads; yellow on the black; & maroon on the brown speedtimer models.

- Make sure the day and date wheels are printed column style (read vertically), not horizontally. Most bullhead date wheels come in English/Spanish combinations, but they also come in English/Arabic, English/Kanji (speedtimers only), and possibly other combinations.

- Pushers can be sticky or sometimes hard to press. Make sure that even if they are hard, they can actually be pressed, and that the chronometer hand and both of the register hands work (they should all reset to zero, but if they don't, they can be adjusted during maintenance/overhaul).

- Unlike a great many Seiko automatics, 6138's are windable, but the crowns are not lockable. Since the crown sits on the outside of the wrist (instead of facing your hand), they tend to receive a bit more abuse from accidental bumping. Sadly replacement crowns and broken crown stems are a common find in otherwise great looking watches (make sure to check for this when buying one).

- Good luck finding an unscratched bezel insert. Get the best that you can, but be warned that finding a perfect one is difficult. There are aftermarket replacements (read not NOS) available however. NOS bezels can be found (though no longer from Seiko), but can be expensive (+/- $70- $100).

- Take particular attention to corrosion to the inside of the case and to the threads where the case-back screws in, which is common on these watches. A little bit of pitting on the threads can be halted, but too much can prevent the case-back from closing properly. With new seals a watch can be dust sealed, but probably not be made water-proof. Still, since this is a vintage watch and not a diver avoid getting them wet, no matter how nice they are.

- This is not confirmed, but our resident expert (cobrajet) has not personally seen a Bullhead that was made before 1974, however, one of our members (OSTENDORF) recently acquired an example of a black variant from an original owner, which dates to November 1973. As far as we know, it is believed that that is the year this model was introduced. As near as we can tell, they were produced in "Chronograph Automatic", "Speedtimer", and "5Sports SpeedTimer" versions from 1973 until the end of 6138 production in 1978-79.

- EBay listings often claim that this watch is rare. That is just not true. It is, however, in high demand from collectors in Europe and North America. This is especially true of examples in good condition.

- When buying a bullhead do yourself a favor and spend the money to buy the best example you can find. Buying a mediocre one and paying for restoration can get more expensive than if you had done your homework to begin with. Try to keep your purchase price from eBay at no more than $250.00 for a good clean example in good working order (keeping in mind the additional expense of servicing or overhaul that it will definitely need). For a perfect example, or a nicely restored example (from a well known restorer), expect to pay as much as $400-500 depending on the level of restoration and the particular variant of the watch (that price should include the cost of the watch plus the cost of a full restoration with original parts, as well as an original bracelet, and a perfect bezel insert).

MAKE SURE TO ASK YOUR SELLER ALL OF THE QUESTIONS YOU HAVE AND DON'T BUY UNLESS HE ANSWERS TO YOUR SATISFACTION.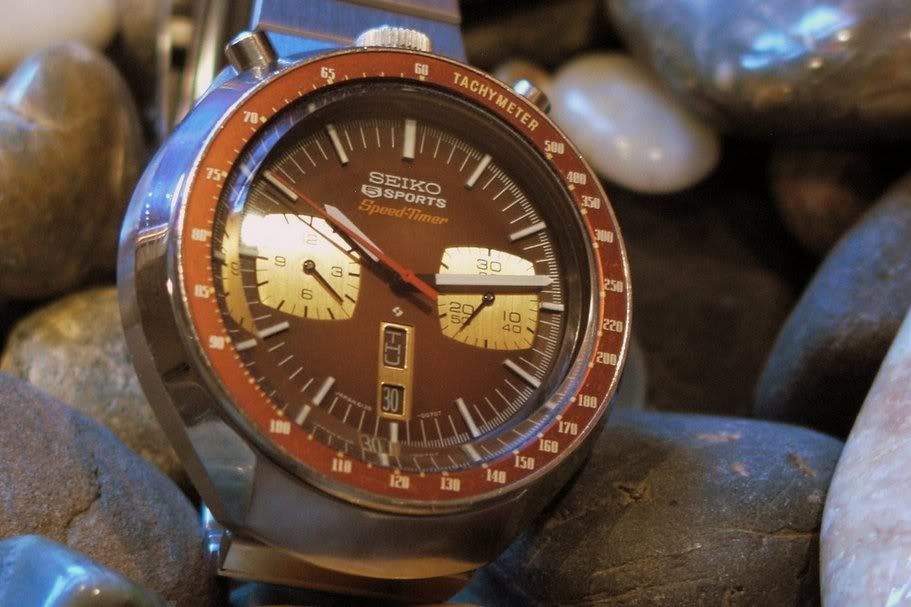 [size=1em]Here is a side view of Botto's black/blue 6138-0040. bought off of the 'bay. it's a late model (IIRC 1979) and was 'gently worn'. in very good, but not NOS condition.
you can get an idea as to the original finish.
and here's a dial shot. at risk of sounding pedantic, one thing to check for when buying off of the 'bay is paint globs on the hands, in the points where they are attached - not sure what the technical term for those holes are . as you can see, these hands have never been retouched.
[img]http://img.photobucket.com/albums/v223/botto/BH_01.jpg
_____________________________________
[size=1em]
Here are catalog pages showing what original bullheads look like, both in standard form:

[size=1em]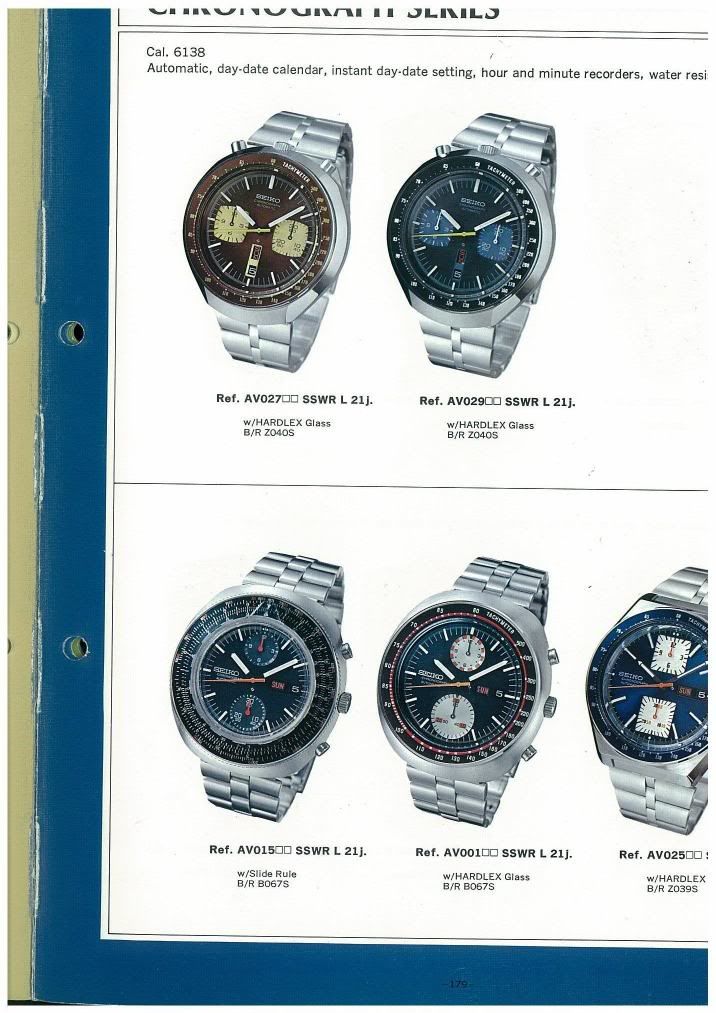 and in speedtimer variant: