Discussion Starter
•
#1
•
This is the latest project on the bench, a 1966 6206-8001 I bought it in the hope of harvesting a good keyless works set for the first of my 62mas's that I restored about 18 months ago. The case was destroyed (it had actually split) but the insides seemed reasonable and the movement gave up the parts I needed. The dial and hands were in excellent shape - especially considering the state of the case, so I made a mental note to keep my eyes open for another 6206-8001 with the hope of making a complete watch out of the two.
Anyway over the intervening months I collected a few more 6206 movements as I gradually restored the rest of my 62mas's, but never found a complete 8001 variant with a good case. A couple of months or so ago when Stefan burst onto eBay with his cornucopia of NOS parts I noticed he had a NOS 6206-8001 case for sale, from the very year of my original, 1966. I bought it and it took it's place in the queue of 'works pending'.
Today it has reached the top of the queue and I have made a start on it. It has the case (which included the crystal, gaskets, crown, movement ring, springbars etc) from Stefan, a movement from Ramon, and my original dial and handset which started the whole thing off. The movement was filthy but surprisingly ran when wound so that has been stripped and all the parts put through a jar of horozone degreaser placed in my ultrasound bath. I don't normally do
all
the parts with horozone but the movement really was disgusting!
This is the state of affairs now, all ready for the jewels caps to be lubed and refitted (a job I detest!) and the rest to be lubed and assembled. It will have to stay like this now as I have to go out in an hour but hopefully it should be finished over the next couple of days.
It helps to have a few spares, I still get the occasional part ping into oblivion - I must improve my technique!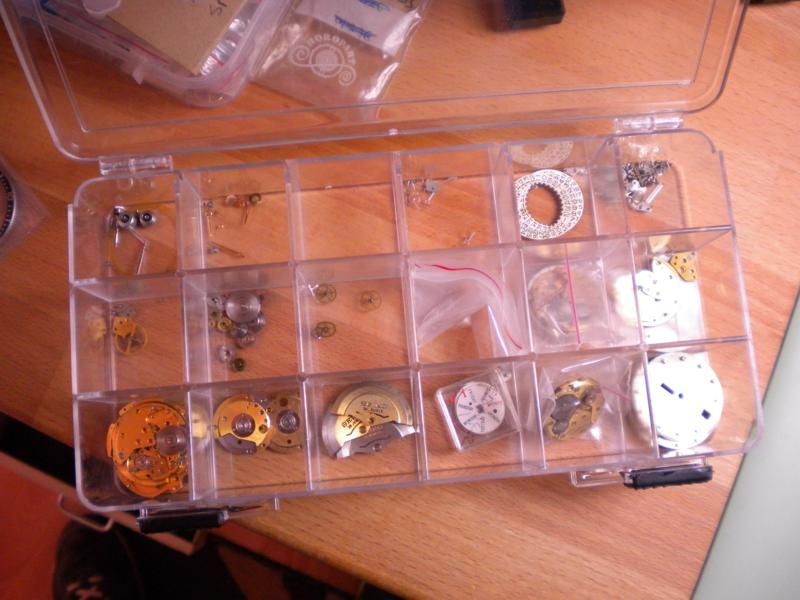 The bench:
Apologies for the rubbish pictures, but I'll post some finished ones when it's done.