Discussion Starter
·
#1
·
Custom-made to fit your wrist and watch.
US$ 125 plus shipping.
Let me know your wrist size and pin/lug size of your watch.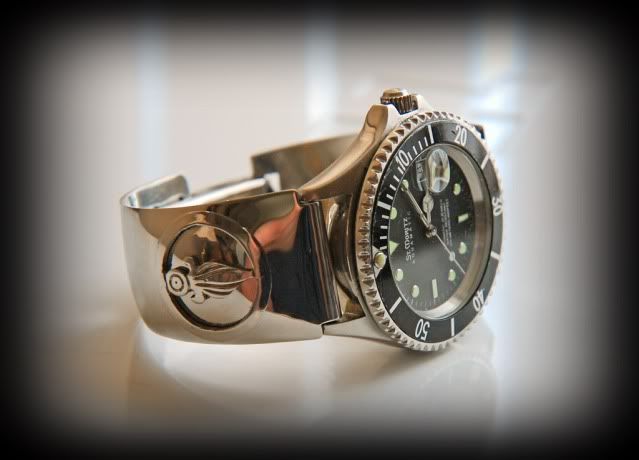 -------------------------------------------------------------------------------------------------------------------------------------
OLONGAPO BAND ORDER INSTRUCTIONS

DRAWING SUBMISSION & SIZING

1. Please use the worksheet that I will email direct to you. This worksheet is in Microsoft Word 2000 format and I believe your computer will be able to manipulate it.

2. Please indicate by text the insignias or attach photos of your chosen insignias adjacent to the watchband template indicating position and orientation.


3. Pencil in the following info:
a. Pin Size of your watch in millimeters.
b. Your Wrist size in inches. Use a piece of string about 10 inches long and wrap snuggly around your wrist. Mark and measure against a ruler.
c. Length of your watch - lug to lug.
d. Olongapo Band material (stainless steel or brass)
e. Insignia Material (stainless steel or brass) e. Type of watch f. Length of watch in inches
f. Brand and model of your watch. Please attach a photo of your watch if possible around the lug area showing how it is currently attached to its strap or bracelet.

4. If you would rather write and use free-hand drawings, please indicate all information requested. Please indicate any specific instructions you may have for me.

PAYMENTS
Your payment will be due as soon as we have both signed off on the worksheet you submit then I will commence with making the band.
Also, send me via a separate email message the following info:
a. Your delivery address
b. Your telephone number

SHIPPING AND DELIVERY TIME
Please allow 2 ½ weeks for manufacturing the band. I trust EMS and it takes 5 to 8 days delivery time to most destinations.
If you need more input, please write to me. [email protected] or you can send me an instant message at [email protected] , or we can chat on skype.