Three G-Shocks all less than 2 weeks old. All box and papers.
Buy all
 3 for $999.00 (or individually priced below)


Kurt Behm



Aviator (2):
In Black & Orange
Triple G Resist
Neobrite
Sapphire Glass
Shock Resistant
200-meter water resistance
Case / bezel material: Resin
Resin Band
Solar powered
Time calibration signal reception
Auto receive up to six* times a day (remaining auto receives canceled as soon as one is successful)
*5 times a day for the Chinese calibration signal
Manual receive
The latest signal reception results
Time Calibration Signals
Station name: DCF77 (Mainflingen, Germany)
Frequency: 77.5 kHz
Station name: MSF (Anthorn, England)
Frequency: 60.0 kHz
Station name: WWVB (Fort Collins, United States)
Frequency: 60.0 kHz
Station name: JJY (Fukushima, Fukuoka/Saga, Japan)
Frequency: 40.0 kHz (Fukushima) / 60.0 kHz (Fukuoka/Saga)
Station name: BPC (Shangqiu City, Henan Province, China)
Frequency: 68.5 kHz
The auto hand home position correction
Digital compass
20 seconds continuous measurement
Hand indication of north
Bidirectional calibration and northerly calibration function
World time
29 time zones (29 cities + coordinated universal time), city code display, daylight saving on/off, Home city/World time city swapping
1/20-second stopwatch
Measuring capacity: 1:59'59.95''
Measuring modes: Elapsed time, fly back
Countdown timer
Measuring unit: 1 second
Input range: 1 second to 60 minutes (1-second increments, 1-minute increments)
Daily alarm
Power Saving (hands stop to save power when the watch is left in the dark)
Full auto-calendar (to year 2099)
Regular timekeeping
Analog: 2 hands (hour, minute (hand moves every 20 seconds))
Digital: Hour, minute, second, pm, month, date, day
Accuracy: ±15 seconds per month (with no signal calibration)
Approx. battery operating time:
6 months on rechargeable battery (operation period with normal use without exposure to light after charge)
22 months on rechargeable battery (operation period when stored in total darkness with the power save function on after full charge)
Size of case: 48.4 X 53.8 X 17.3 mm
Total weight: 93 g


One week old with all box and papers. 

One in Black w/green accents & 
one in orange w/blue accents


Price: $399.00 (each)


Kurt Behm
Black w/Green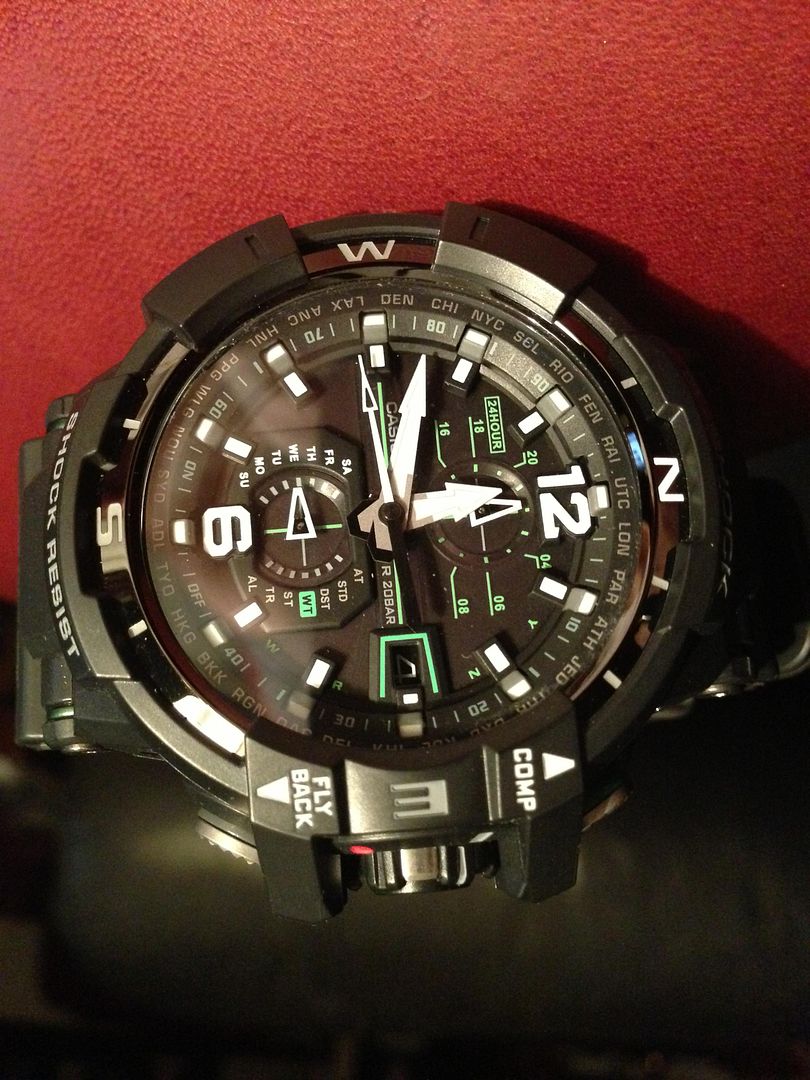 Orange with blue ...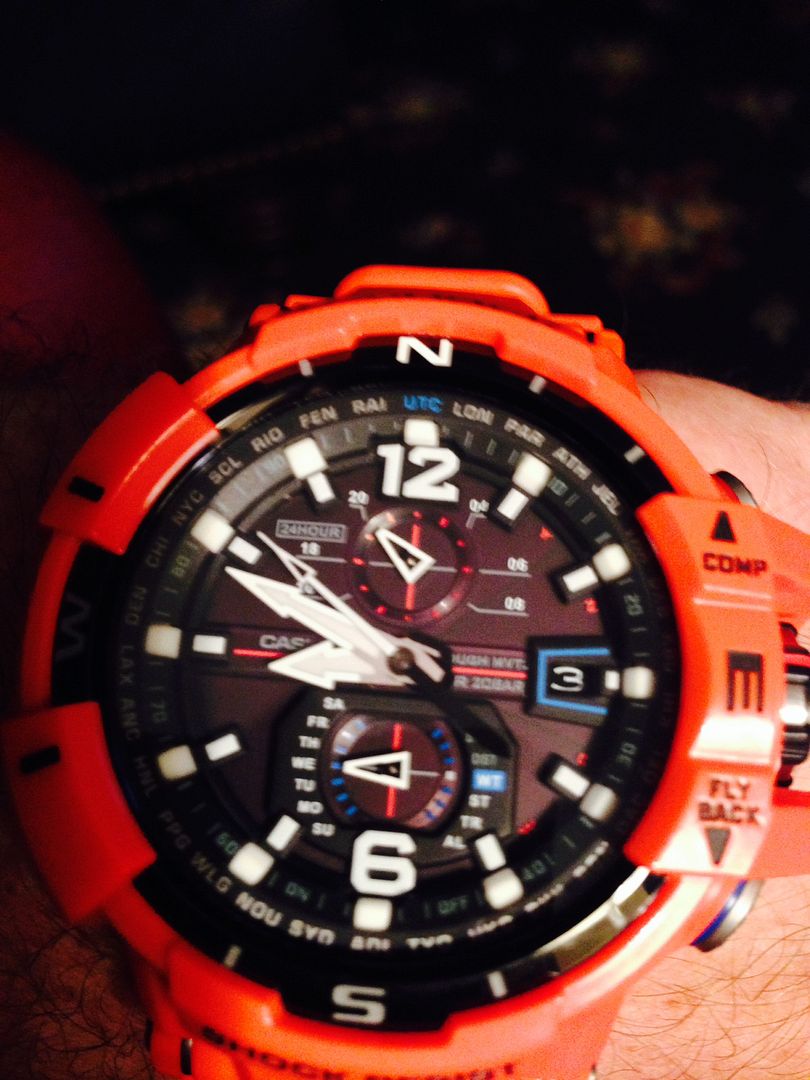 Gulf Master: Yellow
Multi-Band Atomic Timekeeping (US, UK, Germany, Japan, China)
Receives time calibration radio signals which keep the displayed time accurate
Auto receive function (up to 6 times per day/up to 5 times per day for China)
Manual receive function
Signal: US WWVB, UK MSF, Germany DCF77, Japan JJY40/JJY60, China BPC
Frequency: US 60kHz, UK 60kHz, Germany 77.5kHz, Japan 40/60kHz, BPC 68.5kHz
Tough Solar Power
Shock Resistant
Tough Movement
Auto hand home position correction
Smart Access Electronic Crown w/Quick-lock
Fly-back Function
Hands move away from LCD screen during measurments
200M Water Resistant
Low Temperature Resistant (-10 C / 14 F)
Triple Sensor
Altimeter
Measuring range: -700 to 10,000 m (-2,300 to 32,800 ft)
Measuring unit: 1 m (5ft)
Manual memory measurements
Bearing memory
Auto log data (High/low altitudes, cumulative ascent and descent)
Others: Relative altitude readings (±100 m/±1000 m)
Digital Compass
Measures and displays direction as one of 16 points
Measuring range: 0 to 359 degrees
Measuring unit: 1 degree
60 seconds continuous measurement
Hand Indication of North
Bidirectional calibration
Magnetic declination correction
Barometer
Display range: 260 to 1,100 hPa (7.65 to 32.45 inHg)
Display unit: 1 hPa (0.05 inHg)
Atmospheric pressure tendency graph
Hand indication of atmospheric pressure differential
Atmospheric pressure change alarm & indicator (arrow indicates significant change in pressure)
Thermometer
Display range: -10 to 60 C (14 to 140 F)
Display unit: 0.1 C (0.2 F)
Moon Data (moon age of the specific data, moon phase graph)
Tide Graph (tide level for specific date and time)
Full Auto Dual LED (Super Illuminator) Backlight with Afterglow
Neo-brite Luminous Hands and Markers
World Time
29 time zones (29 cities + UTC), city code display, daylight saving on/off
5 Daily Alarms
Hourly Time Signal
1/100 Second Stopwatch
Measuring capacity: 23:59'59.99"
Measuring modes: Elapsed time, split time, 1st-2nd place times
Countdown Timer
Measuring unit: 1 second
Countdown range: 60 minutes
Countdown start time setting range: 1 to 60 minutes (1-second and 1-minute increments)
Full Auto Calendar (Pre-programmed until the year 2099)
12/24 Hour Formats
Button operation tone on/off
Accuracy: ± 15 seconds per month (with no signal calibration)
Storage Battery: Solar Rechargeable Battery
Battery Level Indicator
Power Saving Function
Approx. Battery Life: 6 months on full charge (without further exposure to light)
Module 5371
Size of case/total weight
GWN1000B 44.9 X 55.8 X 16.2 mm/101g
One week old with all Box & Papers.
Price: 349.00
Kurt Behm