Looking at a recent sub-discussion on
the Incoming thread
, there's some talk about dicey eBayers who routinely sell garbage. Advice was given to never buy a Pogue from the UK unless you know the seller...
We all know the types - often quite arty and processed looking photos that somehow manage to not convey the detail you need. Flowery descriptions that are the same for every post, with little to no detail of the watch at hand. Some vague disclaimer about "some parts may have been replaced" or "photos form part of the description".
Well, I try to keep a list of dodgy eBayers so that if I see anything from them in future I'll know to be extra wary or to avoid at all costs. Some seem to disappear and then spidey sense detects similar photography styles or description practices in other sellers who show up. I figured it's time to smoke a few out - please share your favourite eBay frankenmeisters...
some of us
on the eBay from the UK are genuine, you know ;-)
[EDIT - 8 Feb 2021]
OK, thought I'd update this list a little ...
Our friend
mehdi_78
has renamed again
as of 28th Nov - look out for goldentime78. You'll spot the usual tell-tales of crappy fakes with "some parts may have been replaced" type disclaimers.
To find out a user's history just go to
https://contact.ebay.com/ws/eBayISAPI.dll?ReturnUserIdHistory&requested=
goldentime78
and you can see if they've had previous
noms de plume
and if so, when they last changed and what their previous name was. Once again, eBay is aiding the shysters by obfuscating old names beyond the most receently changed.
A new entrant, from Venezuela this time, but using some of the tell-tale phrases as the other fakers. Maybe he's just nicked their blurb, but his watches don't look a lot better...
cesausech_8.
Another newbie is
jo_776993
, who has only been on ebay a few weeks but still managed to shift a
dodgy Panda with a fair bit of shilling
.
Still faking it large:
retroo1 | fara-uk /
romah1376
| watchesonsale23 | salestuff-100 | mehdi_78 / goldentime78| mrvintagewatch / andyrswan |
lillywatch
/ goldenlily777 |
valjoux-72
|
asay_454
|
lily568
|
sand290-9
| omvin-98 / vintagefan2408
|
lukmek | jo_776993 |
my_ukay_ukay
Seems to have disappeared:
vintage-n-unique
|
watches-4-you
|
perry4035
|
pipakee
(still selling, but switched to art) |
(look at the
"We Can Not do Warranty for Water Resistance"
disclaimer and we can see it's used by asay, mehdi, lily, valjoux-72...
Another,
"
Due the watches age some parts might have been replaced
"
has found favour by asay, fara, mehdi/goldentime, goldenlily and sand290...)
retroo1
- always nicely photographed, always slyly described.
Previous history
.
fara-uk
- the usual lengthy and repetitive descriptions, including:
Please note: I'm not an expert however I have attempted to describe the item as best I can. However, Please note that most items I sell are previously owned and therefore, they will have some expected signs of previous use or wear. Due the watches age some parts might have been replaced. if you have any doubt please ask before bidding.
With 50 Seiko sales in the last 3 months, I'd have expected a little expertise but maybe that's just me. There are several other sellers who seem to use the same blurb as fara-uk, including
romah1376, goldentime, goldenlily
etc. Maybe there are people who just lift the descriptions posted by other sellers, but I think it's more likely there are numerous accounts being operated by the same person or group of people...
vintage-n-unique
- fairly recent joiner (Feb 19) with low feedback numbers, but already a fair few watches gone under the hammer.
See them here.
Very poorly described. Maybe just a dealer who doesn't know any better so you never know, a real gem might well arrive amongst the guff.
watchesonsale23
- shifts a lot of stuff, and a lot of watches, not too many Seikos though. Looking at the various Omega Dynamics I think they are all replacement dial jobs.
past history
.
One Pogue
has a whole list of things wrong with it, priced highly and described poorly, with 3/4 of the description taken up with badly formatted T&Cs.
[edit - 19/9/19] - he seems to be upping his game and now has a slew of ropey Seikos all badly described. See this
blue 6139 as an example
-
"This is very rare Seiko Pepsi chronograph ,original Blue dial ,the watch is in very good condition .Please look at the photos for more detial."
The dial and hands are most definitely not original, though bizarrely the bezel and bracelet look like they might be.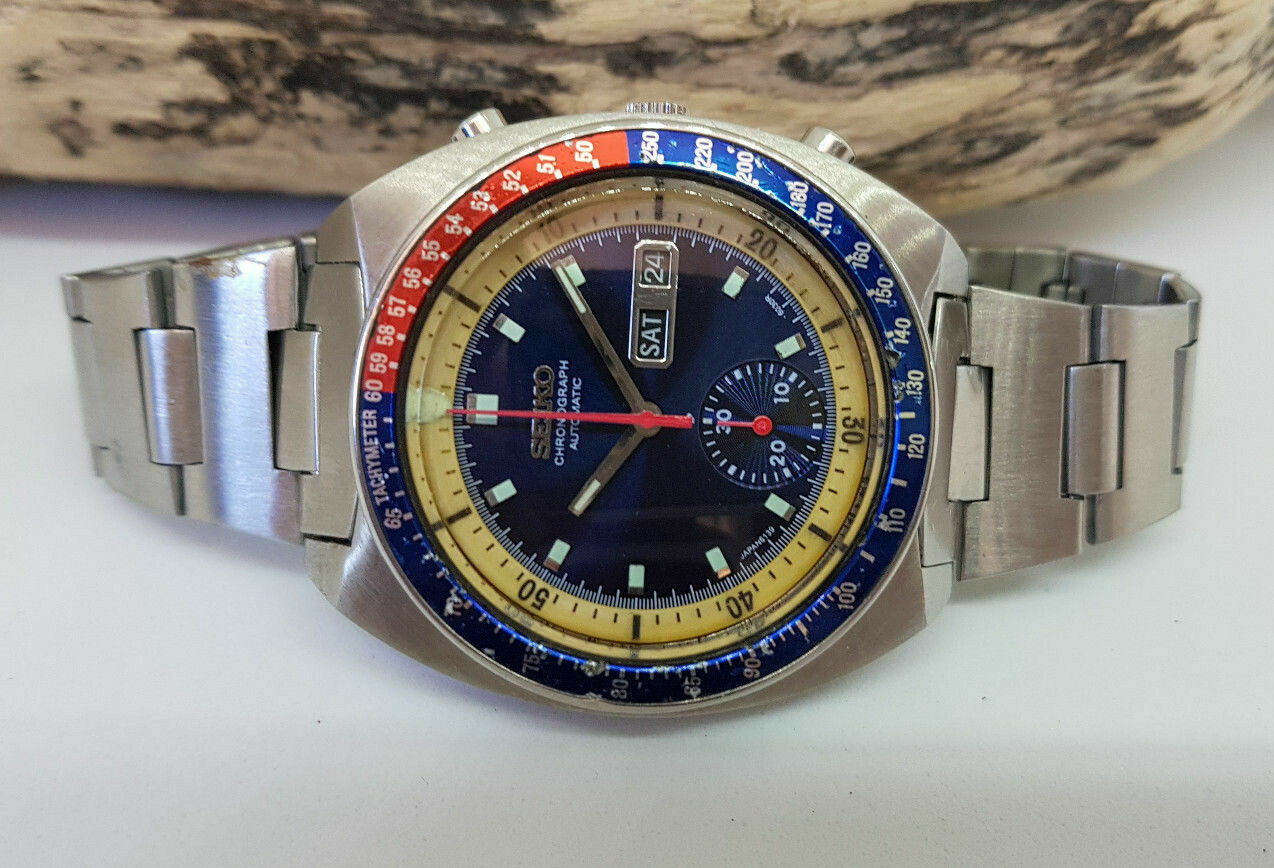 He's also posting as
salestuff-100
with a mix of
ropey and overpriced stuff
. If you see someone selling Seikos from Bideford, Devon, then watch out - he might have numerous other
noms de plume
.
mehdaziz_0
now renamed
to
mehdi_78
- another
repeat offender
who appears to have found a stash of old Seiko & Citizen boxes, as every one of the frankens appears to come with a similarly non-original box. Favours the "due to age, some parts may have been replaced" disclaimer, and "excellent used condition" to describe everything, including the new aftermarket bits.
watches-4-you
- floral backgrounds are a useful giveaway, but the dodginess of the stock (
previous
) and the comical descriptions are usually enough of a tell-tale too. eg,
Pogue
:
The Chronograph Working Flawlessly. (The Watch It has been Polished ( The Dial & Bezel Has Been Professionally Refinished.) serviced recently and is in fully working order )
... meaning it's got an AM dial and bezel, it's polished to hell, and if it was serviced, the "watchmaker" didn't bother cleaning any of the crap off the rotor, the rust in the movement, etc. Maybe they opened the back, sprayed in some WD-40 and thought "that's me done".
pipakee
- not the
most prolific seller
, but another "some parts may be replaced" and "I'm not an expert, but..." seller, so worth keeping an eye out for in future.
There are lots more popping up all the time - often with the same tell-tale descriptions in not-correct English, Random Application of capital Letters, and usually a disclaimer about not being an expert, due to its age some parts may have been replaced etc. It's quite possible that mehdi / lilly / asay are all the same people...?