Discussion Starter
·
#1
·
From Noah Riley (rileynp)
Here are some diagrams that show the general construction of these components. Both taken from the Seiko Technical Manual, under "
Items in common to all SEIKO watches
"
In the Diashock set-up, there is one spring, which holds the hole jewel and cap jewel in the setting, but can allow them to momentarily shift laterally or axially when a force is applied to the balance in said direction.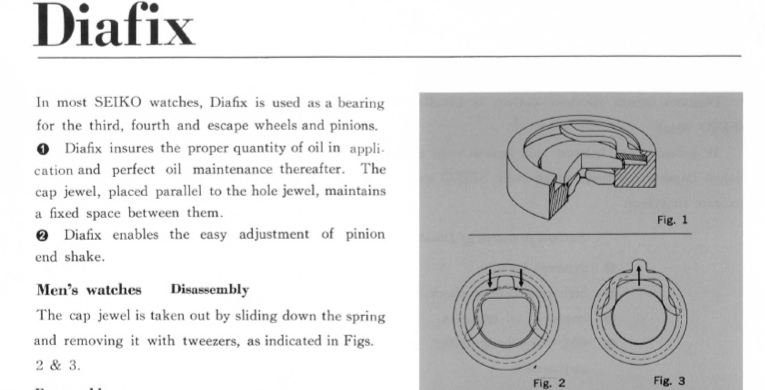 In the Diafix system (which is found at all bearing points on your GS's train bridge, you fortunate fellow, you), the hole jewel is frictioned into its setting, and does not move thereafter in normal use. The cap jewel is held in place over (but not touching, to allow a space for the oil to reside around the pivot) the hole jewel by a spring. This spring should be thought of more so as a retaining device for the cap jewel than an actual dynamic spring- they aren't designed to really move under force the way diashock springs are, even though one version looks like the diashock spring-shape. I suppose it is possible that an absolutely axial shock could be absorbed by movement of the spring and cap jewel, but I suspect the pivot would still receive damage.
Diashock 's design (as with Kif, Incabloc, et al) is not only in the design of the jewel setting, but also in the staff's shoulders below the pivots (or in the roller's safety table in the case of Incabloc), which are designed to contact the jewel setting (or housing) before the jewels can move too far in any direction. This is where the force of a large shock is distributed to and dissipated through.
I personally like diafix (and related oil-retention settings) because it tends to keep the bearing point more free from contamination, and typically results in lubrication lasting longer at that point than if it were a plain hole jewel only. The removable cap jewel and spring is for simplifying service procedures and making sure absolute cleanliness can be obtained- it is not necessary, but it is helpful. Here is one example of a system where the cap jewel is not removable, the Bulova Accutron 218: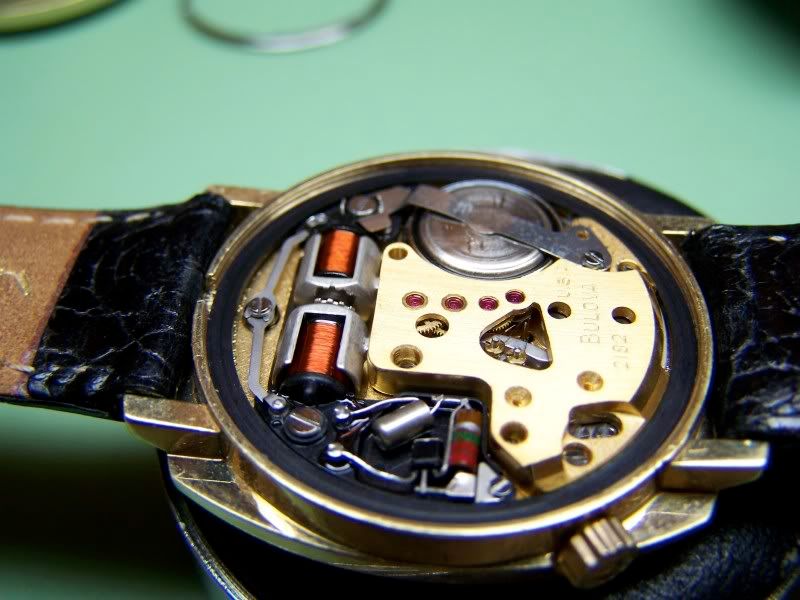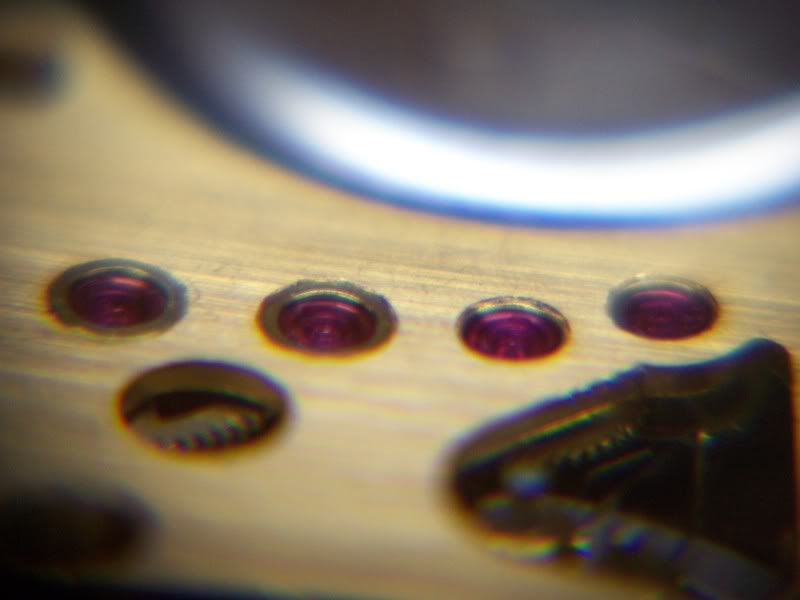 The bridge is intended to be cleaned with the settings assembled (since they can't be taken apart, that's really the only way), though with ultrasonic cavitation these can typically be cleaned satisfactorily. It helps that there are large cutouts around the hole jewels underneath to allow free passage of solutions to remove old oil and dirt. Plus Accutrons don't kick up as much dirt and debris compared to a mechanical movement.
Oh, your last question about Diafix being a thing of the past: it is alive and well, check this great shot of a Spring Drive movement from
Ron Decorte's article on Timezone
:
Using Diafix on every possible pivot point in the train is a little over the top (in a good way to my mind), however, I can't say that I know of any other Seiko era that went to such lengths outside of the 60s and early 70s. It is commonly accepted now in standard high-grade movements to use oil retention settings of some sort on the escape wheel pivots only, I don't know of many common calibers from any maker that go higher up to the other train wheels.