Discussion Starter
·
#1
·
Hi All
Wondering if someone might be able to help me out here.
Buddy of mine handed me a 1979 entry level sports diver 7123-8380 that he has had since new (so I guess it has sentimental value) and asked if I could change the battery. I obliged but also somewhat foolishly offered to change out the crystal.
When I dismantled the case the crystal popped out with a metal ring: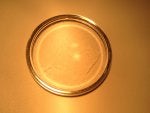 Flipping the crystal over it appears there is an inner metal ring holding the crystal in the outer ring:
My question; is this all glued together from factory and not serviceable or can it be dismantled and a new crystal installed. The crystal my parts supplier gave me (295W39KN00) certainly looks the same just without the metal ring.
Apologies if this is a retarded question but all my other watches are early 70's with rubber L-gaskets and retaining rings.
Cheers
Jonathan