Discussion Starter
·
#1
·


Authored by Isthmus



[size=1em]To expand on a prior post about my collection previously posted here:
http://forums.watchuseek.com/showthr...ht=speed+racer


and as a reply to this SCWF post:



http://www.network54.com/Forum/78440...ers+out+there-



I have decided to post this little bit of information on vintage Seiko rally sport divers for use as future reference.

The Rally divers were a series of 70m sport divers first made by seiko in the late 1960's and early 1970's. They were nicknamed rally divers because of the checkered pattern of their bezel inserts, which originally resembled a checkered flag. I'm not sure were the rally association came from, but I suspect it might have something to do with the less traditional and often colorful designs of rally cars (which is not unlike how these watches are relative to more traditional dive watches). They were first issued as 6106 models and very shortly thereafter as 6119's. In fact there is a period of overlap in which both were produced simultaneously. The easiest way to tell is that the 6106 models, AFAIK, do not have a 5 logo on the dial, while the 6119's and all later reissues do. AFAIK, the 6106 models only come in two variants, the silver dialed 6106-7119 with a dark blue checkered bezel, which was also available as the 6106-7117 in other markets: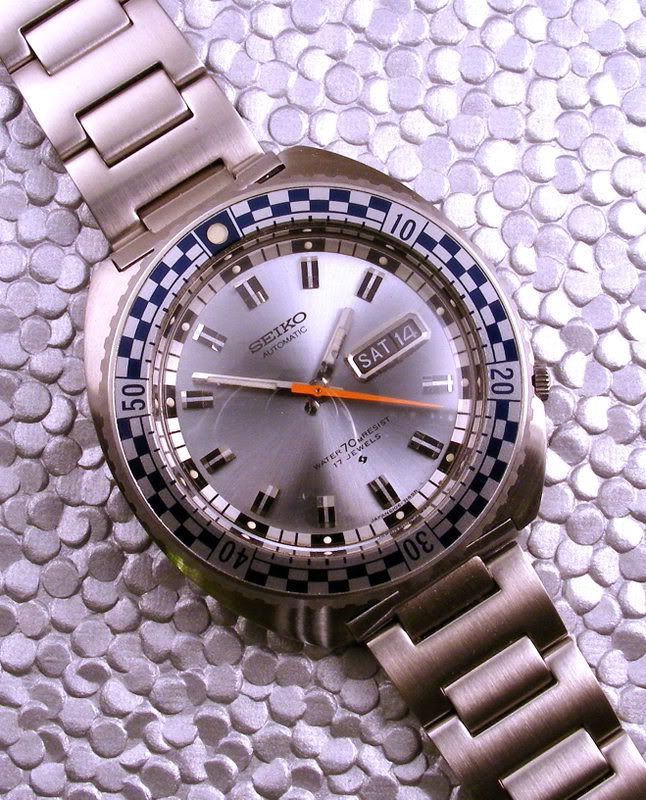 and the black dialed 6106-8227: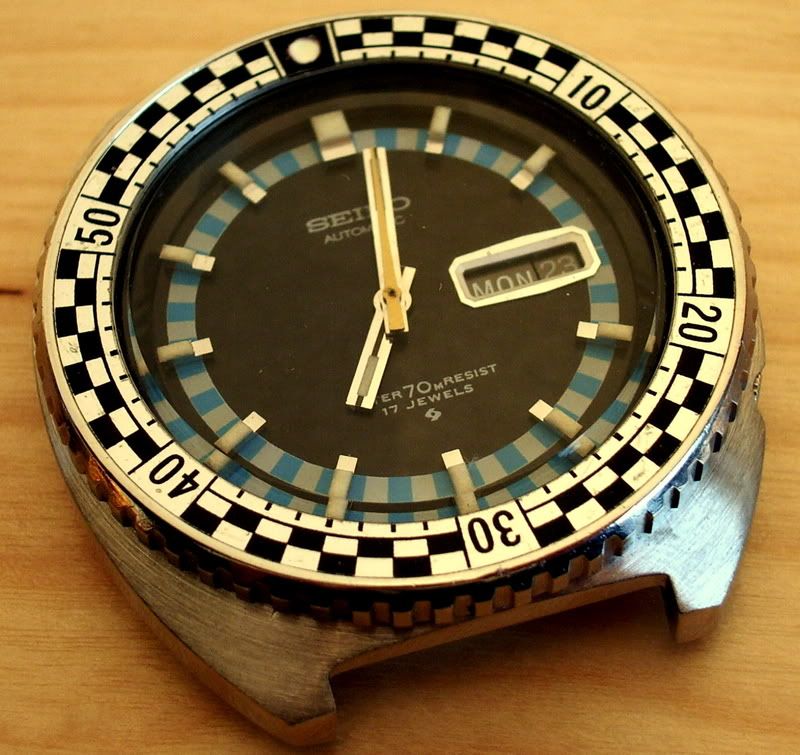 and 6106-8229 with a black checkered bezel (these last two seem to have come with red and yellow second hands):



The 6119 variants not only reissued the two original 6106 rally divers, such as this 6119-7170 that differs from the original 6106-7117 mainly on the addition of the 5 logo and a bit of dial text over the 0600:

[img][img]
[size=1em]
but also added a few distinct variants of their own, such as the 6119-7173:

[img][img]
[size=1em]
and this 6119-8300 with an electric blue rally bezel and an astonishingly difficult to photograph iridescent blue dial:

[img]http://img.photobucket.com/albums/v373/Santeno/Sport%20Divers/IMGP1133.jpg

I think there was at least one other, if not two, 6119 rally variants. If anyone has pictures of others, please let me know and I'll add them to this post.

The basic style of seiko rally divers has been reissued and/or reinterpreted on several different calibers over the years. however the basic design has retained a basic commonality with the original models from the 60's. IIRC, besides the original 6106 and 6119's, you can find later issues as 5126's. Here is the 5126-8120:

[img]
[size=1em]
and here is the 5126-8130:

[img][img]
[size=1em]
They were also released as part of the 1996 7s36 powered reissue collection, as you can see in this picture:

[img]

and in individual pictures here:

SBSS013:

[img][img]
[size=1em]
SBSS015:

[img][img]
[size=1em]
SBSS017:

[img][img]
[size=1em]
SKZ071:

[img][img]
[size=1em]
SKZ073:

[img][img]
[size=1em]
SKZ075:

[img][img]
[size=1em]
They might have been issued in other vintage calibers, but I don't know that for sure.

Lastly, keep in mind that other vintage sport divers (or modern ones, such as the black and red one posted near the beginning of this thread) are sometimes referred to as Rally divers incorrectly. The defining factor of rally divers is the checkered external bezel. If they lack that, then they are just sport divers (of which there are many wonderful models).