Discussion Starter
·
#1
·
Citizen Eco Drive Military Chronograph AT0200-05E
Authored by: Republic_Commando
First review to this site!
Anyways I ordered this watch from Amazon for about 129.00 not 99 but 00took the dollar I had left over and put it to my next watch
.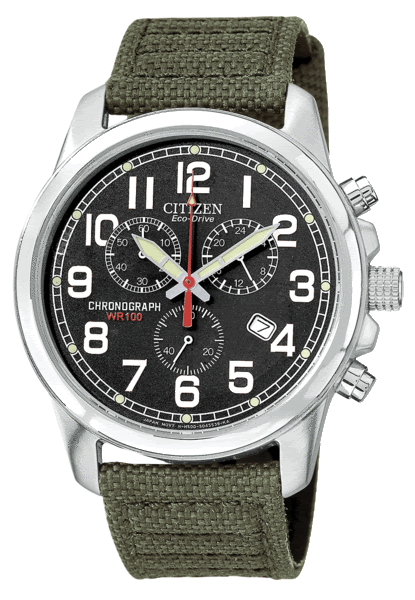 Great watch me being a Timex man and all.
Band
-The strap is average length but the metal grommets used foradjustment are too widely spaced apart. Fortunately for me I use themiddle hole with 3 on each side and it fits me snuggly and comfortably.For some people the optimal fit might be too loose or too tight.
Chronograph
- I used to wear digital alot so I missed all thefeatures I had with a digital when I received my Timex ExpeditionT47012. I use a chronograph (stopwatch) occasionally so I got thiswatch over the BM8180-03E. The minute dial for the stopwatch is poorlylaid out surprisingly. I have 20/20 vision with contacts and I have alittle trouble telling which minute is it. The red second hand is usedfor the seconds. Overall a great feature but not for precise timing.
Date
- At the 4 o clock position little small could be bigger, but not a real issue.
24 hour dial- Top right dial. Pretty much useless, I use 24 hour timeon all my digitals and its easy to do the math in my head. About asnatrual to me as breathing.
Luminosity
- POWERFUL!
Glows real bright after being in sunlight and all night. It's nice to know what time it is at 3 in the morning
Definetly suprised me since my Timex has Indiglo.
Accuracy
- Mine gains less than a second per week. According to time.gov
Eco Drive
- I wear my Timex as my work watch and this one as myeveryday watch. When Im not wearing this I prop it up by a windowsometimes not even the one that gets the most sunlight. In the monthI've owned it I never got the low charge warning and I don't think Iever will. Fully charged it can survive in the dark for 5 months!
Pros
- Great military looking chronograph. Seems durable afterbeing banged around into alot of stuff. Even made a big scratch on thedoor frame after accidentaly smashing into it
Took a little wood out tough watch.
100 meter water resistant more than enough for my swimming needs.
Cons
- Dials could be a bit bigger. I mean the big numbers are nice,but I dont need them that big
Summary
- Great casual, rugged, everyday, military styled chronograph.
If you want a durable military styled chronograph this is it for youAND it runs on ECO DRIVE! Big bonus for a well-priced 130.00 USD
Hope this helped will post edits and updates over time.