Any WIS should know that it is notoriously difficult to find matching pairs of older dive watches for a few reasons: (1) very few examples were made for both genders; (2) if made, then they cost an arm & a leg; and (3) such pairs are rare finds.
Since
acquiring my Citizen Dolphin NH8030 last year
, I often wondered if there was a ladies' variant.
Skywatches.com.sg
lists all 3 Citizen Dolphin pairs, so it turns out that the cushion-case NH8030's female counterpart is the PD3270.
Here are the stock pictures of the NH8030 and the PD3270:
Unfortunately, a google search of the PD3270 comes up with re-posts of Skywatches' picture of the same timepiece. So for a season, I thought it was just a concept photo & never meant for the public.
My perspective changed when I found a PD3270 for sale. Seeing photos that were not professionally staged (OMG it's actually real!), I said nuts to the credit card & purchased it immediately. Paid too much? Not if it's near impossible to find, let alone it being a NOS model.
As such, I'm pleased to say that the PD3270 arrived today, and it is VERY real.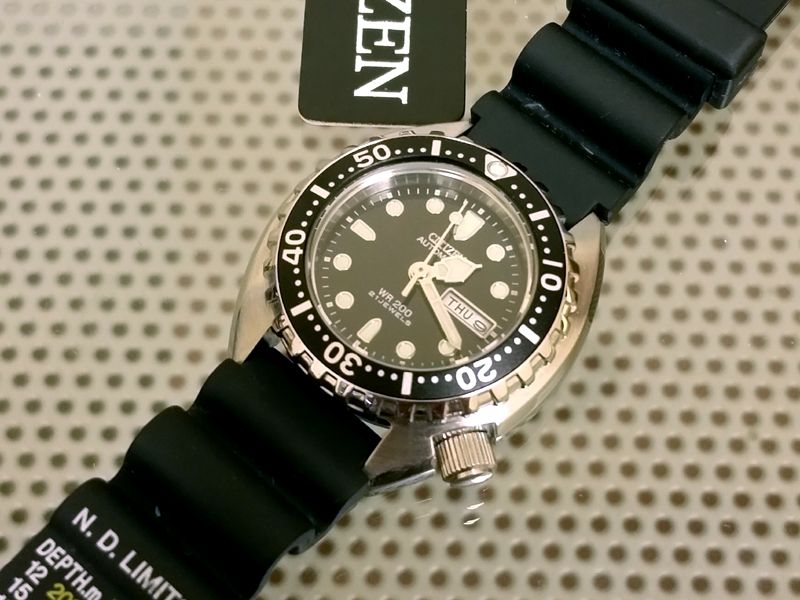 Here are the dimensions as well as my own NH8030's dimensions for comparison:
PD3270: 12mm tall, 30mm wide, 33mm long, 14mm lug width
NH8030: 12mm tall, 39mm wide, 41mm long, 19mm lug width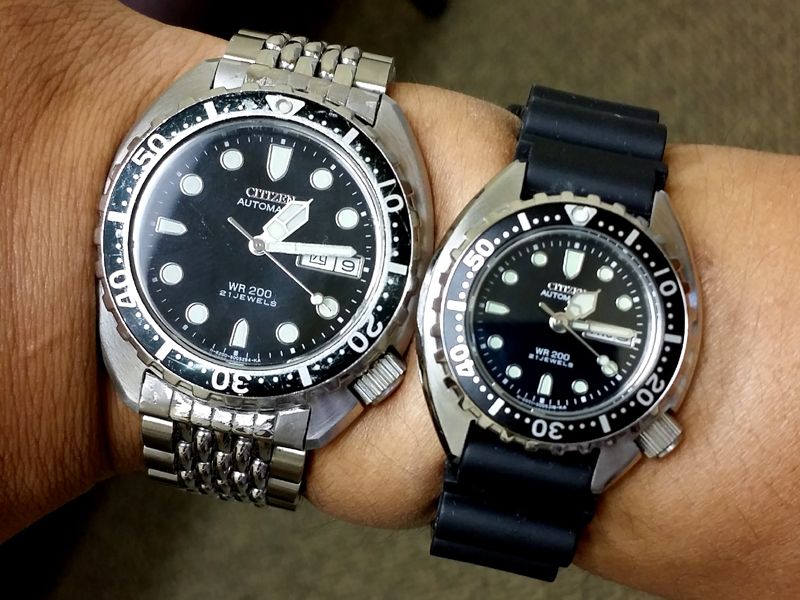 Much like the NH8030, the bezel is unidirectional & the crown is screwdown & easy to grip. Lume is present & glows about the same as my own NH8030 -- not super bright, but has lasting power.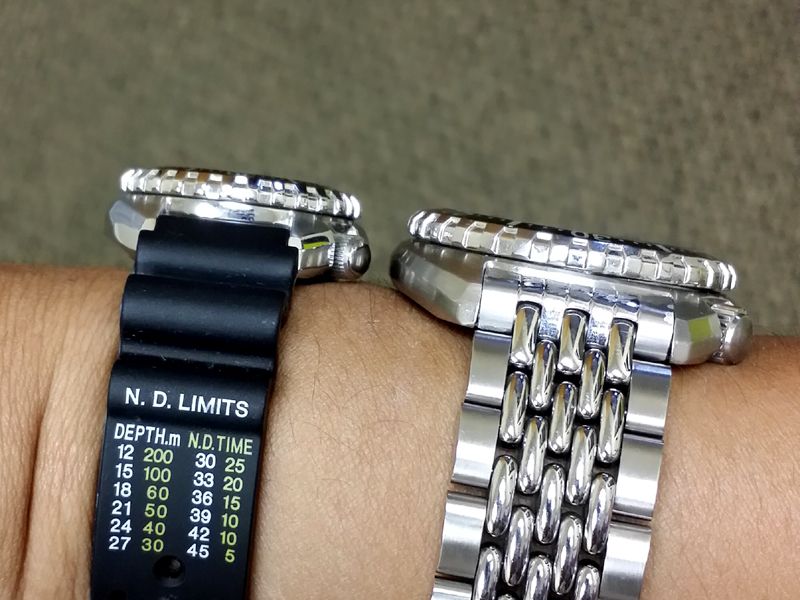 The gorgeous dolphin casebacks, all matched up.
This PD3270 still has its sticker on the caseback. Definitely a NOS.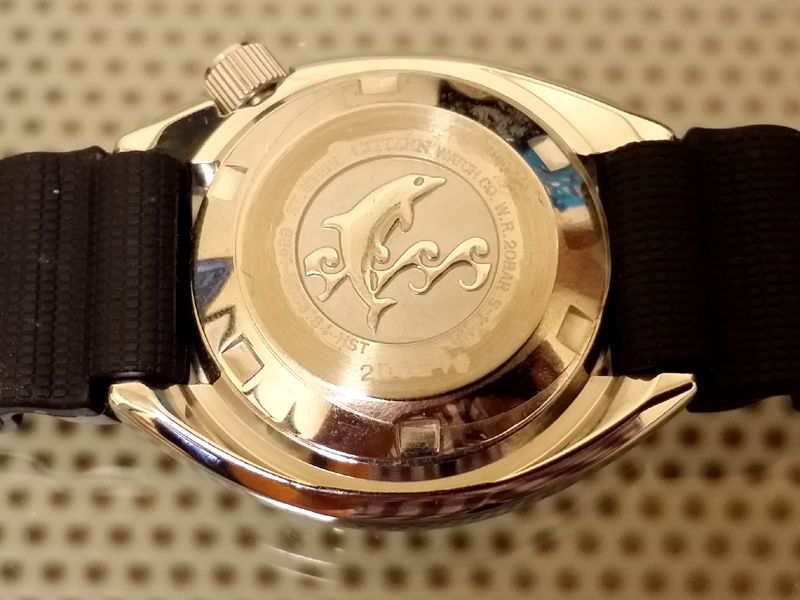 The movement is the tiny Miyota 6651. Much like the 8200 in the NH8030, it has a unidirectional rotor & it handwinds. However, unlike the 8200, it is a high-beat movement at 28800bph. According to the
Metatechnical Cabinet
, the Miyota 6651 is still produced today but is called the 6T51 movement.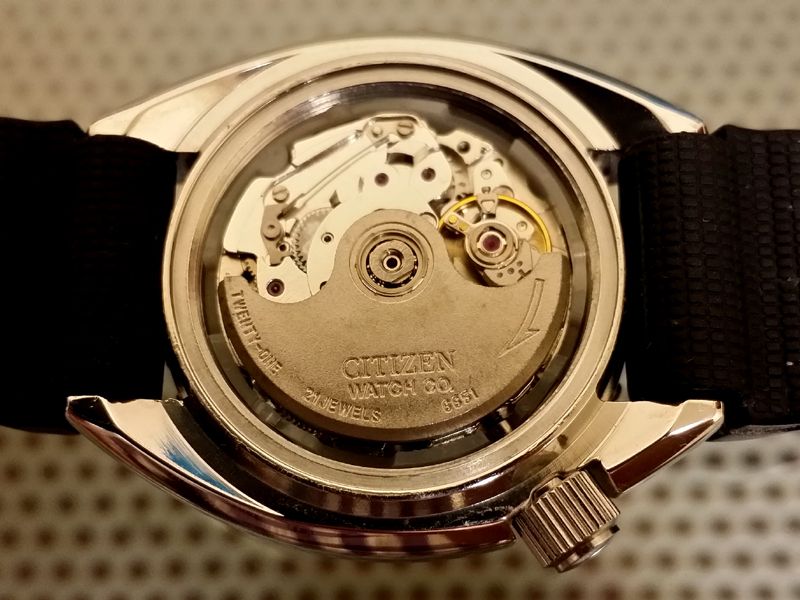 Here are the movements side by side. Note that the directional arrows of the rotors are different between the two.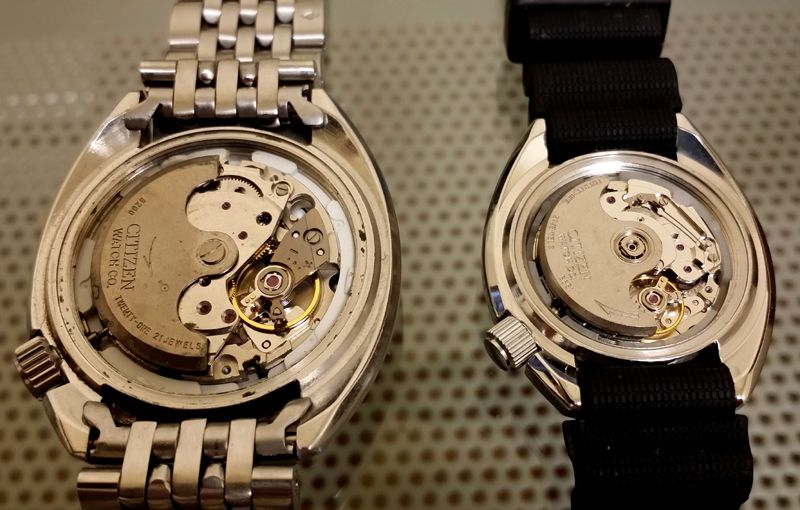 I am so incredibly jazzed about this find and am way over the moon about it. Now to find a beads of rice that will fit this little jewel...wonder if Harold can modify one of his to fit.
Thanks for reading along!