Discussion Starter
·
#1
·
Citizen BN00055-53E Mini Review.
Authored by: Radio_Daze
I received this watch only yesterday, so here is a review of what I think of it so far.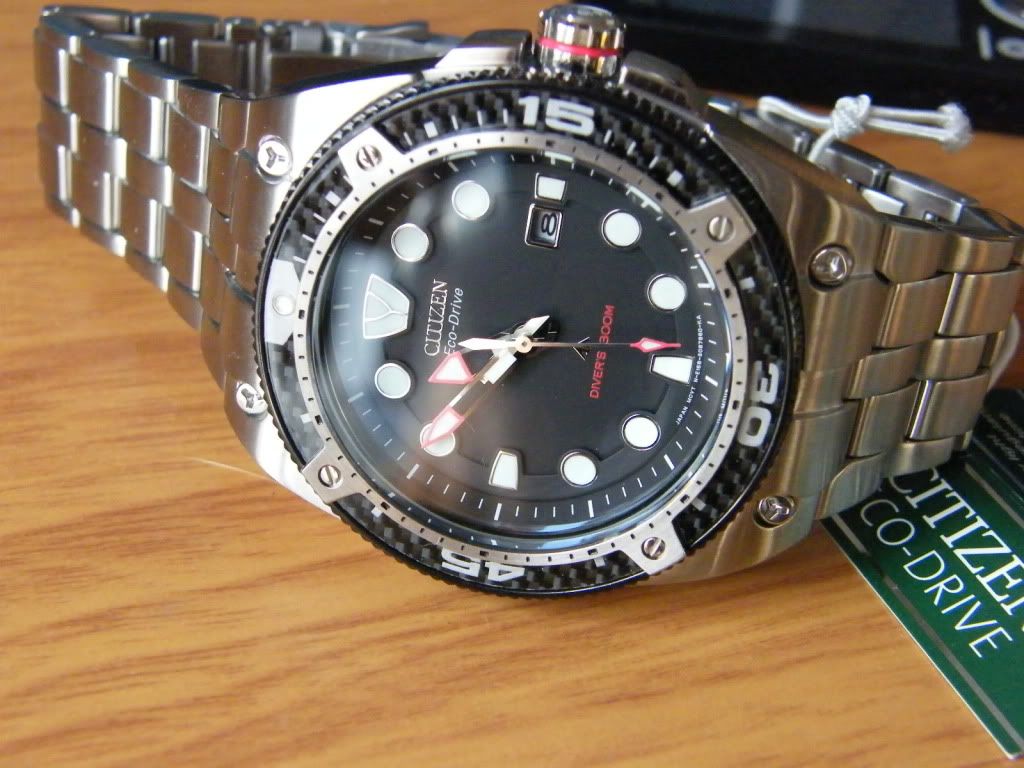 This is one of Citizen's eco-drive dive watches. I think most WISs arefamiliar with the eco-drive technology employed by Citizen. Eco-driveis what Citizen call their solar powered watches.
This watch is very solidly built and is also pretty hefty. If you likea lighter weight watch, the same design is available in Titanium too.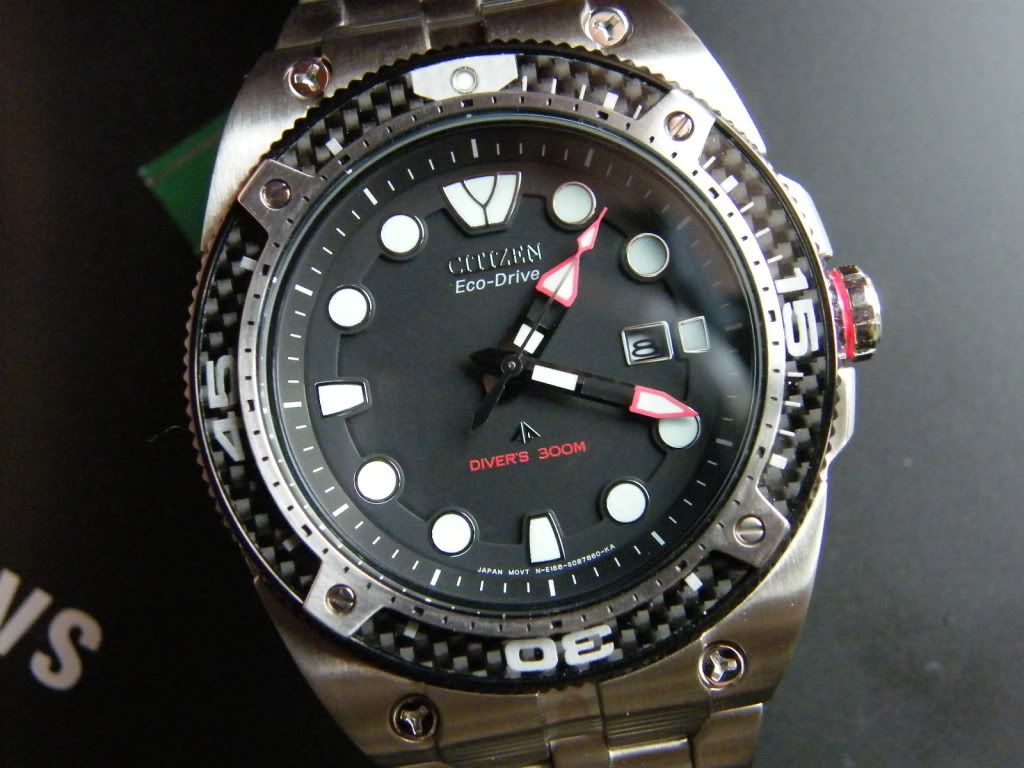 The width of the bezel is 43mm with an extra 2mm on the crown guard. Soin reality, you can say that this is a 43mm watch with athickness ofabout 14mm, so quite a large piece, but an average size by todaysstandrads. The bezel is uni directional with only 60 clicks per fullrotation, unlike Seiko's usual 120 clicks. Never the less, the bezelfeels solid with no rattle and fairly easy to turn. However, I noticethat if you tap the bezel with a finger nail, then you can here it slapdown onto the watch case, so it does not sit firmly onto the case. Nobig deal I suppose, but it does lack the finesse of your bog standardSeiko 007 diver! All Seiko divers have far superior rotating bezels tothis Citizen. The insert for the bezel is carbon fibre with a glossyfinish which looks very attractive. The outside of the bezel is blackcoloured steel. The inner bezel in stainless steel and held in place byfour screws, which helps give it an expensive look. The crystal issadly not sapphire, but the standard mineral crystal.
The dial is black with the usual date window at 3 o' clock. I noticethat on this sample however that the actual date sits a little low inthe window. This does not bother me, but I know it would drive some ofyou insane!
Hour markers are lumed with a silver trim, which also adds to make thisdiver a little more blingy than the norm. Hands are partly skeletonisedwith lume only at both ends. I think I would have preferred the handsto have been lumed all of the way along though. Lume is very good, butI think falls a little short of Seiko's lume for brightness, but doesremain visible all through a long december night. I'm happy to reportthat the seconds hand falls exactly on the seconds markers and not inbetween. This is one thing I'm quite fussy about!
Now the bracelet.
[img]http://i812.photobucket.com/albums/zz46/radio_daze/DSCF3158.jpg
At first look, it may appear that the bracelet is held in place by twoscrews at both top and bottom of the watch. However, what look to beend links are in fact a part of the watch case and the screws are nomore than a design feature! So the bracelet which comes with the watchis what you are stuck with!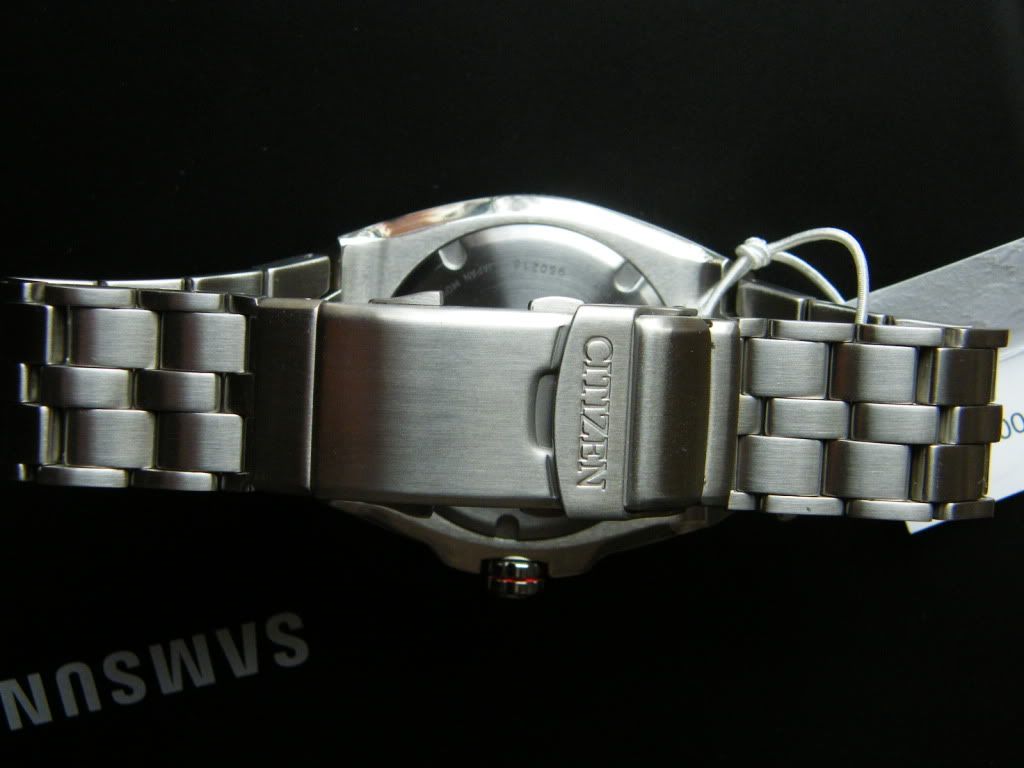 Now for something interesting. There are two extra buttons on the whatappears to be an ordinary looking clasp. Slide these buttons back andyou have a diver's extension. This extension can be set to no less thannine different lengths. It appears that Citizen has taken a leaf out ofSeiko's book here, this idea is also employed by Seiko on their MM300.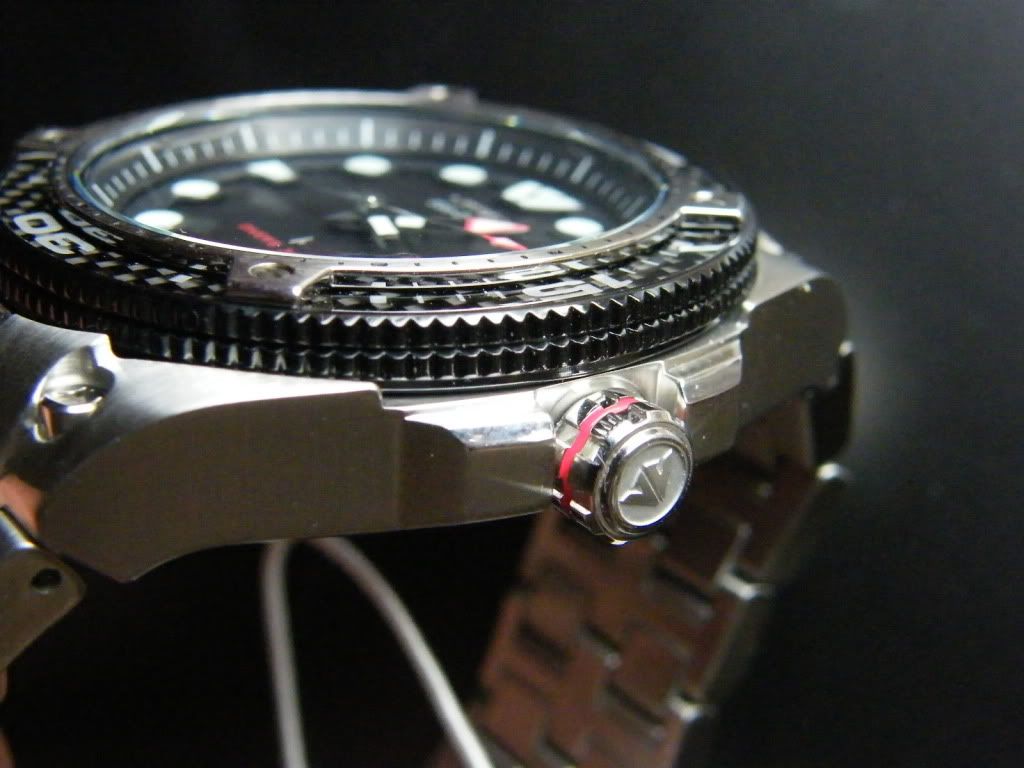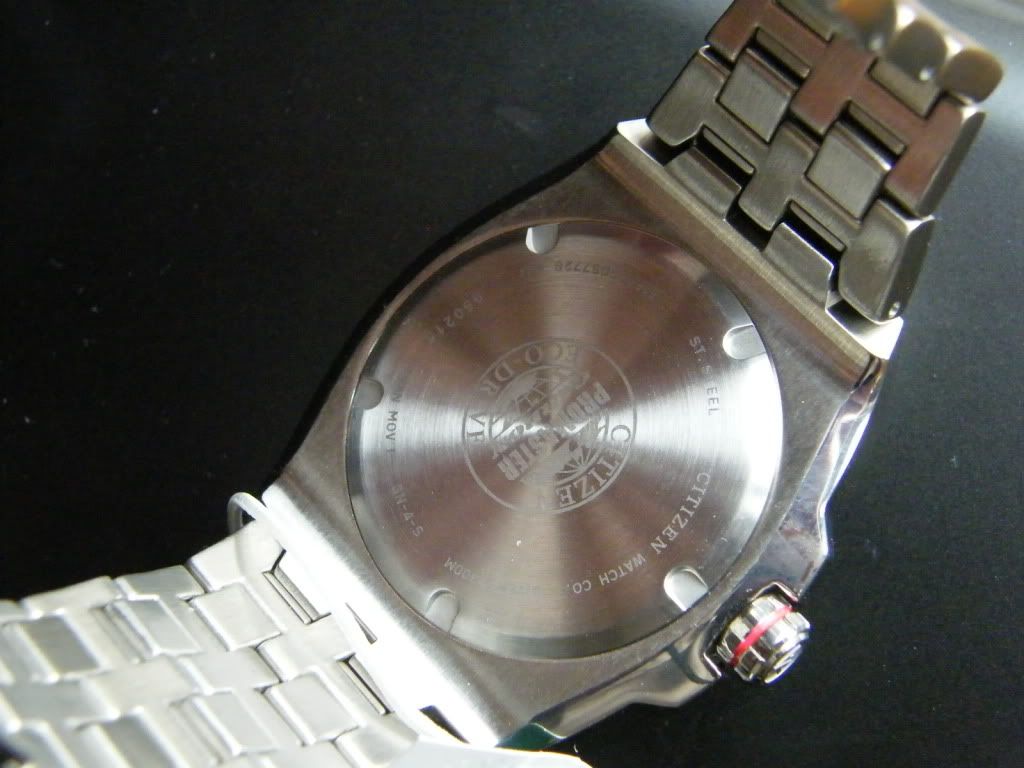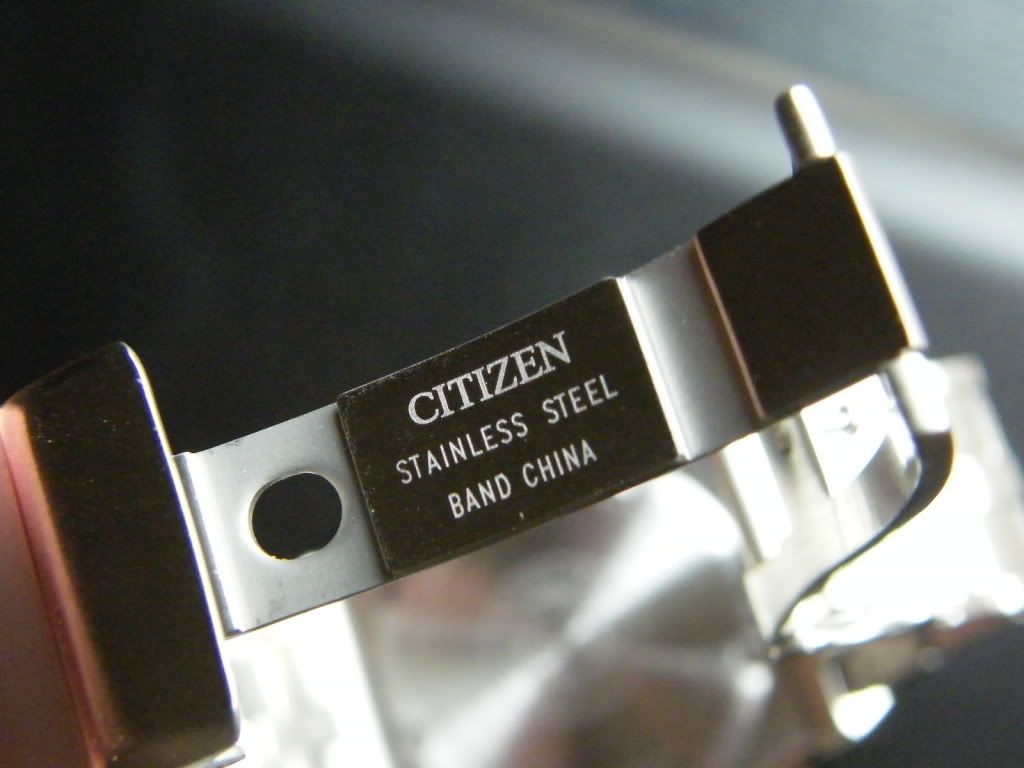 I almost forgot to mention the crown. It screws down very smoothly andhas a red stripe around it, which is another nice touch. There is alsothe promaster symbol on the end which finishes the crown very nicely.
All in all, this is a very nice watch, which can be picked up on eBay for as little as $170.
I recently sold off quite a lot of my collection with an idea in theback of my mind that I may get a Seiko MM300 with the proceeds.However, the thought of shelling out the best part of £1300 for one wasnot very appealing. Here I have a good quality diver's watch for around10% of the cost of the Seiko. What is more, this watch can go 100meters deeper. Not that it ever will while I own it.
Update after 10 days of ownership.


I didn't wear this watch for the first two days as I hadn't still gotaround to adjusting the bracelet. In this time it gained one second, sojust about making it within the quoted spec of +- 15 seconds per month.Since adjusting the braclet however, I have worn the watchcontinuously. In this time, it has only gained about half a second. Sothis watch keeps better time when being worn than when it's not.

Although the lume is good, at times it's quite difficult to distinguishbetween the hour and minute hands when viewed in the dark. It wouldhave been much better if they had been lumed all of the way along thehands!

Since buying this watch, I have seen it sell on eBay for as little as$125.50 for the stainless steel version, and $148.50 for the Tiversion. Both plus $28 shipping. At these sort of prices, I considerthese watches an absolute steal.