Discussion Starter
·
#1
·
Authored by: moosez3
Okay so I don't really have a lot of experience with as wide of avariety as many on here, but I will give my opinions about the CitizenCaliber 2100 AV0031-59A:
[b] [u]PROS[/u]:[/b]
- I love the size, it is big, not enormous, but big. The crystal is big with a small bezel which adds to that look.
- I like the features, in that it has an alarm along with the more common features, so its good for a daily watch.
- The weight is good, I didnt measure the weight, but it does have someweight to it, not as much as say a breitling SOSF, but close. I likethat. I like to know my watch exists, unless it a classy leather banddress watch, anyways.
- The bracelet is much better than the invicta speedway/master??, granted that was a cheaper watch, but this one is very nice.
- WR200 thats always a plus
- The main crown is screw down, I like that.
- I like the battery life indicator although at night it runs less thanhalf, it hasnt died or anything, but that indicator likes the sun :)
- Also for a heavier chrono watch it does not put a bruising on my wrist when swinging my arms around in daily usages.
- I like the clasp, it is not cheaply made, not stellar, but it will not come off... I dont think
- did I mention I love the dial??
[b][u]CONS[/u]:[/b]
- crystal, a watch of this caliber, price and with a crystal as largeas this ones is, the crystal should be Sapphire, or some sort ofscratch resistant crystal, the crystal is 2/3 mm over the bezel, and ifone is not, careful... more like wreckless one could damage it quiteeasily, but with a piece this heavy and big, I never forget its on, andit would not deter me from buying another peice in the future as I amcareful with my watches, even daily usage ones.
- Alarm isnt amazing useful, and it is tricky to use sometimes.
- Maybe asking to much, but I wish the chrono crowns were screw down as well, like the Breitling Chrono
[b][u]OVERALL[/u]:[/b]
Its a great watch if you like the style and size, and are careful withwhat you own, the this is a great piece. Did I mention I love the dial [img] I tried to capture why in these pics:
This is a comparo at the different shades this watch can get depending on the lighting, it has no silver, just little ridges...
White:
[img]http://i231.photobucket.com/albums/ee126/moosez3/white.jpg
Silver: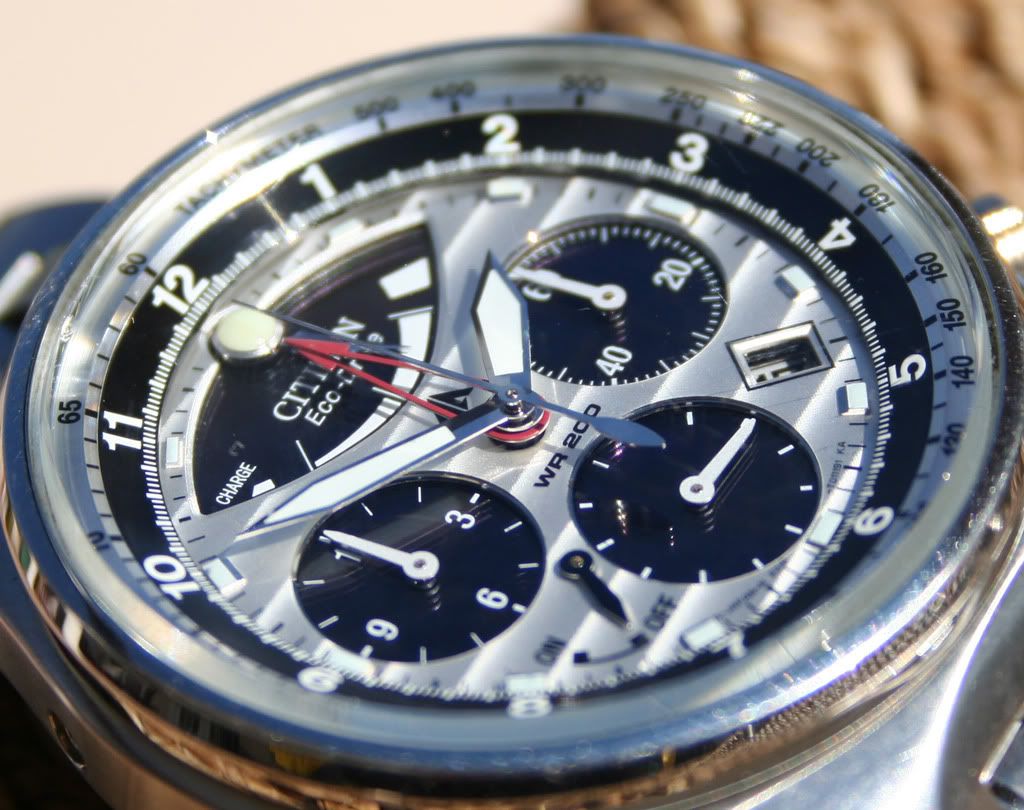 Ridges are hard to get a picture of w/o a macro lens
[img]
[img]
More pics can be found here:[url=http://forums.watchuseek.com/showthread.php?t=234376]
http://forums.watchuseek.com/showthread.php?t=234376[/url]