Discussion Starter
·
#1
·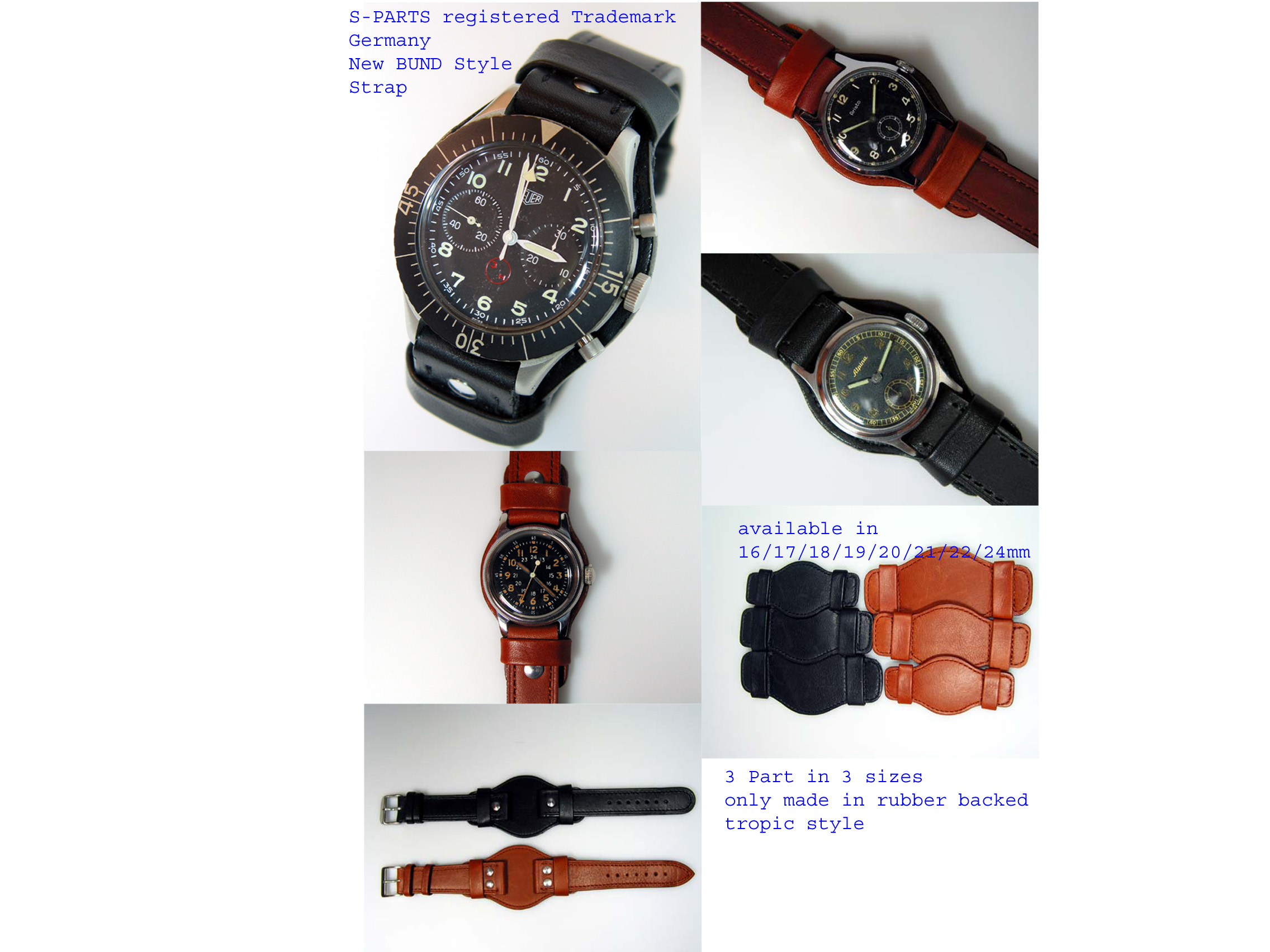 The Jürgens luxury BUND pad, matching with our Flieger straps (Aviators)
Hand made in Germany with my brand name stamp inside " Jürgen's Hand Made in Germany" by jurgensgermany
We made a different construction for a much higher quality then standard BUND straps are made.
Made of the same real Swiss calf leather as our Flieger straps
Tropic style with genuine black rubber and Gore-Tex inside for hot & wet climate.
Please don't compare this leather parts or our Aviator straps with the cheap Asian BUND strap copies on the market
BUND pad is available in black or brown tropic style. In 3 different sizes.
Size 1 small (35 x 72 mm) for small watches 29 to 35 mm diameter with 16 - 19 mm straps (lug wide)
Size 2 midsize (40 x 84 mm) for midsize watches 35 to 39 mm diameter with 18 - 22 mm straps (lug wide)
Size 3 BIG (47 x 91 mm) for big watches 39 to 49 mm diameter with 19 - 24 mm strap (lug wide)
Price for one BUND pad is 39.- US $
The matching straps are our well known ss screwed Flieger = Aviators.
Our export prices for the tropic style are.
93 - $ US $ for one 16, 17, 18,19 ,20 , 21,22 mm strap
103. - $ US $ for one 24 mm strap.
145. - $ US $ for one 24/22 mm / with oval holes fits on the 22 mm ss buckle from Panerai.
Comes well packed in a registered airmail bubble envelope.
EU citizens have to pay 19 % VAT.
Shipping to the USA & international is 12.50 US $ by registered airmail.
Shipping to EU is 7.50 US $ by registered airmail.
Payment: By paypal, please use my e – mail address for payment :
Info(AT)s-parts.de
,wire to our account in NYC by the bank of NY, swift, bank cashiers check, wire to our German account, Int. money order, postal money or cash , in registered airmail letter please.
We offer a wide range of watch straps, bracelets, buckles , deployant clasps, watchmaker tools and Swiss Brand items around watches, please feel free and check them out at jurgens Germany.
Please ask for our feedback.
Thank you for reading my post we look forward to hear from you. With kind regards from germany Jürgen