Discussion Starter
•
#1
•
Hi all, I posted this over at WUS and got no help so I hope someone here knows.
So I have two vintage mid 90's Aqualands, one is a B741 Eco Drive and the other is 3745 (non eco drive) full lume
(not my pics btw but mine are identical to these)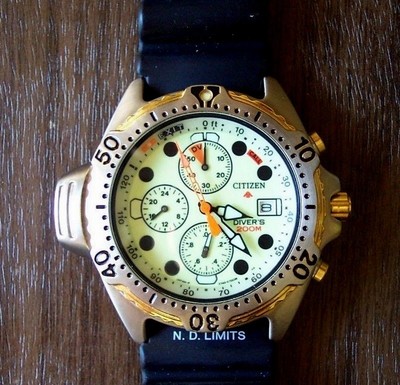 The problem I am having is that both watches show "max depth" at all times.
On the first one, since it is eco drive, the chrono hand is technically supposed to point to the charge level, as shown in the pic. However on my watch the chrono hand is always pointing to the little red square/circle symbol instead. I have done the reset procedure, during which the watch indicates NG for an hour and then switches back to square/circle and remains there. I have tried washing the water sensor located at 10:00 and also submerging the watch in a bowl of water for a few minutes and it didn't do anything.
On the 3745 with the fully lumed dial you have to manually enter dive mode, at which point the chrono hand should indicate "0 ft" to begin your dive. My chrono hand however points again to the little orange square/circle maximum depth symbol although I am not even near water. Upon exiting dive mode it returns to its correct position of "EXIT".
Besides this the watches work fabulously and I love them. If anyone could point me in the correct direction it would be much appreciated, and by that I mean write ups or youtube videos or other forum posts.
My gut tells me this hopefully isn't a hardware problem and I would rather not send the watch out and try to fix this at the bench. I really hope there is someone out there that has done these themselves that can offer some insight. The chrono and everything else works great. These watches are so awesome, I just want them to be fully dive capable.
Thanks guys!