Discussion Starter
·
#1
·
Last January, I posted about acquiring a midsized Citizen diver & it has made me very happy as it was. Given how much it looks like a shrunken Seiko 6309 & was much more comfortable on my wrists, I no longer pined for a 6309 anymore. However, when other members started posting Harold's BOR bracelets on 6309s to complete the Soxa look, I had to go back to my Citizen & see what could be done.
So I purchased a 20mm Harold BOR bracelet with SKX013 endlinks, which are 20mm wide. The Citizen is 19mm, so had to whittle down the endlink width. Not only that, but the endlink curvature had to be shortened by about 3mm so the springbar could actually meet up with the holes in the case.
Dremel, hand-filing, & TONS of checking & re-checking was involved in customizing BOR endlinks to fit the Citizen case. The end result turned out alright though -- but either I'm a really lousy DIYer or I have no patience, I hope to God I never have to do this again.
Next was to add on a special clasp that I'd been saving for a few years. It's an OEM Citizen clasp with a ratcheting diver's extension I picked up awhile back. I think it may be a Promaster clasp, but I don't have the part number anymore (A similar but earlier generation clasp with extension is part no. 59-J0609).
This wasn't nearly as bad as trying to get the endlinks to fit, but it did take a lot of effort to file down 20mm solid clasp links to 18mm, which was how wide the clasp is.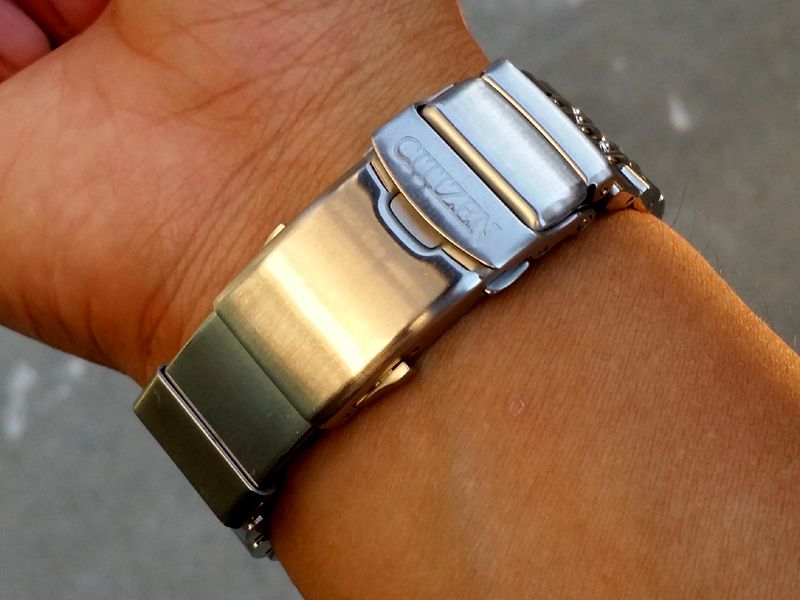 In the end, it all fits together almost as if it were made to be. Of course, all this being homemade, it's got that "organic" fit & feel (read: choppy, rough, but functionally sound).
Citizen really should have offered this sort of bracelet with this particular watch.