Discussion Starter
·
#1
·
I come from a family of mechanics (I was the exception). What I did learn from my brothers and father is not to waste time and money with cheap tools. They never do the job properly and will eventually let you down. For that reason I've always tried to buy high quality tools.
I also tend to buy from the sole remaining watch supply store here in Sydney for two reasons: the guy deserves some support (he gave me some old Swiss movement for free to practice on. You won't get that ordering tools on auction sites), and because of the advice you can get when you buy the tool, which is invaluable and can save you a lot of problems.
My most recent purchase is a Bergeon spring bar remover #3153. I thought I would post a quick review of it. I wanted the proper tool for doing this job as I was using toothpicks to change straps.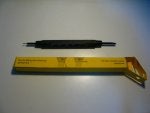 Bergeon needs no introduction. They are high quality Swiss made tools.
This tool has a pin end for pushing out pins:
And the other end is like a flat screwdriver with a notch cut out. This is for spring bars. You can see in the second pic how one side is a greater angle than the other side.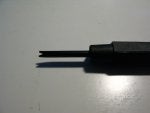 The body is resin, and has a handy ruler in mm and inches printed in white.
Overall, a simple tool that is designed to do one job well. When using it, I found that I still had to be very careful not to scratch the lugs. Although it makes spring bar removal easier, there is still some skill required. With some more practice I'm sure this will become easier.
That's about it. Thank you for reading.