Discussion Starter
•
#1
•
So I noticed a while back (wandering around Borel's online material catalog) that 6309 crowns were used on a Pulsar case and went searching for old Pulsar divers this is what I found...
This was an impulse buy off of eBay, the flowery add made it sound perfect, pictures said otherwise so there were no surprises. A Seiko 7548 case-back was installed. The first thing I did when it arrived was wash it, big mistake, it flooded immediately ARGH! Well after a panicked tear down ultra sonic bath and oiling it's back and running like a top. The source of the water; an undersized crystal and factory gasket installed by the village idiot with some glue at the same time the village idiot probably placed the chapter ring into place without aligning the dial tab to the notch in the chapter ring but he got it close enough that when he forced it down it twisted the tab slightly leaving a visible bend in the dial.
With the dial tab bent back into place and the dial flattened back into position and the chapter ring properly aligned and crystal gasket cleaned of all the glue a new 30mm crystal is properly fitted, new gaskets applied to crown and case-back it's almost all back together. The 7548-700b case-back gets replaced with one of Crystaltimes new un-branded case-backs... done until I get a proper sapphire for it, a slightly domed AR skx031 sapphire should do nicely.
Very early 80's Pulsar 150m not sure when they started making them...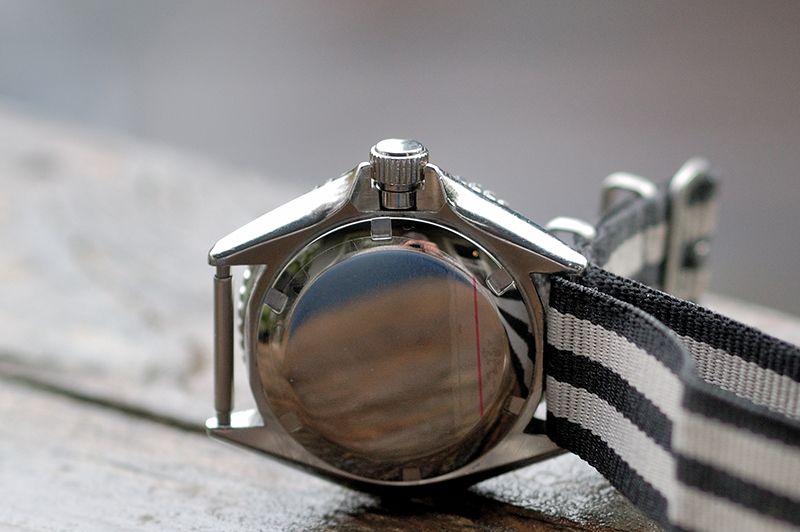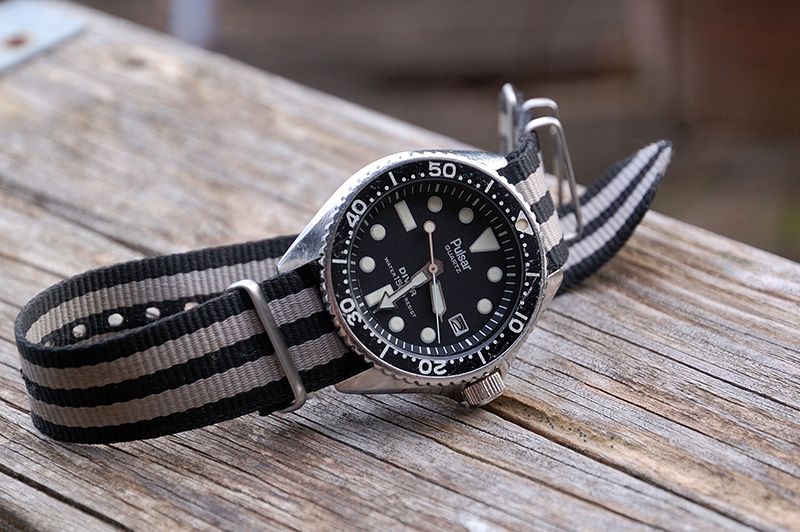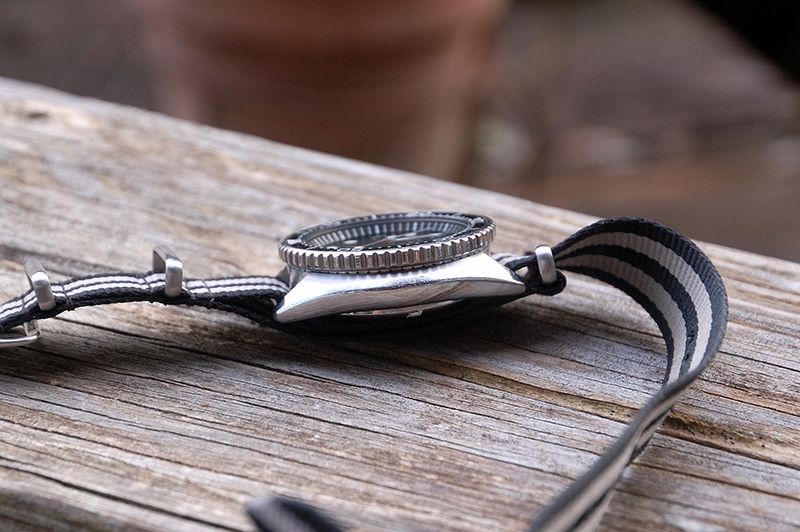 It's a hybrid of design elements of Pulsars y514 (7548 movement), tabbed dial, tab aligned chapter ring, click ball bezel, 6309 crown and a press in crystal with nylon gasket. It seems to be begging for some kind of custom 6309 Seiko mod...
By 1983 the Pulsar 150m had a new smaller slim case, click spring bezel like the skx, press in crystal with nylon gasket, cheaper y112 movement, chapter ring fixed to the dial or tab aligned to the case, redesigned 6309 style crown but now much smaller (Arnie crown?). The new movement does still have a metal bodied gear-train a modern replacement movement would be a vx series and have a plastic body...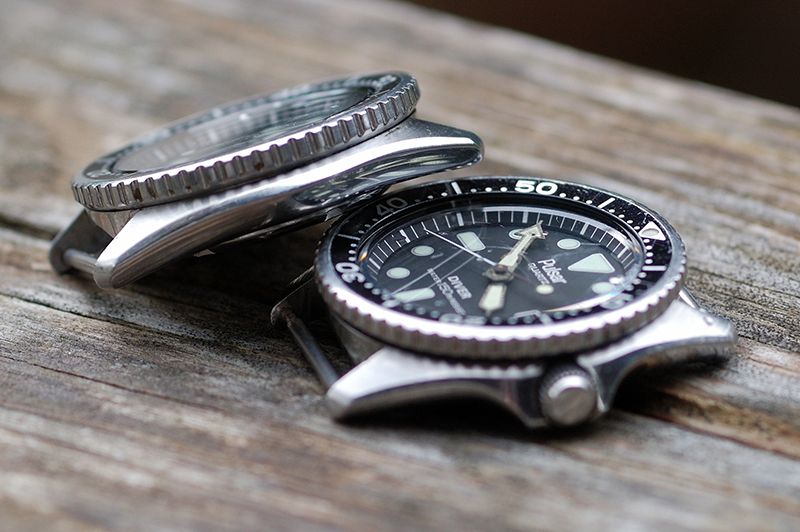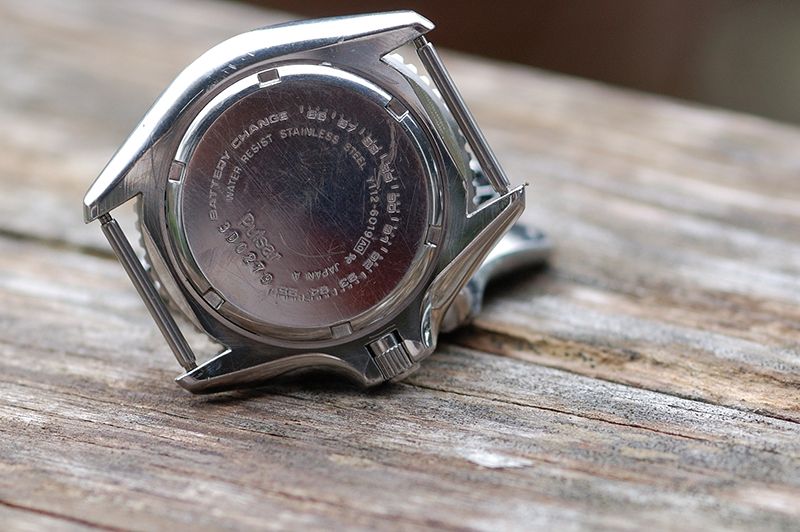 Another obscure Pulsar I had never seen before until I paid too much for it on ebay...
Y513 movement (pulsars 7548) serial number starting with 034 I would guess its from 1980 (because of the movement) this model doesn't have a battery change calendar on the caseback but 1970 would be too early for the movement and 1990 would be too late.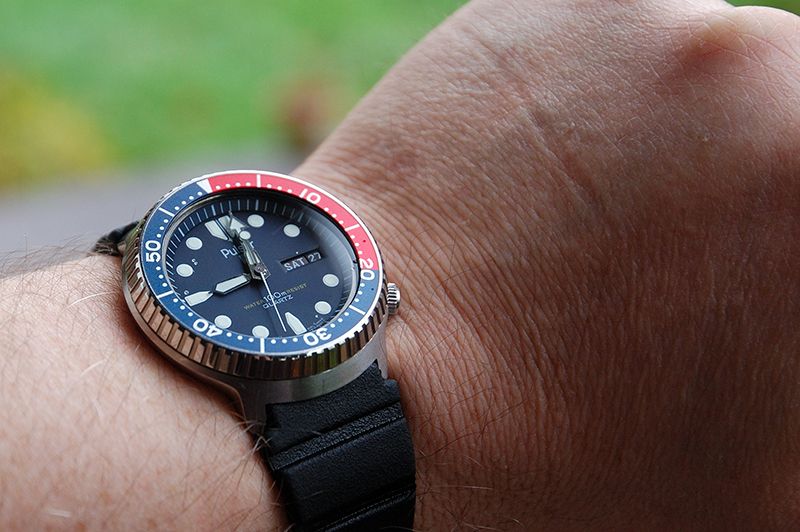 This last one is pretty common it has a y147 movement which is the all plastic version of the y112. This has a serial nuber starting with 064 and since its a newer movement I would guess it is from 1990. These can be found in near new condition still and I haven't seen one in all stainless...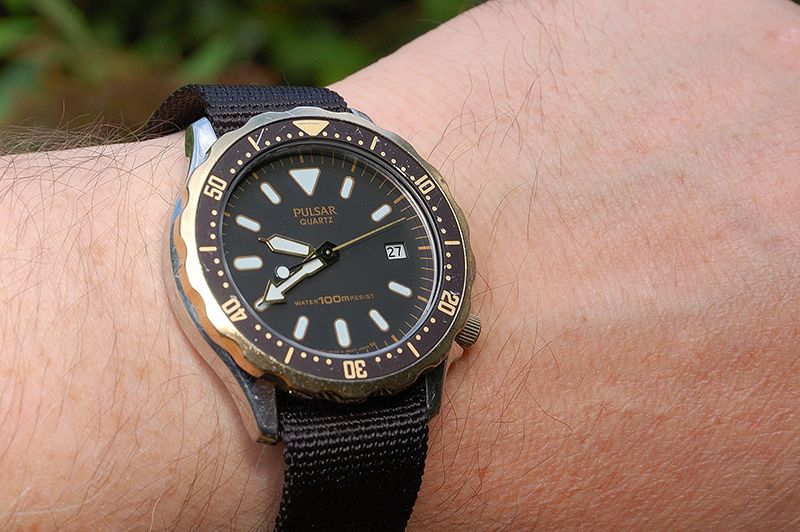 So what do you think? Any love for Pulsars?