Discussion Starter
•
#1
•
A mixture of senseless greed and dogged determination have resulted in my acquisition of a second personal Seiko grail in three months: my beloved 6105-8119 will now be sharing my left wrist with an intact silver 7A28-7000. (I'll be sure to post pics for your approval when it arrives.)
Meantime, though, I'm trying to suss out what my approach should be in dealing with the cracks in its black plastic pushers. The worst one looks like this: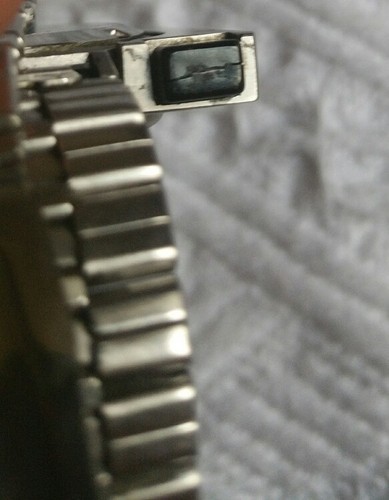 Both pushers are apparently still snug and solid-feeling, so they're not dead yet...
I've got access to some decent 3D printing facilities and expect that I'll eventually try my hand at printing some pressure-fit replicas. (If I was the enterprising sort and there was an actual market for this kind of thing, I'd get a bunch made from anodized aluminum and retire!) But for the sake of maxing out the lifespan of the originals, my current plan is to try to fill the cracks in with JB Weld, likely applied with a very fine needle. That stuff can be messy but it seems to work well with brittle plastic as it's very hard and doesn't shrink when it dries--unlike Testors or Krazy Glue or whatever, which would probably do more harm than good.
That said, I figured I'd put a message out to the community to see if there have been any recent successes in treating these pathetic old plastic caps?