Discussion Starter
•
#1
•
Vintage Doxa Subs came with BOR bracelets when sold new, but over time, they've become both fragile, rare, & expensive. While I purchased a mesh bracelet for my Doxa Sub, I still felt like it wasn't an adequate substitute for a true BOR bracelet. Unable to justify forking out the ridiculous amount of money for either a vintage BOR or Doxa's own BOR, I was ecstatic to discover Harold's BORs: while they may have been originally meant for Seikos, I decided to get one for my Doxa.
I ordered the 22mm BOR with endlinks meant for a Seiko 6309 so as to attempt capturing the bracelet taper as the original BOR's had. Needless to say, grinding was needed both to adjust for endlink width & depth, along with some plier-twisting to line up the holes.
I don't work well with my hands, so it took me about 2 hours of grinding (probably not the best job given what's been posted before). As a result, my Synchron-era Doxa Sub now has a proper BOR bracelet.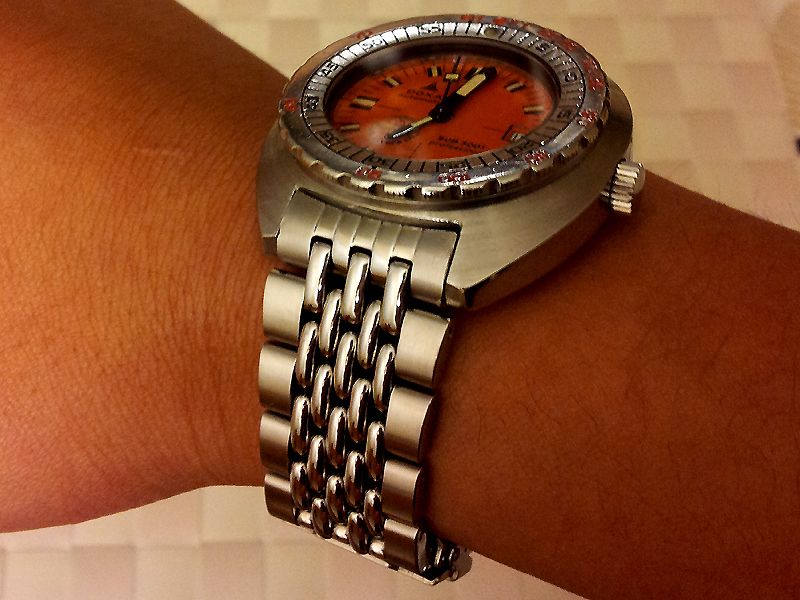 My quick & dirty shots reveal that I either cut too much from the endlinks to be properly flush to the case -- I might order new endlinks if totally unhappy w/the results -- and I'm using regular-sized springbars w/shoulders instead of shoulderless fat bars, hence the extra gap between the endlinks & the rest of the bracelet. Fortunately, there's no rattle anywhere at all (except from the clasp; that's to be expected).
Still, with an $8 Dremel knock-off, some spare time in the morning, and a little too much enthusiasm, I can now wear my Doxa on a proper bracelet.
Harold: even though you might have intended for the bracelet for the Seiko-modding crowd, I thank you as one who bridges both Seiko & Doxa worlds!