I believe the word 'rare' is much overused when describing vintage Seiko's. Often 6105's are described as rare, as are 62mas, and 6159's. These are very desirable watches, but are not particularly rare. They can be hard to find in good original condition, but they were produced in large numbers and with a little patience (and not a little money) they can be found.
Here's a couple of variants of quite common divers the 6309 and 7548 which I am quite content to call rare - First, the 6309-729B.
I have actually managed to buy 4 of them over the years, but it took over 5 years of searching to eventually find a 6309-729B with a good dial and handset. These don't often turn up anyway, and when they do the dial is usually ruined, and the gold on the hands is beyond repair. The orange dial and chapter ring are unique to this watch, I think the hour and minute hands are similar to SKX011, but the second sweep hand is an impossible to find 729B only piece, also note Water Resist is purple in colour. All but one of them that I have found have 25xxxx serial numbers (The odd one is October 1983).
The 6309-729B is one of the hardest to find of all vintage Seiko dive watches.
Here is my best example: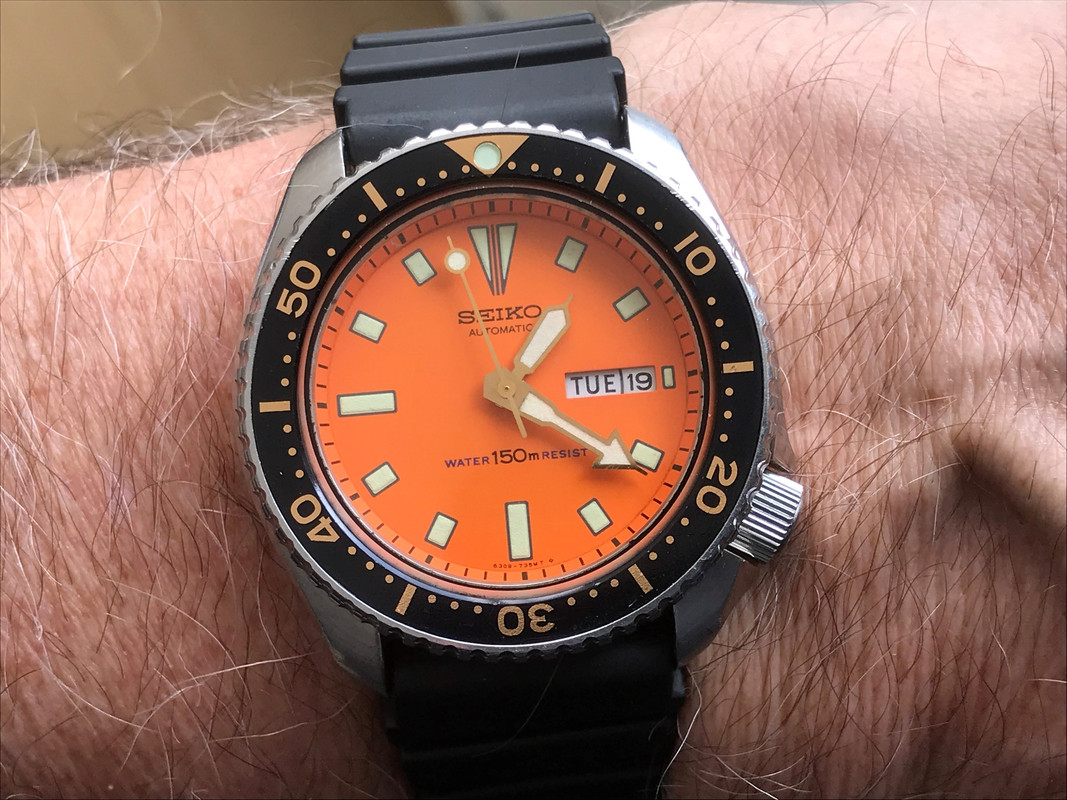 The Seiko 7548 series is a classic early quartz diver. The 7548-700C Teal was a very limited production watch. I haven't seen many of them even on the web and they seem to have serial numbers in the 4Dxxxx range. These could have been produced in even smaller numbers than the 6309-729B? I think I can understand why so few of these were sold.... very low numbers, and anyway, who wants a dial this colour? I have no ideas why the 6309-729B is so scarce. Orange dial 7548-700C sold well, - so why not the 6309-729B? Who knows.
Here's my Teal 7548: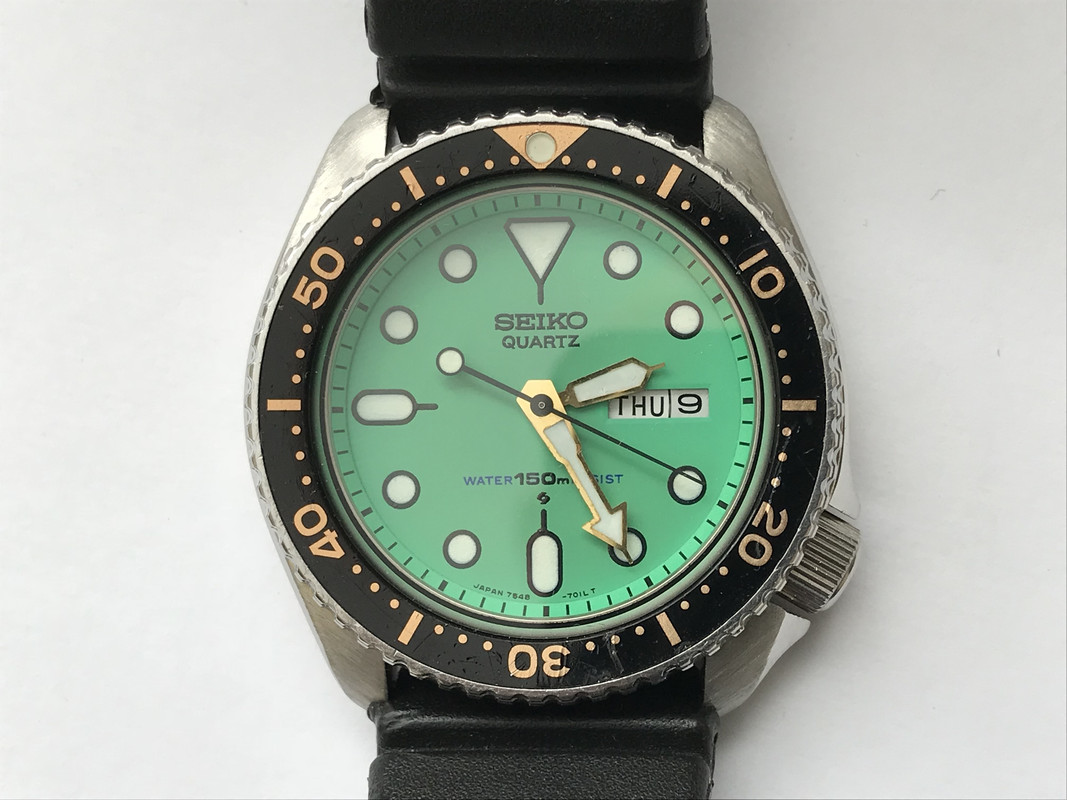 Because so few of these ever turn up at auction, I can't recall seeing a really good example of either of these models ever get tested in a live auction. So they are difficult to value. Looking at the valuation guide prepared by Ewan and myself provides only our best guess at the time of writing. I would expect a nice 6309-729B to realise $1,500 - $2,000 and the same or maybe a bit more for the Teal 7548-700C? Not a lot of money really considering that would only get you a half decent 6105 or a very average 62mas if you're lucky, both much more plentiful than the watches shown here.
Please post pictures of any examples you have....