Discussion Starter
·
#1
·
Outside of the popular 6106, 6119, 7006, et al calibers, seiko seems to have tried to throw in the occasional sport diver into most of it's caliber families. What they didn't seem to do as often though (and please correct me if I'm wrong) is introduce entire families of them. A few years ago I accidentally discovered a family of sportdivers that I had no idea existed. I was browsing through eBay and saw the following picture: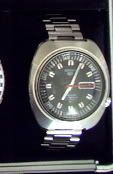 The description only identified it as an old seiko so I figured what the hell and bought it, thinking that it was a 5126 sport diver, which is a popular family that uses a similar, but not as elaborate case. The watch arrived after a week or so and I quickly discovered a couple of things:
1. It was large (definitely larger than a 5126);
2. I loved the really cool dial with it's monument markers;
3. It was missing it's bezel; and
4. It wasn't a 5126, but rather a 7019.
Some searching quickly identified the 7019 caliber as one of the principal calibers used in many Advan and Vanac lines of the 70s'. I searched and searched, but no matter what I found, no sport divers would come up. then one day in Japanese website I found a reference to another Sport diver from the same line as mine, the 7019-6030: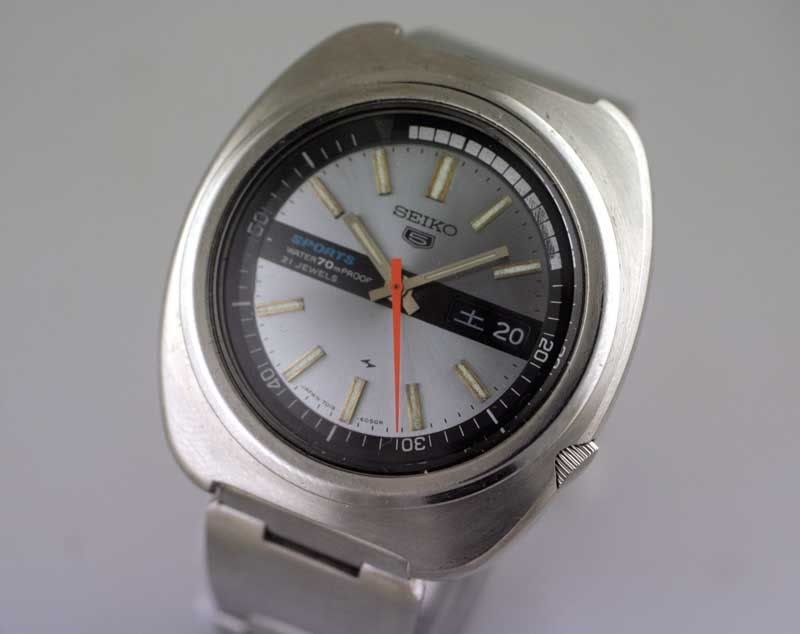 That gave me the first look at what the bezel was supposed to look like. It also pointed me in one possible direction for finding these and why I was having such a hard time finding them anywhere. I started looking at Japanese Sales sites and sure enough about a year after landing the original watch, I found a auction for another watch from that family. With the help of another WIS, I bought the watch. The one I was buying from Japan was in obvious rough shape and I had every intent of mining it for parts (more particularly the bezel I was missing). Lew Brown offered to help me mine it so I sent him both watches to see what he could do. The rascal that Lew is, imagine my surprise when a few weeks later I get a package, and he hadn't mined the watch from Japan for parts, but instead had serviced them both and cleaned up the junky one (thanks uncle Lew). I loved it, now I had two watches when I had only expected one. The problem was that Lew's generosity still left me one bezel short. I tried searching for an extra bezel but after about 4 months finally gave up. By now I'm roughly 2 years into owning these pieces and I figured I had tapped this well dry, so I posted on the forum to see if anyone had any ideas where to find the bezel. Imagine my surprise when when Peter Khun writes from Australia to tell me that he has it and it's NOS
. Soon the order was placed and the bezel worked it's way from Australia to NYC. The both watches went off to Swedefreak to have the master do his metal working magic. A few weeks and a little back and forth later (yes I'm that PIA customer - Oops) I got the following picture in the mail: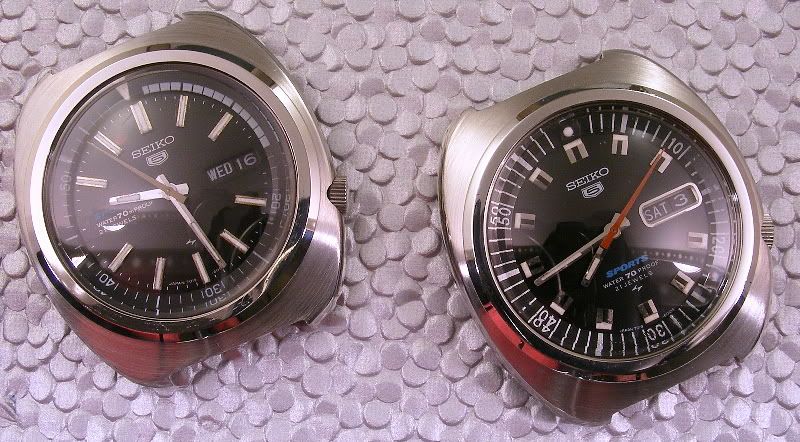 I don't know about you, but I started getting pretty excited. In the mean time, I happened to come across yet another bad description of the most interesting little watch. Also a 7019 sport diver, this one had a completely different case, and unlike any other Seiko sport diver I had ever seen, had very large Arabic numeral markers all the way around the dial. Soon that bad boy also made the trip upstate.
By now I had three watches from a movement family I had never set out to collect (remember, I started this thinking it was a 5126). I concentrated in finding bracelets for the watches and tried everything I could find. Eventually the best fit came from none other than the classic Super Oyster. Who would have thunk it.
Last summer came the latest addition. this one was inside of a box lot and it too had seen better days. I bought it and once again Lew and Jonathan did their damnedest to help me resurrect it. last week, after I'm sure it gave Jonathan much heartache (this was the harder of the four to restore, that one too found it's way back (Thanks Guys, You rock).
Finally I have my little collection together. this is the one I never set out to collect and now have spent the better part of four years assembling. In case you haven't realized it yet, it seems like the reason I was not finding parts is because these seem to have been sold in Japan more than in other markets - 3 out of the 4 have Kanji day wheels and the 4th has a Spanish one. The other reason these appear to be rare is because every single one I've found was marked water Proof. Yes I know 4 watches is a poor sample for such conclusions, but if what I observe is correct, then these must have been predominantly Japan market models made for a very short period in the late 60's to about 1971 or so and then replaced with the similar, but simpler (case at least) 5126 diver family.
Here is the first one I bought, The 7019-6000: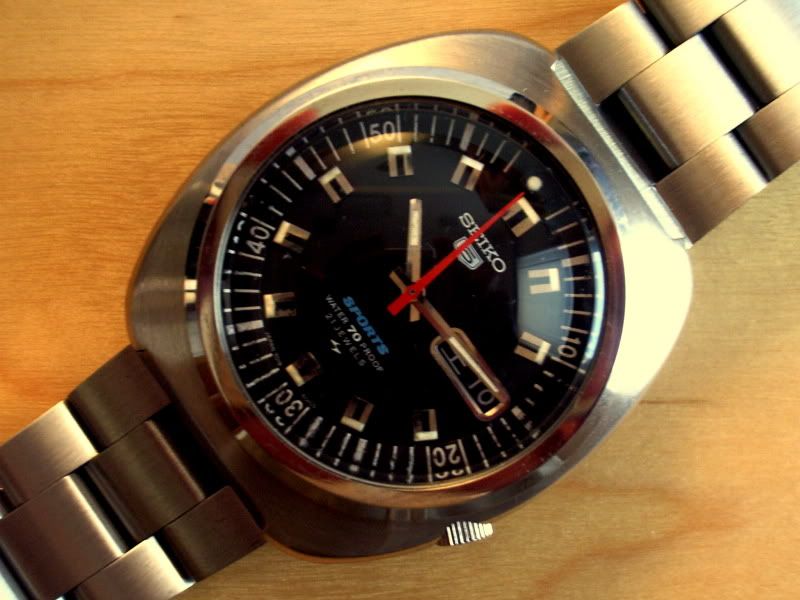 Here is the second, the parts watch that ended up being restored, the 7019-6030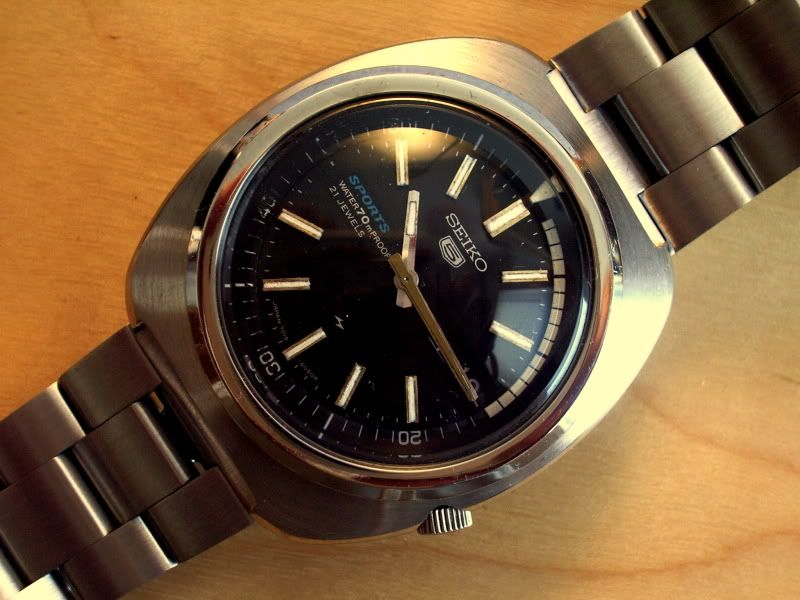 Here is the super funky one with Arabic numerals, the 7019-6020: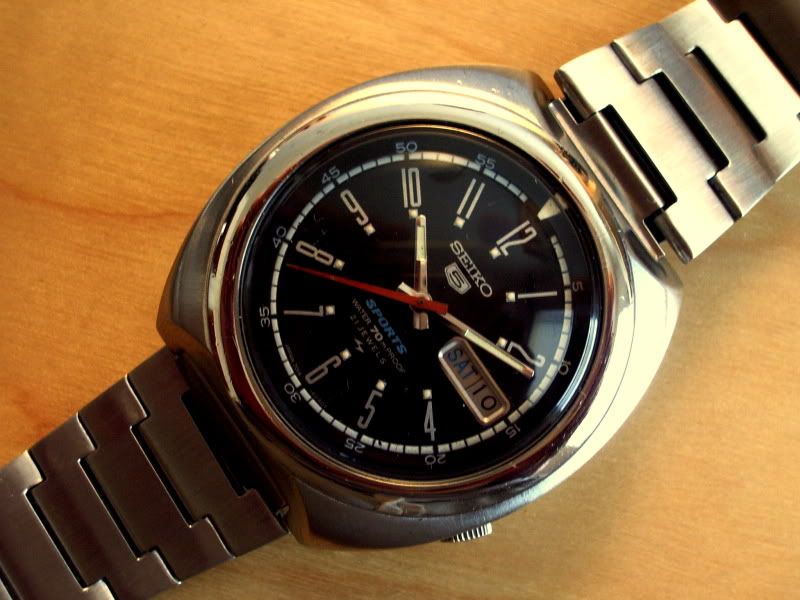 and lastly, the newest of the bunch, another 7019-6000: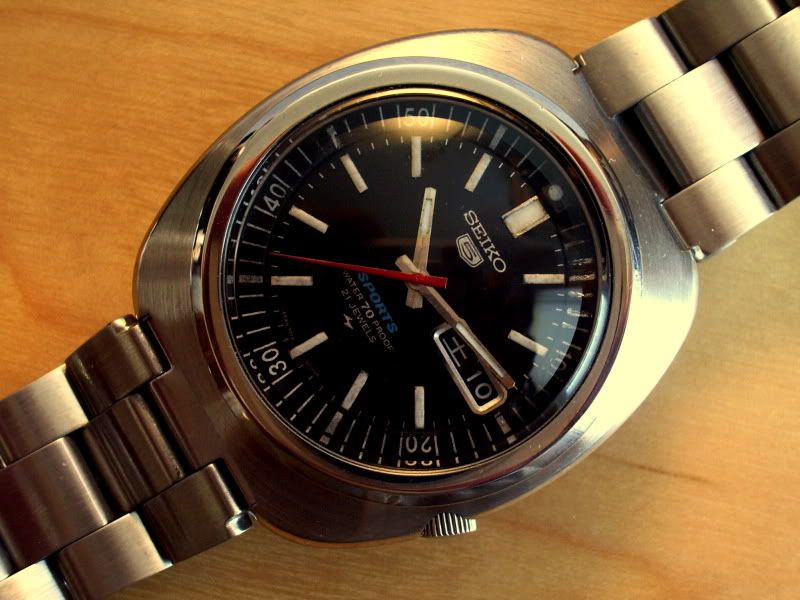 and last but not least, the whole family for a group shot: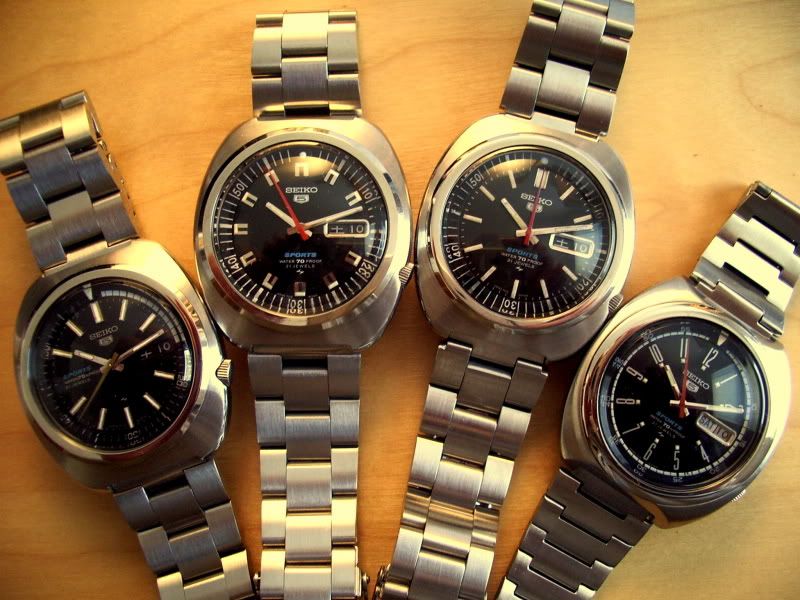 If any of you know any more about these and can shed some light on their history, I would love to hear any info you might have.
Thanks for reading.