Discussion Starter
·
#1
·
So you guys know I like Sportdivers My favorites are those old 6106 sport divers from the late 60's and early 70's, followed by their 6119 replacements. This infatuation started many years ago when I purchased my first sportdiver, this beautiful 6106-7107, which was lovingly restored by Ken Setser:
Soon after that watch I also came across this Awesome 6106-6439 with a starburst yellow dial, green markers and a green acrylic bezel insert. This one was also restored by ken with a little help from John Reineke.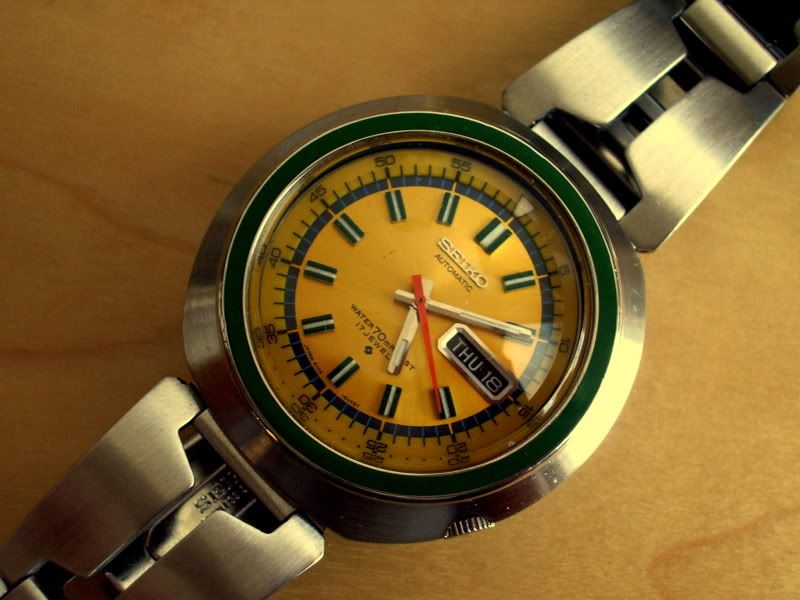 That set me on my way, and over the years I've collected more sports divers than I care to admit (though there are still many more that I would love to get my hands on).
Looking into other varieties I quickly found out that there were 6106 and later 6119 versions of this sportdiver family, with minor differences between them. For me the 6106's were prefered only because they had the hacking movement and because most of them came without the 5 logo. I found these watches with dials in brown, orange, and black. It was not to hard to find a brown 6119-6400 and a matching orange 6119-6400. I didn't care for the black bezels seiko had saddled them with, so with Lew Brown and Swedefreak's help, I restored them and had their inserts changed to match their dial colors (yes the mod is a hundred percent reversible, but I doubt anyone would want to do that).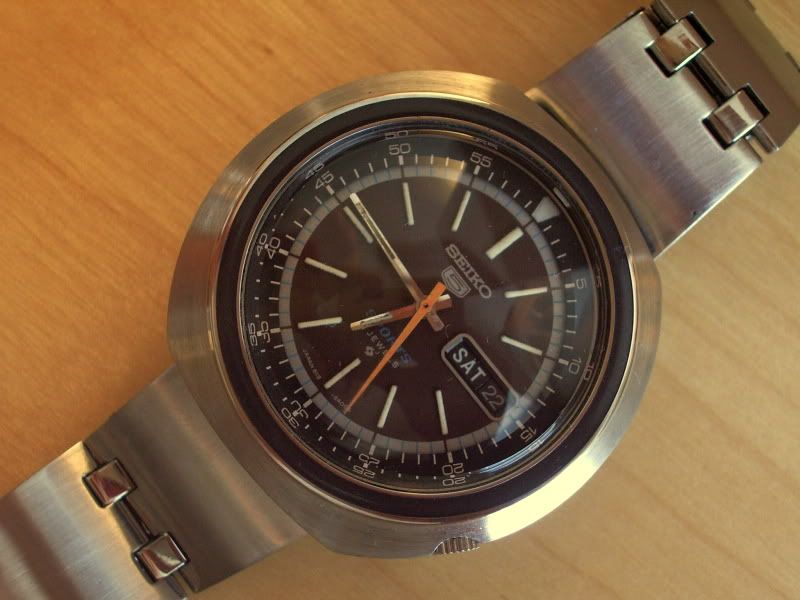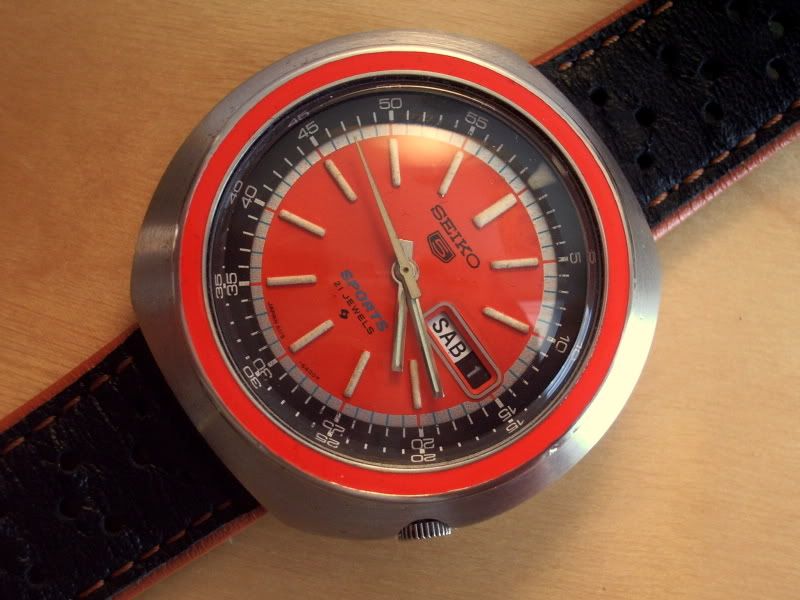 As these were being assembled, out of left field came a modern reproduction of the latter 6119 sushi roller divers which used the case of the 6106-7107 above. This one was a really rare 7S36-006A with a brown starburst dial from 1997. To this day it is the only one like it I have ever seen. Sadly it is still in need of restoration: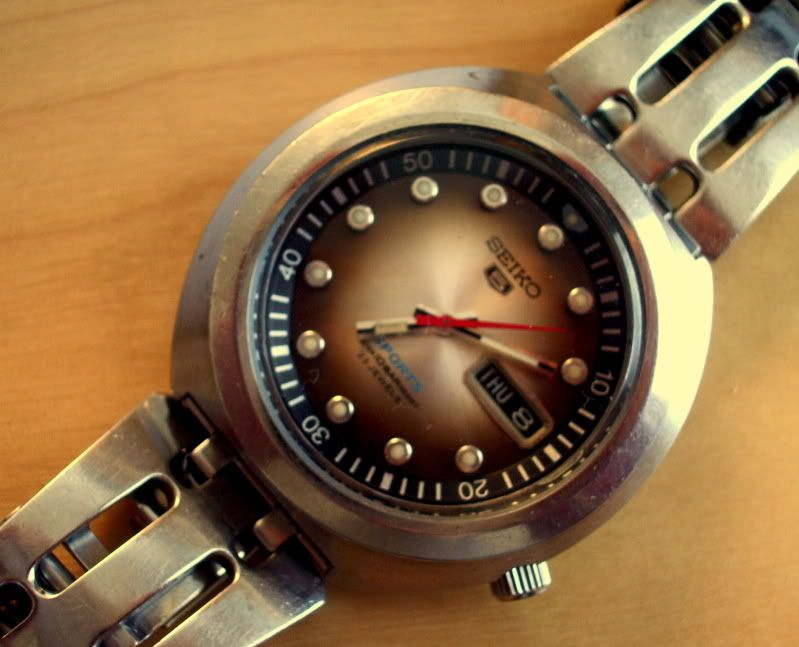 As of the arrival of that last piece my collection of this sportdiver family looked like this: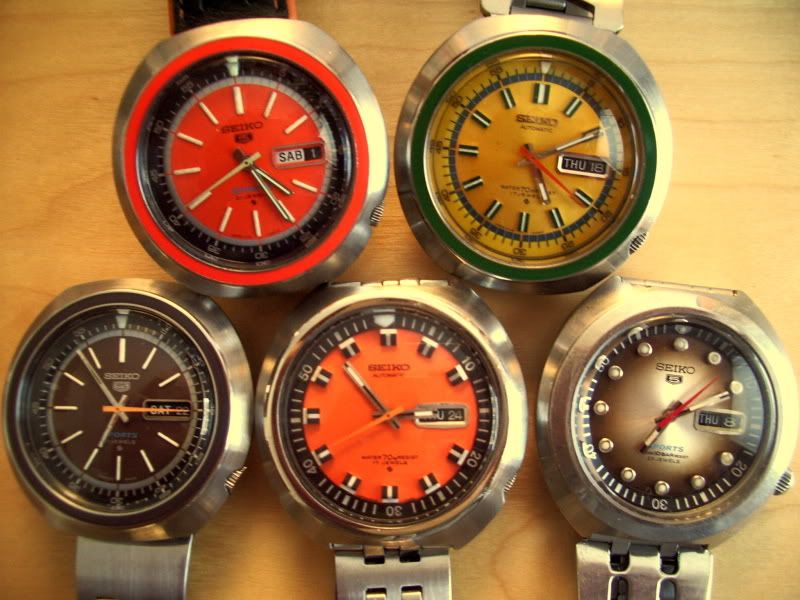 This still left a whole. I wanted the black version of these watches, but I didn't want the common 6119 variant. I wanted the far rarer 6106 variant (that movement again). Not only was that one hard to find, but the infrequent times one would come up, they were usually either in horrible condition, butchered by some back alley watch chopper, or in nice condition but selling for far more than I was willing to pay. The search for just the right piece for just the right price went on for a bit over four long years. until one day I spotted a badly pictured, poorly described auction showing excatly what I was looking for and with a BIN. I paid the BIN (the price was right) and soon thereafter received the watch. It needed work, but was in far better condition than I would have hoped. Soon, I was having a reissue razor bracelet modified to fit it (thanks Harold), and Lew brown was kind enough to give it a once over. It then went off to Swedefreak who gave it some some very tender loving care (and who showed me an incredible act of friendship in the process). Well a few days ago a box arrived from Jonathan and in it was the end of five years of work. Ladies and gentlemen allow me to introduce you to the fully restored black dialed 6106-6430 Sport diver from December 1970: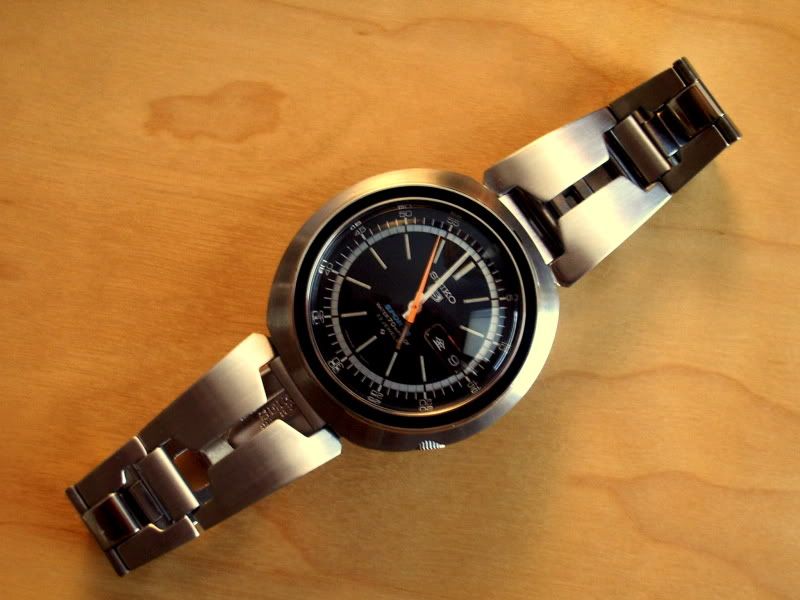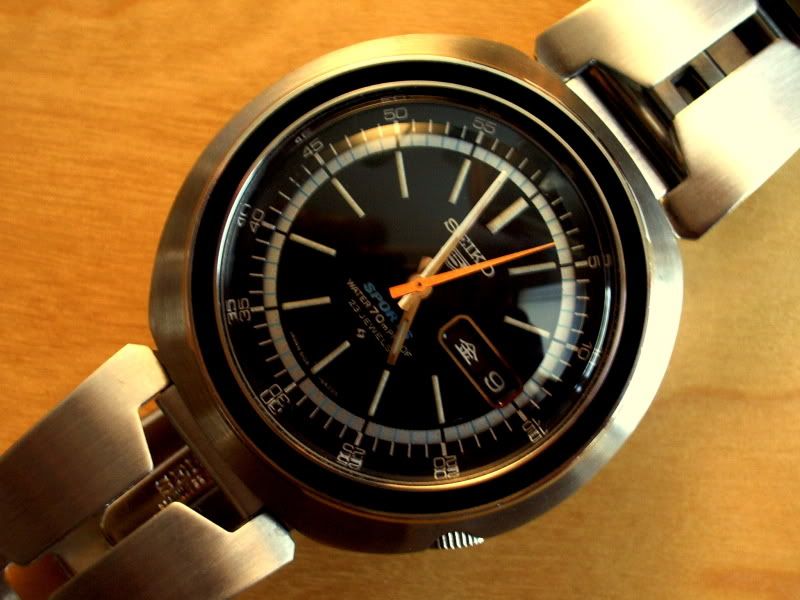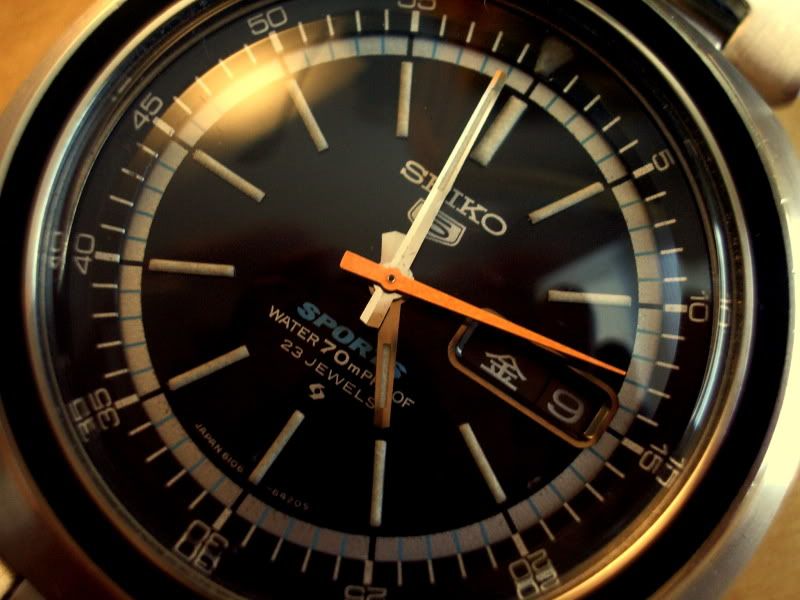 Now my little collection is as complete as I want to make it (no I'm not looking for the brown or black 6119 versions or the funky brown variant that is not a sport diver). Here what the gang looks like today: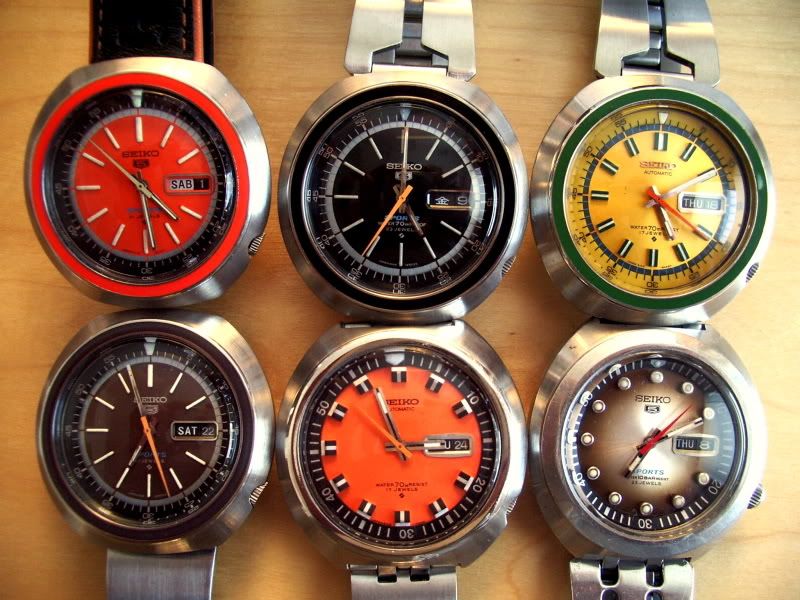 Hmmm... I think I'm starting to get an inkling for sushi rollers...
Thanks for watching.