Authored by Zoodles95
I recently had lunch with long time forumer Robert Backstrom and he loaned me his Orient "King Diver" 1000m watch to take home and evaluate. I have done some researching and forumer Ryan did several posts on this watch in the past. Here are links to some:
[color=#000000]http://www.larrybiggs.net/scwf/index...&id=1030667474
[color=#000000]http://www.larrybiggs.net/scwf/index...&id=1008559669
The "King Diver" was apparently released after 1965 and retailed for 18,500 yen. The version I have right now has 27 jewels but the version relased in 1965 had 30 jewels.
Anyways this is a very interesting watch with a handwinding movement. When the crown is pressed in (this is not a screwdown crown) the crown turns freely. In the "second" position you can change the time, and in the "third position" (all the way out) you can handwind the movement. I have yet to figure out how to independently change the day or date.
[img]
[img]
Please excuse the poor pics as I took them outside a few weeks ago and was without my camera until recently. If I learn more information about this watch I might put together a little FAQ for it.
Being an older diver it is quite small compared to today's divers. From reading Ryan's earlier posts about this watch apparently there is only one gasket with the crown so this watch is really only a "sports" watch in that it can probably only go to 100m or so. No way this one is going to the depths of a 6215 or 6159 diver as a contemporary example.
I thought it might be of interest to contrast the watch against my 62MAS in terms of size and features as well as the modern SKX031.
For a sense of perspective here is a pic of the King Diver, 62MAS, and SKX031:
[img]
Here's the "tale of the tape" or widths including crown if you will...
[img]
[img]
And lug width:
[img]
[img]
Two classics side by side:
[img]
[img]
But can a 1000m rated watch compare to the Marine Master? Let's find out!
[img]
[img]
[img]
These pics are interesting as the MM isn't that far off size wise to its "Grandfather" the 6159-700x. In this context I think the 62MAS is more of a comparable to the King Diver than the 6159-700x despite the depth rating.
The Orient is a very interesting watch. I believe that it is a friction operated bezel assembly; but it is presently stuck and I have no desire to mess around with such a rare and historic piece. The caseback is beautifully decorated and there is some really nice text and contours to it. Unfortunately I am doing this review away from home so I will need to snag some better pics and some caseback ones. I should also take some closer shots of the dial.
So, in a sense this is a "preview" of my Orient 1000m King Diver "Review".
Any one have one of these vintage beauties or have any idea of value?
"Making the world a better place one Sawtooth at a time!" (Zoodles 2006)
Quote:[table][tr][td]Originally Posted by
Zoodles95
[color=#000000]http://www.orientalwatchsite.com/for...ng+diver#p5366
I got these pics from the post linked above:
[img]
[img]
[img]
[img]
[img]
I wonder how accurate this movement would be if the owner got it serviced and regulated?[/t][/t]Quote:[table][tr][td]Originally Posted by
Dynamo
The case is the same as the Nivada Depthmaster 1000m, you can see in back Swiss writing for the case brevet with the cross. You can found this case use with the following brands: Nivada Depathamaster, Austine, Sandoz .....[/t][/t]Quote:[table][tr][td]Originally Posted by
thereaper101
That's just what I thought, here`s my Nivada Depathamaster 1000: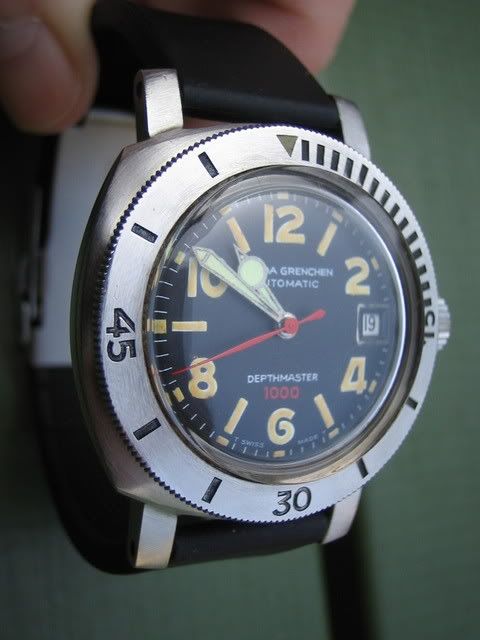 [img][/t][/t] [/td][/tr][/table][/td][/tr][/table][/td][/tr][/table]